Adobe Dreamweaver is an intuitive web design application to design responsive and compelling web pages which can be used to screen size using a wide range of predefined templates. The program still organizes to offer developers with the latest CSS, JavaScript, and HTML abilities. To create websites, the designers are capable of working across mobile devices, tablets, and desktops alike. The developers can acquire compatibility with handheld products with the Fluid Grid Layout technology. You can set CSS transitions in creating of captivating animations effortlessly. Additionally, some of worth mentioning features are here such as code highlighting, auto complete, re-upload and edit the files without using an FTP client, connect to an FTP, etc.
Code Editor, File Transfer Protocol, HTML, HTML Editor, Previews, Text Editor, Visual Design, Web Design, Web Development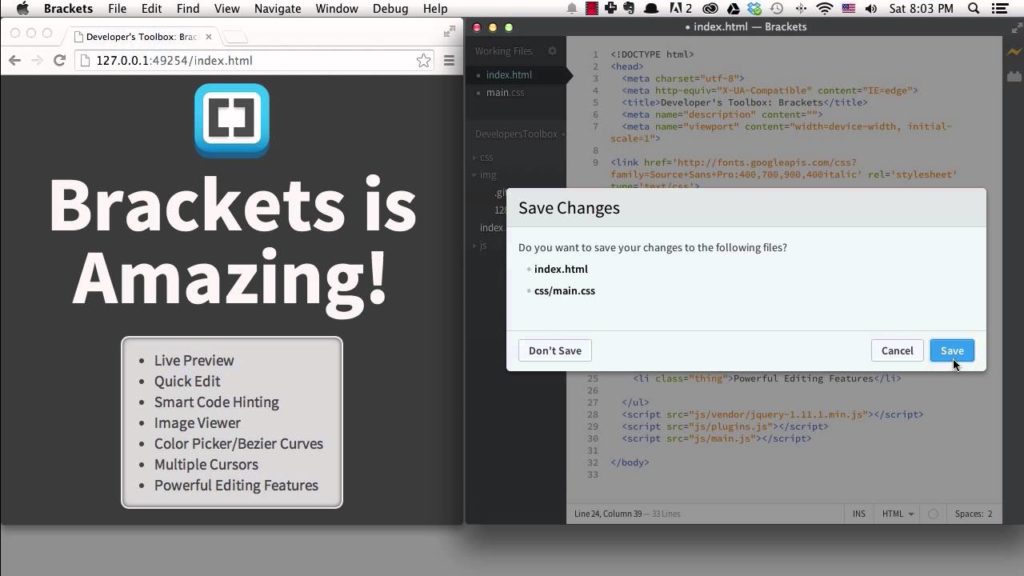 Brackets is a reliable code generator and HTML editor which offers an opportunity for developers to work with projects in JavaScript, HTML, and CSS. It comes packed with a live preview function, auto completion, and syntax highlighting. The entire workspace is enjoyable with a pleasant interface. There is a possibility to close all braces automatically, the status bar shows column and current line of the cursor, and the lines are numbered. You can use a search-and-replace option with filters. This application enables users to highlight the active line, and restore, increase, and decrease the font size to its original value.
Visual Studio Code is a powerful and lightweight tool that is specially used for code compiling and building cloud programs and web apps. The Git control facilitates the packaging, building, testing, and even the deployment of different kinds of software. It is possible to generate your own code fragments and use the sample snippets. Open many instances at the same time with intuitive GUI of this program. You can find programs, files, components, or any item, and work with a repository through the dedicated local folder. In the end, a debugging function lets the user monitor components and variables.
Geany is an extensive project that provides a lightweight Integrated Development Environment for the developer with the support of popular programming languages. A simple interface is introduced here and the developer of this tool is Enrico Troger. The software comes wrapped with core features such as code folding, syntax highlighting, construct completion, symbol name auto-completion, call tips, and auto closing of HTML and XML tags. There are several supported file types including C, HTML, PHP, Java, Pascal, Perl, and Python. This utility can bring impressive contributions to complex or simple projects equally.
If you're searching top best alternatives to Adobe Dreamweaver, there are best software check out. Geany is an incredible program in the list of software like Adobe Dreamweaver.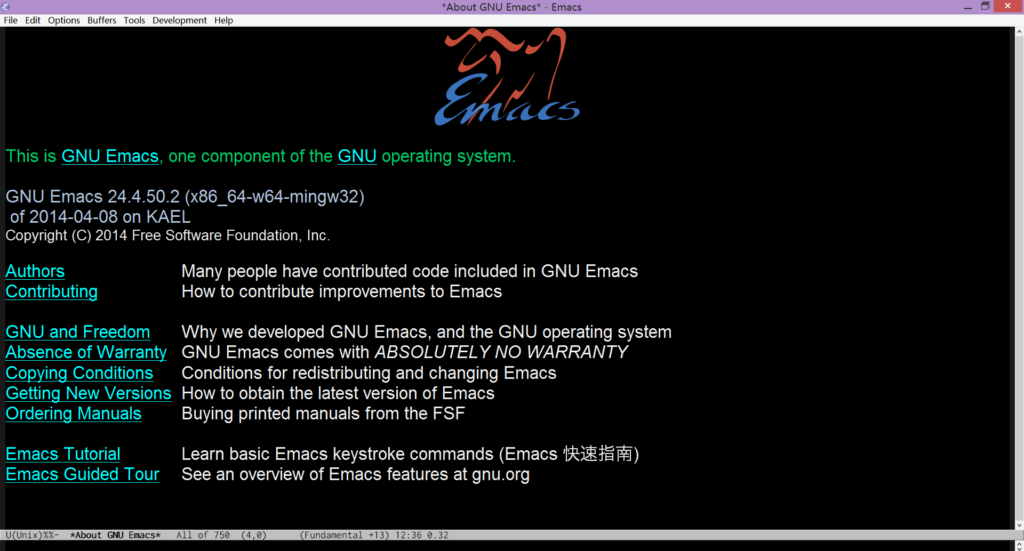 GNU Emacs is a straightforward and customizable editor which can handle text and HTML or source code with a wide variety of functions. A very simple interface provides quick access to facilitate the needs of programmers. The built-in tools and the editing commands are neatly managed in corresponding menus. You can set coding systems for commands, selections, keyboard, file names, and much more. GNU Emacs lets users perform searches, use the debugger, compile code, and compare files, regions, folders, buffers, and a lot more from the tools area of this app.
Aptana Studio is a comprehensive and feature-rich application to help programmers for building web apps with the preset tags and commands. There is support for numerous languages including PHP, JavaScript, Python, HTML5, CSS3, and Ruby. The multiple panels interface is here for managing the workspace, snippets, and samples, exploring apps and viewing console, error and terminal details. This program offers users convert line delimiters, run configurations, activate word completion mode, add tasks and bookmarks, and open resources. You can customize the appearance when it comes to menu visibility and toolbar, and commands group's shortcuts. Aptana Studio is a top best alternative to Adobe Dreamweaver.
Kate is an intuitive text editor which features support for syntax highlighting and scripts, a wide range of programming languages, and extensive configuration window. A well-organized interface is here and the program which is developed by Kate Team offers an interactive tooltip component. The users can manage their projects by creating folders and sort them by their name, opening order, or path. This utility offers you find C, C++, LISP, Latex, Haskell, Pascal, Lua, Ruby, and Python. You can alter the default mode of program and access an extensive list of scripts regarding navigation, quick editing, and coding.
Coda is a straightforward web development utility which comes with various tools to design, test, and build your projects in an intuitive manner. It is specially designed to lighten your workload and simplify your workflow. You can quickly open a Terminal window, a new document, or establish connections with MySQL databases through a drop down panel. A collection of books has access to various languages such as CSS, HTML, PHP, JQuery, JavaScript, and much more. Coda is developed by Panic Inc and best software like in the list of Adobe Dreamweaver.
TextMate is a reliable Mac OS X text editor that is designed to writing code and markup and offers support for designers and programmers. You can use syntax highlight themes for different scripting languages with this unsophisticated text editor app. Here, adjusting the tab size, altering the scripting language, and accessing their customization options are possible. The users can use separate windows for their documents. In the end, this application can use place holders to support for foldable code blocks and expand trigger words to code blocks. TextMate is an incredible alternative to Adobe Dreamweaver.
PSPad is a powerful code and text editor which features HTML previewing, syntax highlighting, and an FTP client in an intuitive manner. The utility can simply replace the famous Notepad and WordPad tools included in Windows. Here is an impressive list of templates like C++, PHP, HTML, Python, XHTML, Foxpro and many others. The search and replace or macro recording functions is common to several similar apps. PSPad comes with a full HEX editor, a color translator, an internal web browser, and formatting and the code checking the TiDy library. Moreover, you can edit the files straight on the server with FTP client.
Bluefish Editor is a reliable piece of software that provides multiple editing tools to create new projects or edit your source code. A clean interface is introduced here to navigate the directories effortlessly. There is support for C, C++, Ruby, PHP, HTML, JavaScript, Python, XML, XHTML, Perl, VisualBasic scripts, Python etc. The program allows users to add bookmarks, edit tags and colors, insert Unicode control characters, and select the input method. It is possible to perform conversions, duplicate lines, count words, replace function and use an advanced search, generate Lorem Ipsum text, and more. Bluefish Editor is an efficient program and top best alternative to Adobe Dreamweaver.