One Word Domains contains a collection of amazing domain names and ideas for small and large businesses, eCommerce platforms, YouTube channels, and other online projects. Getting a domain of a single word in this era is quite difficult because of the abundance of online platforms. People have already chosen the name of the domain of the business or brand that you are even thinking about.
Get a domain in one word for your next big project and attract more visits and customers with extreme SEO. You can get a single word domain online in plenty of extensions such as .com, .io, .fyi, .app, .ai and various others.
You can also explore some of the best One Word Domains alternatives over the list below and get the domain name for your projects instantly. The service supports a total of more than 30 TLDs, including .app, .co, .org, and .to, .com, .io, .net, and you can filter the domain list by premium status, word length, category, etc.
Features
Branding
Domain Forwarding
Save your favorite domains
Custom domain
Domain registration
Sites Like One Word Domains
Name|Grep is a fast and secure domain name search for geeks with curated sets, regular expressions, regexes, etc. Namegrep.com is a super simple, sleek, and easy to use platform that doesn't need any prior knowledge to settle or look for things over here. Find your new or next domain name along with curated sets as well as regular expressions using the name grep for an extended approach. The clean interface of it carries a sleek search bar where you find…
Namefruits is an AI naming generator that creates, suggests, and checks original and personalized business names for your online projects. If you are looking for the perfect and the most suitable business name and are tired of not getting it, Namefruits is the destination for you. Unique, matching, catchy, and easy-to-remember names for your brands and websites can be driven through it. Get ideas and actual names for your businesses, brands, online projects, YouTube channels, Facebook page, or anything in…
Nameboy is one of the most ancient and popular domain name generators available online. Having it, you can search for your desired company name ideas, and domain name for your online projects, and become an owner of a fresh, short, unique, and catchy domain name within seconds. Professionalism isn't necessarily required for it because of its ease of use and straightforward interface. All you need to do is to enter 1 or 2 keywords then click over the submit button…
Namewink helps you get the most significant selection of domain names for businesses and projects online. Whether you are starting things on or a professional webmaster, Namewink helps you get quality content for your online projects. This free and secure business name generator is simple to use and secure so you don't have to worry about the stealing ideas. Find the perfect name or domain for your business just by entering a few characters of it over its sleek search…
InkForAll is an all-in-one text editing solution that helps in paraphrasing, SEO (search engine optimization), and AI writer for all kinds of online solutions. InkForAll – An All-in-One Text Editing Solution precisely helps users in creating heavily organic content faster, with fewer mistakes and better ideas. In addition to all these, InkForAll also helps users in producing content that is SEO optimized so you don't have to do any extra efforts for content optimization in online search engines. Unlock the…
Namecheap Beast Mode is a fast and intuitively designed tool that brings an industry lading bulk searching and purchase system whenever, wherever you want. This bulk search tool offers searches on up to 5K keywords at the same time and helps you get everything below a single platform. Beast Mode: The Game-changing Bulk Search Tool also enables its global users to share their searched details with their colleagues anywhere in the world. You can find hidden gems to acquire, import…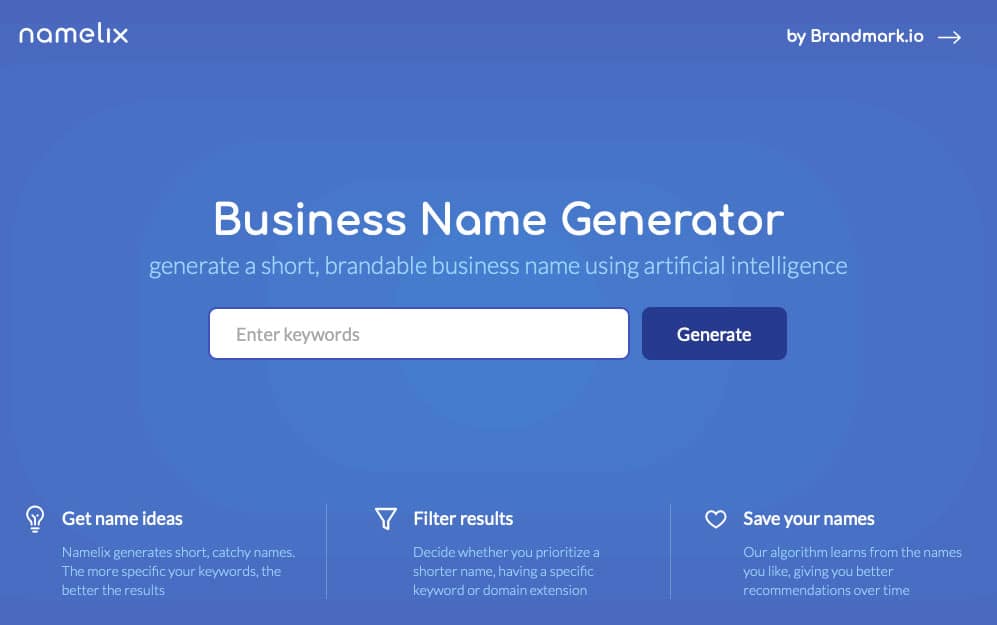 Getting the most suitable domain name for your upcoming venture is a bit challenging sometimes but if you know tools like NameKrea, it will be comparatively easy for you to have it. NameKrea - Business and Domain Name Generator brings catchy, short, long, branded, and intended domain names that leads you towards successful business online. This artificial intelligence-based domain name generator helps you get the most suitable domain name for your brands and businesses either online or offline. Everything needed…
Domain Scout is a magnificent platform to discover great domain names for all your online and offline projects. Instantly choose a domain for your business or brands and own it within minutes through free tools of it. Expired domain search is also a great function of it due to which you can instantly get quality domains that are expired for your upcoming venture. Tens of thousands of newly expired domains are ready for you to choose from various sources and…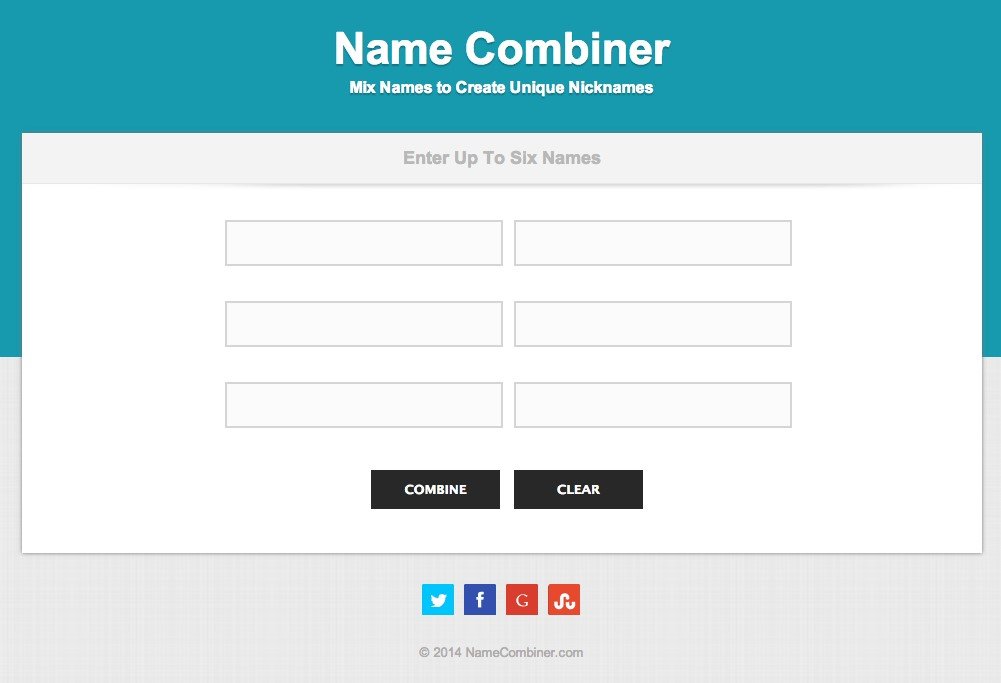 NameQL is an web-based naming service that helps users globally come up with unique names for businesses and brands whenever necessary. Name QL helps you get the most suitable name within seconds and boost the look of your brand by its name. NameQL - Find a Great Name helps you search hundreds of thousands of potential names and shows you the best amongst all. Get domain name in your desired extension (.com, .co, .pk, .uk, .en, etc.) It brings a…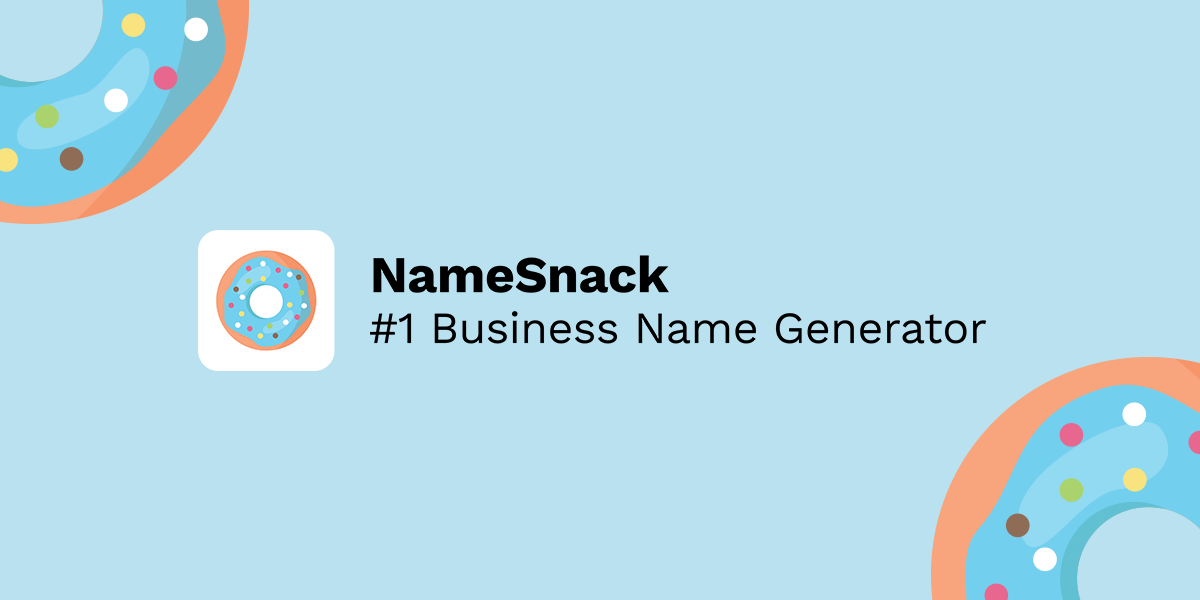 NameSnack generates business names for whatever brand, company, and a project that you are working on and looking for publishing online. Just enter your words related to your brand or business over its sleek search bar to get started. Just give your desired keywords to its search bar and let it does the rest. 100 percent free to use, industry AI naming, instant domain search, keyword search, design your logo, various name styles, and powerful domain name generator is available…
NameBounce brings a stunning way to discover memorable and unique business name ideas for your online and offline projects within seconds. All you need to do is to enter one word to include in your name, add the extension that you want to have, and click over the go button to get things started. Businessmen and brand holders need such amazing service for searching for the best domain name and implement over their businesses. Finding a new domain name for…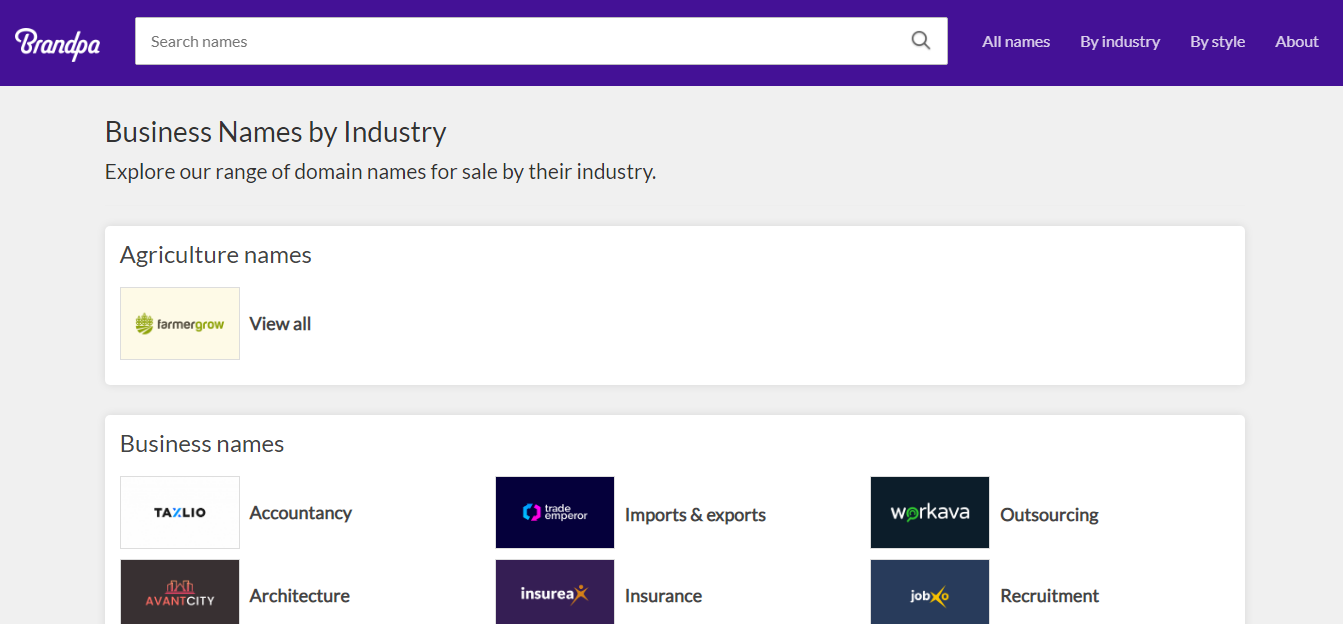 Brandpa sells premium domain names that are perfect for startups, brands, businesses, and more. Find the perfect domain for business and brands that are eye-catching, easy to remember, best in class, and your desired extension. Despite it, Brandpa also brings one of the finest selections of Hot domains online to get for your online projects respectively. Both long and short domains with 3 to 5 characters are available to choose in a reasonable price. Domains on the basis of industries…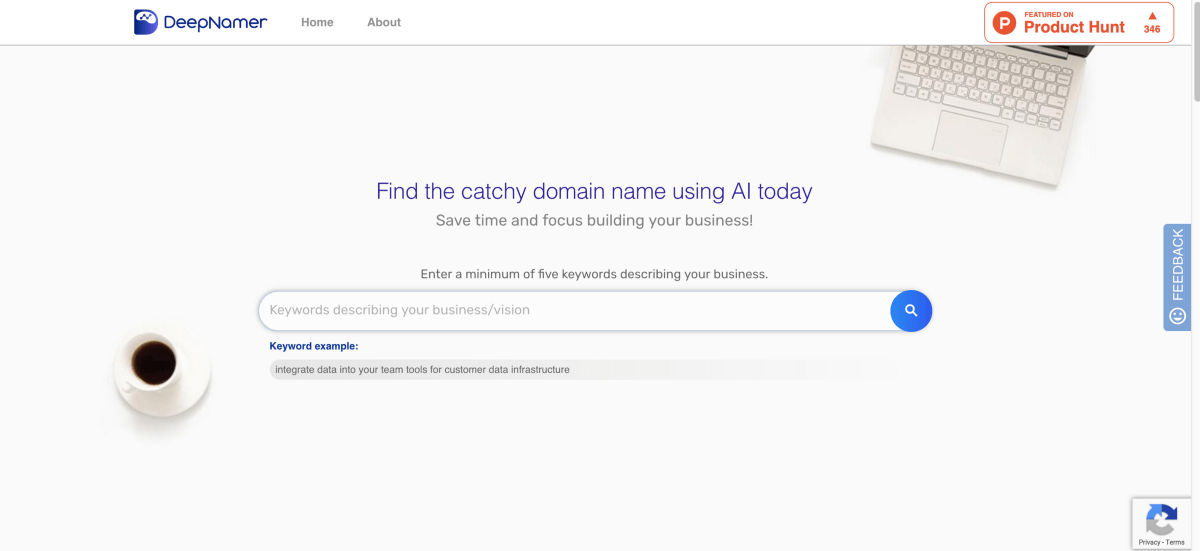 DeepNamer is an efficient, smart, and intelligent domain name generator and brainstorming web app that brings plenty of fruitful features. This intelligent domain name generator helps business holders, domain registers, web hosting companies, and simple individuals find creative domain names based on the business description. Deep learning algorithms and the finest AI is available for processing users' input text and generating related names in real-time. Smart AI engines can be a license to domain registrars and web hosting companies to…
Give a keyword to Domainr to let it search-related domain names available for use in the market with various extended features. With no false positives, Domainr instantly checks if a domain is available in the market or not. Get the fastest and most secure way to find a name for your online and offline projects, eCommerce platforms, companies, and more. Brainstorming built-in, Real-time availability, instant search and suggestion, API key configuration, and various other features makes it a top-of-the-line tool.…
Namelix is a secure and free AI-powered naming service that assists you to get short, brandable business names for your online and offline projects. Namelix - Business Name Generator helps users search for domain availability, catch the best domain names online, and generate a logo for the new brand name within seconds. This business name generator uses Artificial Intelligence to generate brandable, short business names using artificial intelligence. Simply enter the targeted keywords over its sleek search bar and click…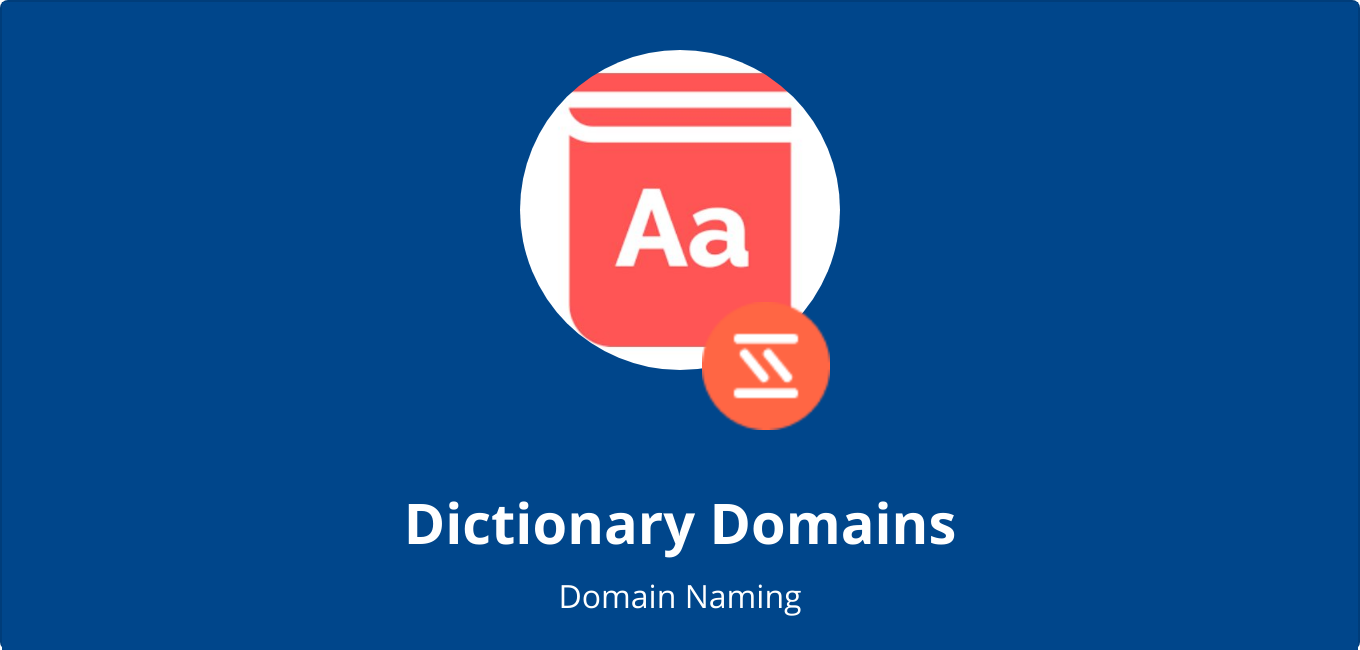 Discover a new domain name in a world where millions of domains are floating in the market and the best ones are the conquers is quite difficult. Save much of your time and efforts through Dictionary Domains and get one of the best selections of domain names for your brands, businesses, and other projects. You can intuitively get the finest stack of unregistered dictionary word domains for all your short-term and long-term projects. Over its sleek search bar, you can…
Looka is one of the most sleek Logo Design and Brand Identity platforms, allowing business owners to use artificial intelligence technology to bring their creative ideas to life. Looka provides its users with everything needed to launch a brand along with all the customizations. Looka is a sleek Logo Design and Brand Identity Platform for Enterprises who want to have unique stuff in the bucket. Its elegant AI-powered platform helps you design a logo for your online and offline projects…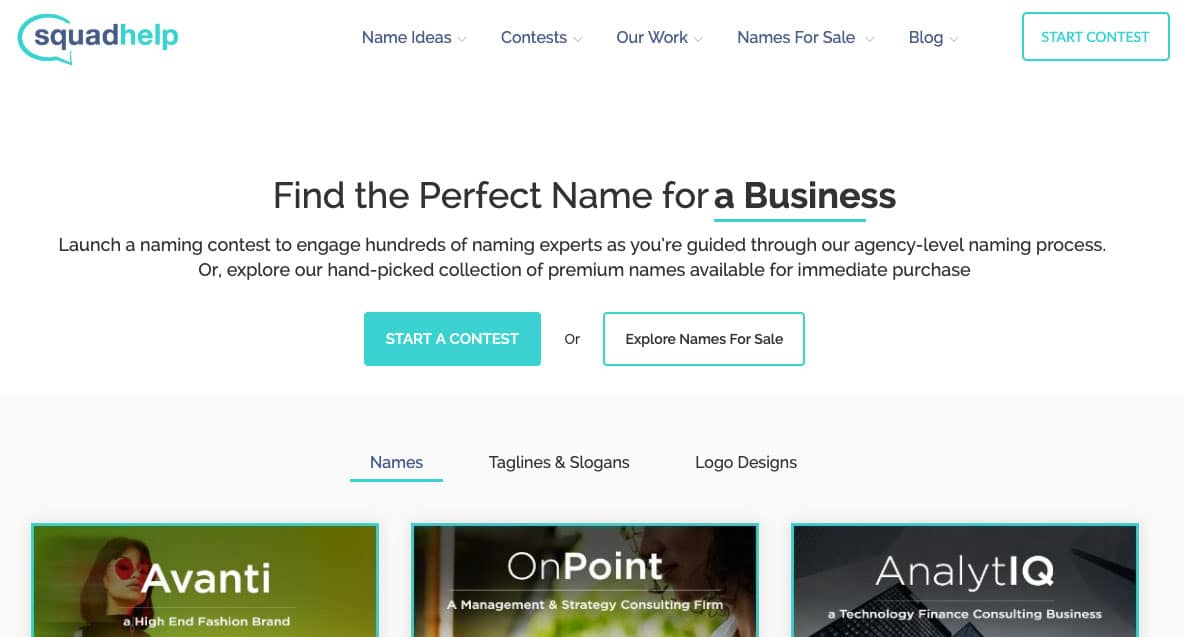 Squadhelp brings one of the fastest, smartest, and effortless ways to name a website, brand, blog, service, YouTube channel, book, business, and other online applications, etc. Squadhelp – Disruptive Naming Agency helps you get premium names for sale. Select from a diverse collection of the best names on the web to build an awesome brand whenever you want. Receive along with design, complimentary trademark validation, and URL validation. The latest naming community, naming agency-level features, high quality, and collaborations are…
Just put your words or characters in Namemesh to get a string of the most suitable and nearly perfect domain names based on amalgamations of those words. Namemesh helps users get what exactly they are looking for when it comes to searching domain names. This effective and intuitive domain name generator helps users in finding the best domain names for their offline and online projects. Reach more people, make your brand catchy, bring ease to your domain name, and grow…