Do you ever want to have friends and chat with them online to make storing relations? No worries when a desktop application like Cryptocat is there, a discontinued platform but was a secure one. You can independently verify your buddy's lists and received a notification whenever a buddy modifies his list or be online. The app also offered to connect to Facebook Messenger for live chatting with other Cryptocat users.
The service's security was fully secure, and no one can see the private chats until the user itself exposed the chat. All messages, files, and audio/video recordings are end-to-end encrypted. Cryptocat also includes a built-in auto-update mechanism that automatically performs a signature check on downloaded updates.
Why people need alternatives to Cryptocat?
When an app that facilitates the people with a wealth of features will close, then, it will not be wrong to search the same apps as the closed one. As for secure chatting with friends and other people, there must be a private platform.
Signal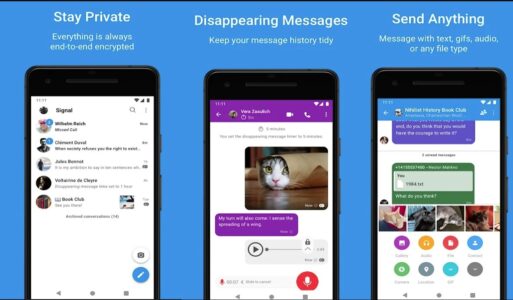 Signal is one of the best messaging services for users to send and receive messages one-to-one or group chatting. It does not limit the user to only texts; rather, you can send files, voice notes, images, and videos to other people. The software uses authenticated phone numbers and secures communication with end-to-end encryption.
Unlike Cryptocat, the app offers mechanisms that grant access to the users to verify the identity of the contacts independently. Using the TextSecure feature, the user can set a passphrase that encrypted the local message database. Furthermore, it facilitates users to set timers such as after a specified time; the messages will get deleted from both the sender's and the receivers' devices.
Wire
If you are looking for a secure platform that keeps your private chats secure and does not leak any information, then Wire is the preferable one. Using the service, you can communicate with your teams through private or group conversations. Do not hassle as it does not limit you to communication only; you can freely share files, documents, links, etc.
Just click on the conference call button and enjoy a voice or video meeting. Whether you gossip with partners, customers or suppliers, make unique guest rooms and start over. Device fingerprinting is the best feature of the app as it enhances security.


Keybase
Keybase is a messaging platform where you can write securely to any twitter, Reddit, Facebook, or any other social platform without knowing someone's phone number or email address. All messages are secured and end-to-end encrypted. The amazing thing is that the service costs you nothing and offers no ads.


A distinguishing feature is that it allows users to send messages to someone using their online aliases such as you can chat with a Reddit account, even if he is not a user of Keybase. Public and private files are two major entities where the public files are visible to everyone, and private files are accessible for the user.
Threema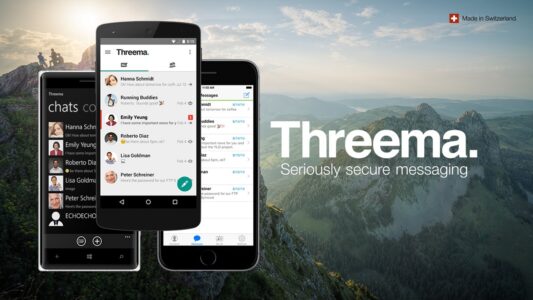 Threema is similar in functionality with the official one and is available for Android and iOS. Along with text messaging, you can make voice calls, send multimedia files, voice messages, and other files. Having 4.5 million users, the app uses a user ID instead of an email address or phone number to send messages, but you can add these things optional.
Users can verify the contacts by scanning their QR codes as anyone sends you a request. The app also makes it possible to create polls in personal or group chats.
Tox
It is well-known as one of the easiest to use app that allows you to connect with friends without anyone else knowing too. The application focuses on keeping the talks with friends and family private. All of you can message friends, join chat rooms with strangers even, video chat, and send every file.
A non-friend user cannot discover your IP address using only a Tox ID, but in some cases, if you reveal your IP address, he can add you to his contact list.