Content Continues After Ad
Arnette Sketch drafting tools is an online application that helps you draw freehand while keeping your work at a measurable scale. It allows users to draw. Adding a base image, changing scale instantly, measuring at scale, doing markups, and sharing through email or other media. It has a professional level-up with all important tools essential to enhance your work. Invent using the lines, layers, erasers, and drawing tools and create metric or imperial, zoom to a comfortable view, and sketch on paper.
You can style your scale without bothering with zoom level. Grid allows users to use distance and measure areas by using different tools. You can import an image from maps, photos, or adobe creative cloud.
Content Continues After Ad
Features
Base information
Style your sketch
Mobility
Simplicity
Sketch accurately
Share your work
Alternatives to Arrette Sketch drafting tools
Graphing Calculator is a scientific graphing calculator that helps users calculate mathematical problems. It is designed to replace large data handled by graphing calculators with the virtual calculator for Android phones and tablets. It covers all mathematics concepts like algebra, trigonometry, finance, probability and statics, matrix and calculus, etc., with the help of a graphing calculator, and you can find paramedical function, roots, and critical points, tracing function values and slops. You can also solve algebraic equations. With its matrix…
All-In-One Calculator is a virtual calculating app that helps you solve everyday problems. It can do simple and complex calculations easily. You can also calculate percentages, proportions, area, volume or unit, and currency exchange in a good way. Users can solve mathematical problems, Geometry, algebra, statics, and finance. Users can use the editable input feature to edit their problems to solve. It also provides a copy-paste option to avoid long questions to type. You can also get your calculation history.…
Content Continues After Ad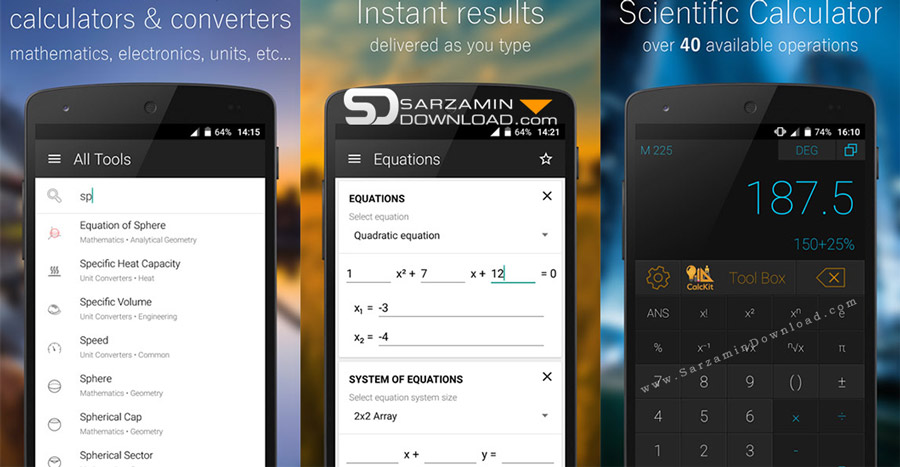 Content Continues After Ad
CalcKit is a simple calculation app through which you can calculate and convert maths, electronics, finance, and much more. It helps you to solve all types of everyday problems. Users can also do simple and complex calculations like percentage, currency conversion, areas, volume, and proportions. It has a customizable keypad with an editable input cursor that helps you edit your equation or problem. It provides a copy and pastes system for saving time. You can get instant results. You can…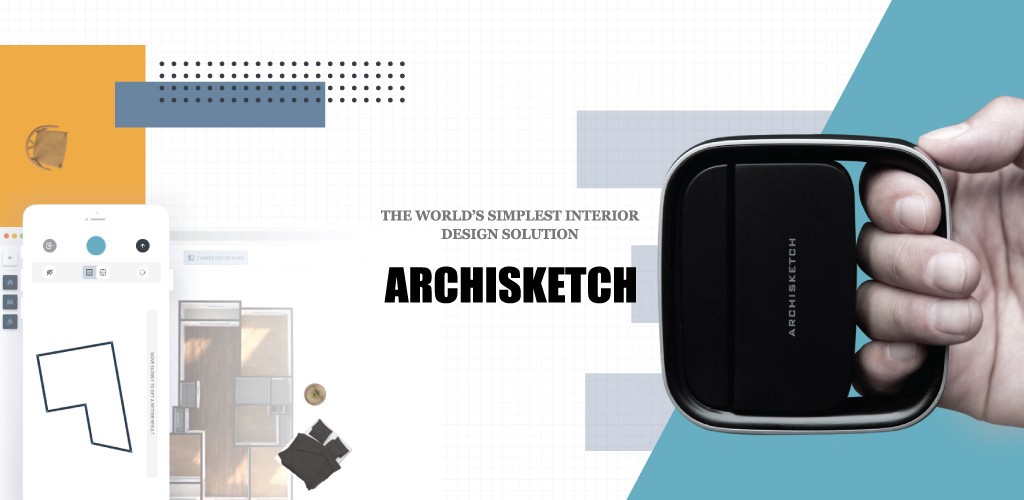 Archisketch is a virtual scale-aware sketching app that helps architecture make interior and landscape designs. It enables you to draw, sketch and trace your design. It introduces many useful features like adding symbols, text, color, dimension lines, import images, and scaling. You can also make a duplicate shape along the line. It provides overall dimensions from beginning to end. Zoom in and out of the line or image without damaging the quality of the image. You can import images, pdf…
Maple Calculator is a math engine that uses to solve mathematical problems, generates 2-D and 3-D visualization, and provides step-by-step solutions. It is in one calculator with a wide variety of basic and complex mathematics problems. It is a graphic, scientific, algebra, calculus, and integrated calculator combined into one. It provides a step-by-step solution with results. You can solve algebra problems, derivatives, integration, matrix manipulation, different equations, and more. It introduced incredibly easy methods to enter, solve and visualize mathematical…
Concepts is a virtual app that helps you to think, plan and create in your way. You can sketch your ideas on endless canvas, doodle with tilt and pressure, write a note, draw a sketch board, design plans and product sketches and share with your friends or clients. It has a vector nature means you can edit each of your strokes. It provides realistic pencils, pens, brushes, tilt, and velocity with adjustable smoothing. It has a toolbar and layering system…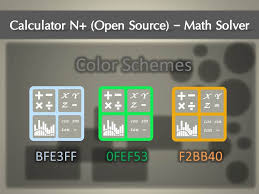 Calculator N+ is a calculating app that helps you do simple or complex calculations. It does not show the steps of solutions to questions, equations, or equation systems but the final result. It covers almost all calculations like basic math, algebra, analytics, geometry, trigonometry, and statics. You can also do the calculation of advanced calculus. It can also help you in graphing. You can also find prime factors, Catalan numbers, and Fibonacci numbers. It also works in two modes of…
Morpholio Trace is an architect and interior designing application that help you to create, plan and draw. If you are making initial project concepts, drawing, and sketching, you can use this application easily. You can use designer tools like a pen, perfect layer, control, and smart ruler. You can calculate the area and fill it in while drawing. You can drag your sketch in a 3-D model and auto-set perspective grid. You can use any two points to set a…
Sketch Box Free is an online application that provides all the essential tools need to sketch or draw anything. It has a wide range of requirements, including general sketching, technical drawing, google Maps store, and interactive map tools. It provides a set of predefined brushes for freehand drawing. You can copy one part of the drawing and paste it multiple times anywhere. It has scale setting tools and flood filling tool that helps you to draw better. You can insert…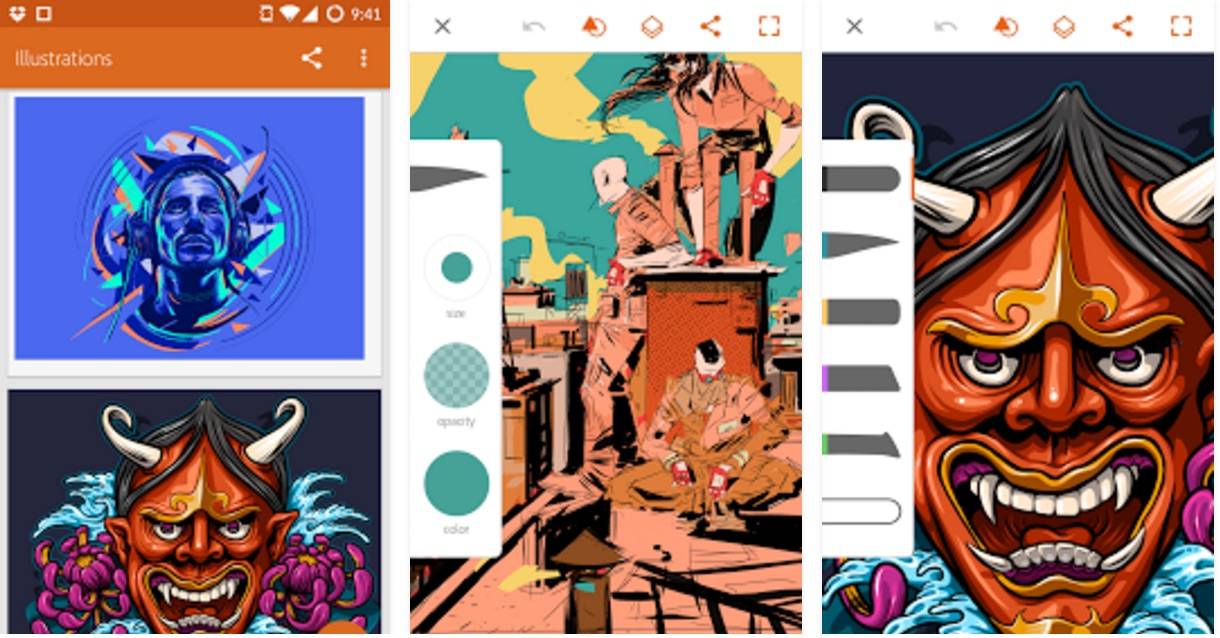 Adobe illustrator draw is an illustrator drawing app that helps you to create vector artwork with drawing layers and images. You can sketch with five different pen tips with adjustable size, color, and opacity. Users can easily work with multiple images and drawing layers. You can adjust, merge, duplicate or rename each layer. You can insert basic shapes from captures. You can send an editable file to illustrator, which will automatically open on your desktop. It ensures that your work,…
MediBang Paint is a digital painting and comic creation program that helps you to paint and create your thoughts. It has pre-made backgrounds, fonts, brushes, and resources. It provides different illustrator tools. It provides a comic book font that gives your comic a professional look. Backgrounds, texture, and tons can be dropped and dragged into the picture and also b rotated, scaled, and transformed. You can edit your work with the help of different layers. Users can add dialogues to…