Do you have a lot of documents to scan for and do not have a scanner? No doubt CamScanner was one of the best apps that facilitates you to scan the desired files at once. Google comes to know that the app has introduced malicious software that generates a lot of ads on smartphones. Due to this fact, Google does not provide direct access through a licensed channel to CamScanner.
Why people need Similar Apps like CamScanner?
When you have thousands of papers in hand and have no PC Scanner at home, worries will definitely be there. If you are looking for the replacement of CamScanner, you have visited the right place as we offer you with the best alternatives to CamScanner.
Adobe Scan
Adobe Scan, with surety, is one of the best CamScanner Alternative with a stream of features. No limits. You can scan many things like documents, receipts, notes, ID cards with its smart scanner. To save time, the app directly detects the type of document and sharply crop the saved image.
CamScanner was pretty popular as it scans texts from documents (OCR), and you will be over the moon to know that Adobe Scan has this feature. Moreover, you can export the scanned documents in JPEG or PDF formats respectively.
Microsoft Office Lens
Microsoft Office Lens is the most similar app like CamScanner with the best experience for scanning the papers. An excellent feature of the app is that it can scan the handwritten notes, diagrams, and whiteboard writings as well in a real-time scanner. All of the best, it supports auto edge cropping, ID card scanning, OCR, and many other amazing features.
It also grants access to save scanned documents on the cloud through OneNote or export as a PDF file. In the end, it is the scanning app that offers you comfort for scanning any page.
Evernote Scannable
If you are an iOS user, then Evernote Scannable is best with similar features to CamScanner. If you have a large number of documents and want to scan every single paper, use Evernote Scannable. It offers you scan notes, business cards, receipts and any paper document with great transparency.
The feature of smart edge detection and cropping the image auto is the reason for its popularity. Like other scanning apps, you can also save the scanned documents in your gallery or export them as PDF files. A big bottleneck is that it does not have additional features like OCR.
TapScanner
TapScanner is a similar app like CamScanner that creates the documents clear and visible. Well, it has several filters just like CamScanner to edit images and save. Automatic detection of borders and trimming of images sharply makes it unique from other apps.
It has OCR support, which has pretty impact, cloud integration, and PDF, JPG or PNG formats. The core feature that impressed me a lot is that you can sign your PDF documents after scanning them. The bottleneck of the app is a slow working process.
PhotoScan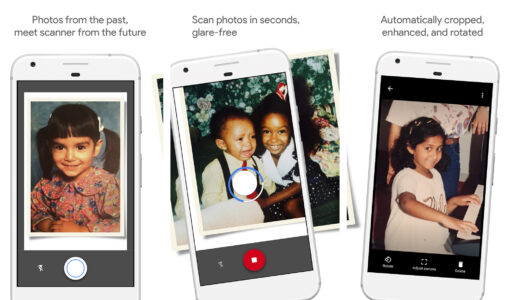 It might not be wrong to say that PhotoScan is one of the best alternatives to CamScanner for scanning printed photos with the best visual effects. PhotoScan uses Google's powerful post-processing algorithm to create a digital photo without sharpening the effects. The core feature is that it does not have glares or blemishes on the photo after scanning.
Edge detection and automatic cropping system make it superior to CamScanner. In my opinion, after CamScanner, the best photo scanner is PhotoScan.