Continue After Advertisement
The Tapping Solution is a free health and fitness app developed by The Tapping Solution, LLC. This app is specially designed for getting better sleep, overcoming fears, lowering stress levels, and reducing anxiety. The app provides multiple meditations for making all these things possible. It has almost 4 million sessions with a length of 5 minutes to 20 minutes.
There was a great difference between a user's emotional intensity before and after ending the sessions. With the help of this app, people can easily release negative emotions like guilt, self-doubt, anger, grief, and shame. In addition to releasing negative emotions, the app also plays role in relieving pain such as neck pain, cancer pain, arthritis, and headaches.
Continue After Advertisement
Features
Get better sleep
Overcome fears
Lowering stress level
Reducing anxiety
Multiple meditations
4 million sessions
Release negative emotions
Relieve from pain
The Tapping Solution Alternatives
Simple Habit Sleep, Meditation is a free health and fitness app developed by Simple Habit, Inc. It provides users with guided meditation, daily motivations, coaching, and sleep therapy sessions. In addition to providing motivation, the app also provides millions of sounds and music tracks for increasing focus on work. The music tracks and sounds available on this app are divided into 17 different categories. It has almost all the tools, key services, and features that help users in reducing stress…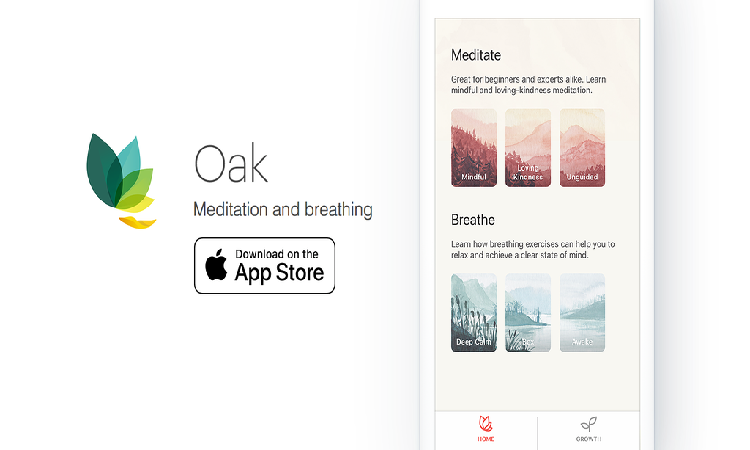 Oak: Meditation and Breathing is a free fitness and meditation app developed by Big Sky Health. This app offers sleep meditations and various exercises for reducing anxiety. It enables users to individualize their meditations by increasing duration and customizing them with calming background music. It provides guided sessions which contain a duration ranging from 5 minutes to 24 hours in length. Users can choose the sessions of their desired tie limit. The app provides a 10-day course for learning and…
Continue After Advertisement
Continue After Advertisement
Waking Up: Guided Meditation is a free health and fitness app developed by Waking Up LLC. Using this app, you can learn how to meditate and unlock your mind. Users have to follow their guided meditation courses and improve their mental condition by taking the latest sessions. All the meditations available on these apps are created by the best-selling author, neuroscientists, and philosophers. The topics of meditation courses include anxiety, awareness, and mental health. With the help of this app,…
Bloom: CBT Therapy and Self-Care is a free anxiety relief, health, and fitness app developed by Meemo Media, Inc. using this app, people can train their minds with personalized mental health education and improve their mental health. This app provides you with videos that teach you the skills of managing anxiety, building better habits, improving sleep, and managing stress. The app works with people who are experts in cognitive-behavioral therapy (CBT). Furthermore, this app offers various exercises performing which you…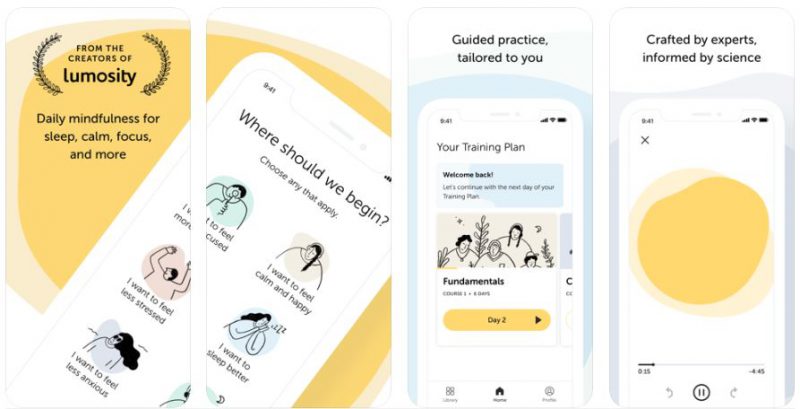 Lumosity Mind: Meditation App is a free health and fitness app developed by Lumos Labs, Inc. The app is designed by the experts for making meditation easy for people. This app provides users with guided sessions for enjoying and improving mental health. It gives you the option to explore the library of guided courses like sleep, kindness, and much more. Furthermore, this app enables its users to discover their mental condition and what they want to do. Using this app,…
FitMind: Mental Fitness is a free health and fitness app developed by FitMind LLC. It is designed for maintaining the mental fitness of its users in a world full of chaos. The app has a series of guided training in which you have to progress for learning to master meditation in 30 days. This app provides you with charts and scores so you can track your improving mental progress. Furthermore, the app gives you the option to ask questions about…
1 Giant Mind: Learn Meditation is a free lifestyle and meditation learning app developed by 1 Giant Mind. With the help of this meditation training academy, you can learn to meditate easily. This site teaches meditation to its users in 12 steps and then the users have to take 30 days challenge for making meditation a habit. In this app, step-by-step audio and video tutorial instruction guides you. The app gives you the option to download these videos or stream…
Stoic. Mental health training is a free health and fitness app developed by Stoic app inc. Using this app, you can learn stoicism philosophy and live a happier life. It provides you insights on how to be happier after analyzing your emotive influences. The users of this app can start a perfect day with a personalized morning routine. Furthermore, after using this app, you can prepare yourself for facing everything which happens to you in your daily life. The app…
Insight Timer: Meditation App is a free health and fitness app developed by Insight Network Inc. The app delivers meditation guides and talks for those who are suffering from stress and anxiety. These talks and meditation guides are led by psychologists, mindfulness experts, and teachers. All the meditation guides and talks available on this site are of different lengths. In addition to providing meditation guides and talks, the app also provides its users with music tracks of multiple categories. Furthermore,…
Shine: Calm Anxiety and Stress is a free fitness and health app developed by Shine, Inc.  With the help of this app, now you can easily take care of your mental health. You can make an easy morning ritual with gratitude check-ins and daily meditations. It provides weekly courses on various self-care themes like joy, rest, and resilience. Furthermore, it gives you the option to join monthly workshops in which users can improve their mental wellness by learning from experts.…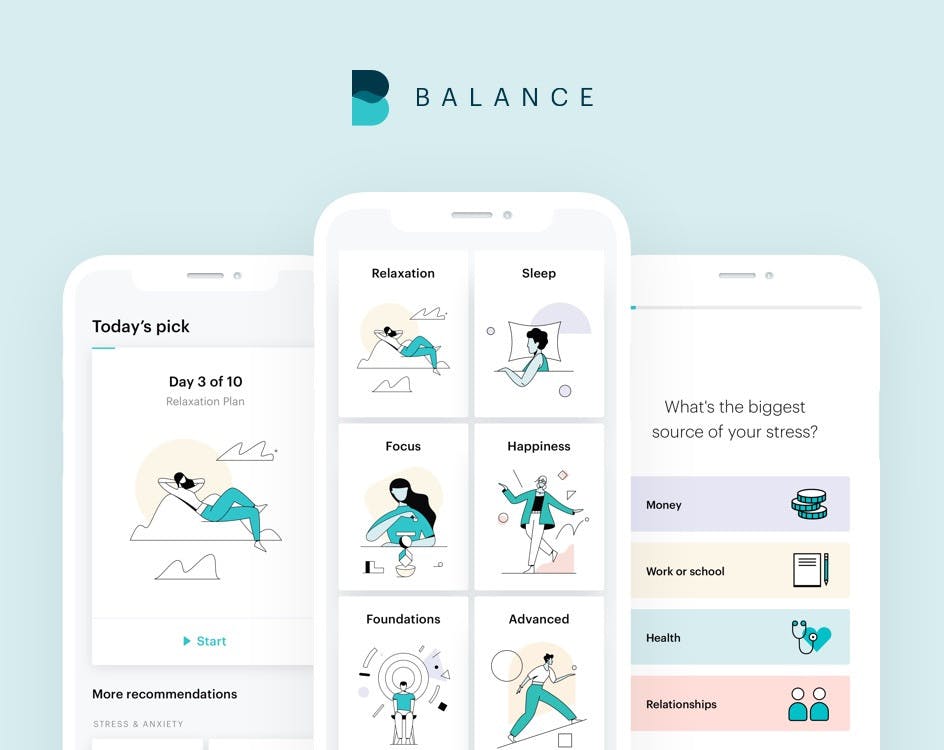 Balance: Meditation and Sleep is a free health and fitness app developed by Elevate Labs. With the help of this personalized meditation program, you can calm your mind, improve your sleep, and reduce your stress. Using this app, you will discover how to get deep relaxation in a time of stress and how to bring awareness to the day. This app offers various breathing exercises for clearing and calming your mind. Users of this app can notice sensations in their…