Monday software is a robust work management and real-time team collaboration tool. The Confluence program facilitates both digital asset management and collaboration.  The Monday software has been operating effectively since 2012 and has amassed more than 152k users due to its extensive feature set. It helps with marketing and campaigning materials like canvas and forms. Confluence is a web-based wiki that serves as a central repository for shared documents and other assets. In addition, it gives collaboration capabilities to facilitate teamwork management.
Let's evaluate whether the Project management tools Monday and Confluence can match the project management needs of 2022 by analyzing their respective features.
Project Management Tool Monday 
Monday software is a market-competitive application that helps you maintain control over critical concerns and substantially impacts the organization. The complete system, including its functionality, work tasks, data center, and other components, is easy to administer.
Because they have access to the Monday.com service, your staff will no longer waste time or money manually completing tasks or searching for relevant organizations to submit them to. The platform, however, refers to the approach. Monday software's approach to consumer feedback enables businesses to achieve ever-improving results. Moreover, it can make the experience more team-oriented, thereby simplifying problems.
Key Features 
1. Canvas 
Canvas, the most recent element of the Monday program, enables the creation of a visually stimulating virtual workplace. Teams can successfully and efficiently communicate information creatively by introducing snap connections into diagrams' shapes and arrows. Members of Canvas can also utilize a marker to communicate naturally. With a range of colors, it is possible to generate or doodle ideas.
2. Document Management 
The document management functionality enables the creation of executable workflows in collaboration with your team. You can co-edit documents with team members and discuss comments without wasting time. While editing, you can rearrange your text without disturbing other editors. Similarly, you may augment your documents with videos, dashboards, and other pertinent data. Once the information has been collected, it can be utilized as an action.
3. Kanban and Gantt Boards 
Gantt and Kanban are the two visual tools offered by the Monday software. The project timeline may be accessed using Gantt charts to monitor timelines, deadlines, and milestones. Adding CSV sheets may assure data continuity and uninterrupted progress with your duties.
The Kanban board will assist you in balancing your workload and ensuring that you can develop workflows in minutes. You can promote the product more quickly because you can easily access instrumental details.
4. Monday Software Demo 
The Monday demo is part of the website so that users can begin using the software with an understanding of its capabilities and how to adjust them for optimal outcomes.
5. Monday Software Pricing 
Monday pricing is divided into five plans, each of which can accommodate a team's specific needs. The first option is free and provides a limited selection of task management capabilities, including unlimited boards, unlimited tasks, and over 200 templates. The basic plan is $8, the standard plan costs $10, and the professional plan costs $16. Filling out a form on the internet will create the enterprise plan cost for Monday.com.
6. Monday Software Reviews 
The reviews on Monday.com indicate that the program is beneficial because it maintains interactivity between online teams. Users are content with not only the task automation it provides but also the integration choices that are made available to them.
Confluence Software 
Businesses and their employees can achieve beautiful results using the Confluence system. Confluence software enables you to increase the efficiency of your workgroup, complete projects, and keep track of your activity. It can assign individuals to projects, classify their activity, and display them in any location.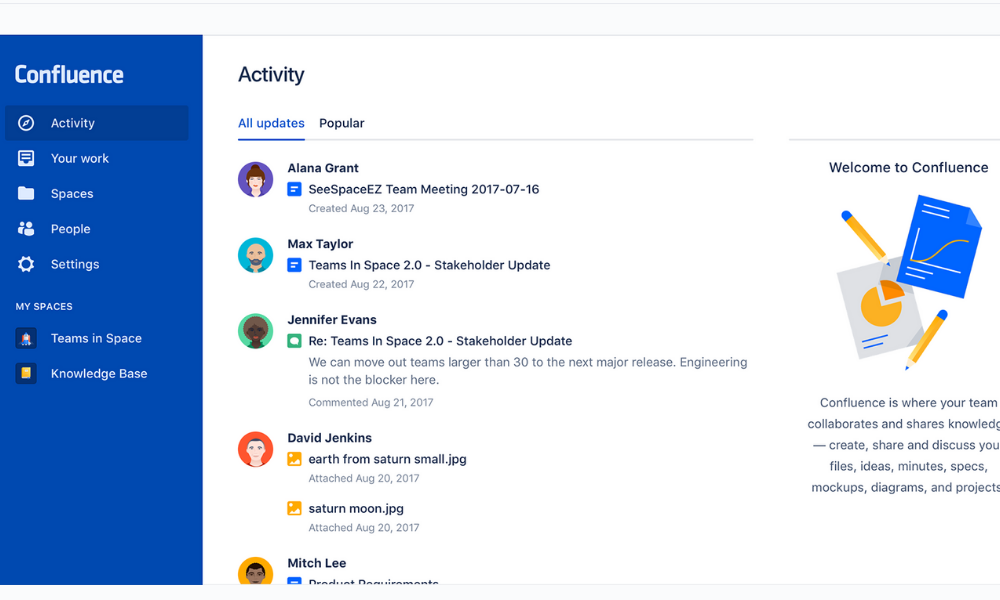 Confluence claims to be one of the most innovative project management system alternatives available. Confluence enables enterprises to collaborate on fulfilling many industry activities. With the help of the Confluence software system, you may account for everything from housework to marketing.
Read More: Confluence Alternatives in 2022
Key Features 
1. Collaboration 
The modern intranet system facilitates user communication even more. Multiple teams, such as marketing, creative, and engineering, can share announcements. The communication between teams will foster the development of the company's culture and guarantee that everyone is on the same page.
2. Project Management Tools 
Numerous solutions are available for managing products, allowing you to track and define each product before its release. Similarly, you can create a launch strategy for the product. When it comes to launching, you may even record the plan in detail by integrating other Confluence-accessible applications and technologies.
3. Work Alignment 
The Confluence program allows users to collaborate. To ensure that your team can collaborate efficiently, you can develop project plans and actionable meeting minutes rather than design each part from scratch.
4. Confluence Pricing 
Confluence's price is accessible in four tiers, each of which provides a set of features that small teams may use sustainably and for which the base plan is free. The ordinary pricing plan costs $5, the premium plan costs $10, and the enterprise plan's Confluence cost is estimated according to the specifications provided by the organization to the sales staff.
5. Confluence Demo 
Demos help one to get familiar with software and its features. The Confluence demo is accessible on the website as a set of videos that provide complete information on the features and functions.
6. Confluence Reviews 
Based on user reviews posted online, it is reasonable to state that Confluence Software's Jira connection is excellent. Because it satisfies several business requirements, the project management software may be advantageous for businesses that provide various products and services. Confluence is an exceptional solution for document and content management as well as team collaboration.
Concluding Remarks 
In conclusion, it can be stated that the choice between Monday and Confluence software depends on the characteristics that are vital to your organization's management.