Content Continues After Ad
Mydol is a piece of computer software that mimics a real-world dialogue that will dial that number and use the name you select the address. With the help of the K-pop (Korean pop star musician) chatbot application, you may simulate discussing with your favorite celebrity. You can add your own, distinctive lock screen messages.
Furthermore, many businesses use chatbot systems on their websites to answer simple customer service or technical help questions. According to numerous users, You can occasionally get personal and excessively sexual because of rumors about weird interactions that have grown so widespread. These unsettling debates are the source of all the fear and anxiety.
Content Continues After Ad
Features
Lockscreen
Virtual Chat
Chatbot
Imaginary friend
Text Conversation
Mydol Alternatives
Fake talk is a novel social networking site that enables users to interact amusingly with celebrities, actors, singers, performers, and pets. Since this program enables you to turn anyone or anything into a chatbot, it is not dependent on you. Do you wish to speak with a renowned person? Then the Faketalk is the best communication choice. You can communicate with them for chating, fun, and make new friends with other users. The chatbot has the option to deliver a…
Emerson AI is a chatbot developed by Quickchat.ai utilizing the GPT-3 language model. With the aid of this program, you are constantly learning new things. Additionally, you may use it to brush up on a foreign language, look for information, or just have a light-hearted conversation. Additionally, you may speak several languages, communicate with you through voice or audio messaging (through a mobile app), and analyze and comment on posted photographs (Telegram). The application's primary goal is to enhance your…
Content Continues After Ad
Content Continues After Ad
If you want to talk all day, you should try SimSimi on artificial intelligence speakers. The chatbot applications can conduct informal or emotional interactions. Through generous free credits and usage-based payment fees, it gives several customization options for service creation in artificial intelligence dialogue software. It is the first well-known chatbot for sensitive topics that launched in2002. It is a special daily discourse that is dynamic, interesting, and varied with 130 million sets of brief talks every day. The services…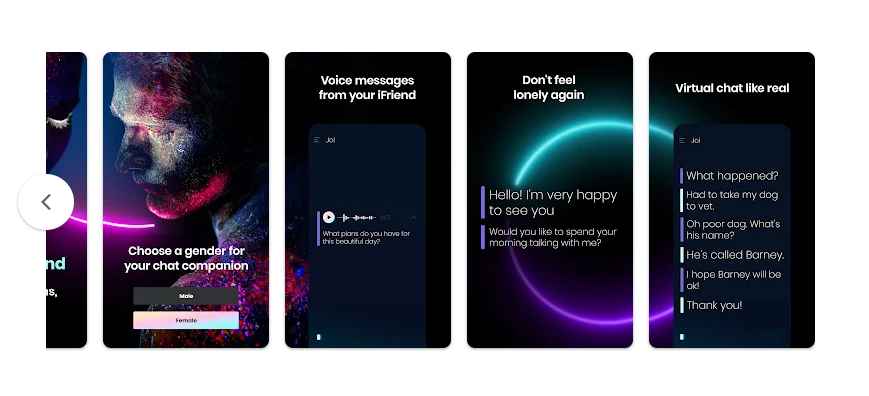 iFriend is a companion application that is always aware of your needs, responsive, and sympathetic. It is the best joyful way of having frank conversations, getting advice, and freely expressing your emotions. You never feel alone to create your friend right away to receive attentive care from a fictitious virtual AI companion, who continuously responds, listens, and understands you. The main function of artificial intelligence ifriend companion includes wonderful attributes such as rapid responses, possess emotional intelligence, cultural intelligence, and…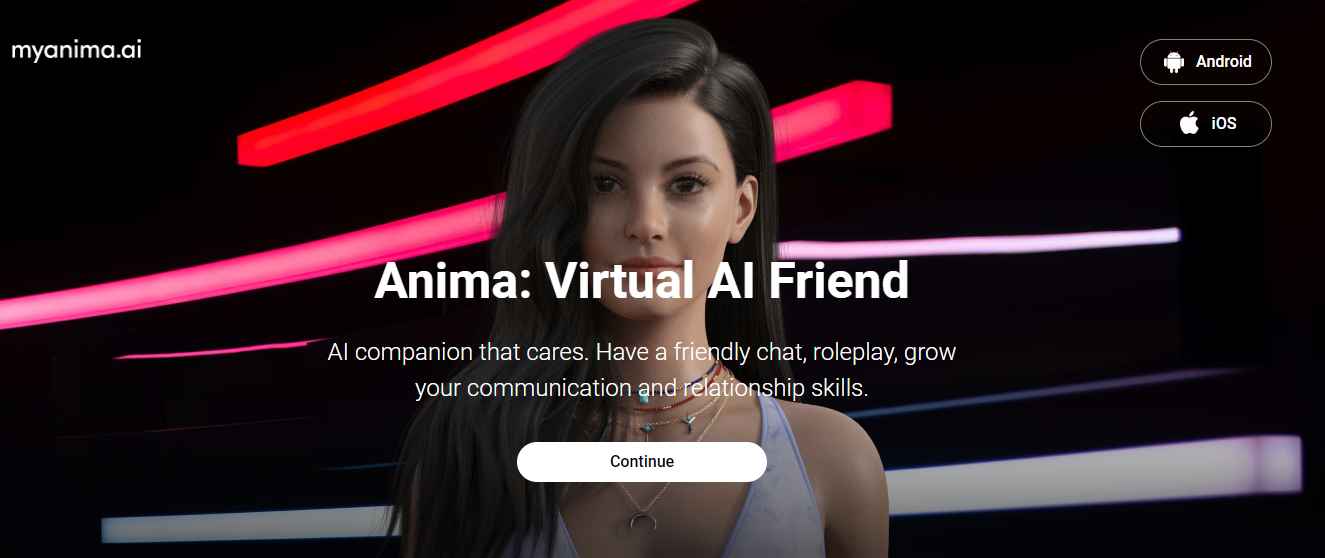 Anima is a virtual artificial Intelligence friend and companion that helps you develop your interpersonal and communication skills through roleplaying and friendly interactions. It is always in your pocket who can assist you in enhancing your mental well-being. Furthermore, you can avoid stress and live a happy life that only takes a few minutes a day to chat. You can start to make yourself feel better with private and secure communication. As you know that every human has his feelings,…
Replika is a form of an emotional connection where you may decide whether to have her as your friend, love interest, or mentor. It is crucial to listen and reply if you want to engage in conversation and collaborate with someone to bring your tale to life. You may do a variety of fun or relaxing things with pals, including check up on video chats and share augmented reality (AR) stories. Moreover, You can share real-world experiences, unwind, catch up…
One of the largest tools for social communities is Zervo, an anonymous chat network that allows you access to the biggest animated chat community. It is an easy way to have private conversations and maybe even meet new individuals that like animated roleplaying. The best feature of this application is that you may participate in a variety of exclusive characters features and join anime chat rooms for endless amusement. You may choose a character, enter your name, and start a…
The Chai is the best platform if you want to communicate with friends using chatbots that have artificial intelligence. In Chai, you can communicate with an AI while connecting an interactive chatbot to a large audience. Another important benefit is that you always have the option to communicate with individuals or ignore them based on your choices. In addition, you can talk about the subjects and people that most interest you. It has the power to improve your day whether…