Content Continues After Ad
Light Novel World is an online website for Japanese, Chinese, and Korean light and web novels to search for according to users' requirements and choices. It provides popular web series and books, including No Game, No Life, overlord, and sword art. Light Novel World allows you to read and follow their favorite content and also permits them to be added to your library as a favorite.
It gives the latest updates and notifications when a new chapter is released of your continued novel to keep you engaged with it. Light Novel World has various genres, ranging from romance to comedy, horror to fiction, fantasy to adventures, and much more, and also gives easy access to multiple devices.
Content Continues After Ad
Features
Popular content to read
Seamless searching experience
Easy to access and navigate
Maximize reading quality
Chinese and Japanese content to choose
Pros
Simple interface
Adventures novel
Quality genres
Leading site
Cons
Need internet
Slow updates
Quality not matters
Light Novel World Alternatives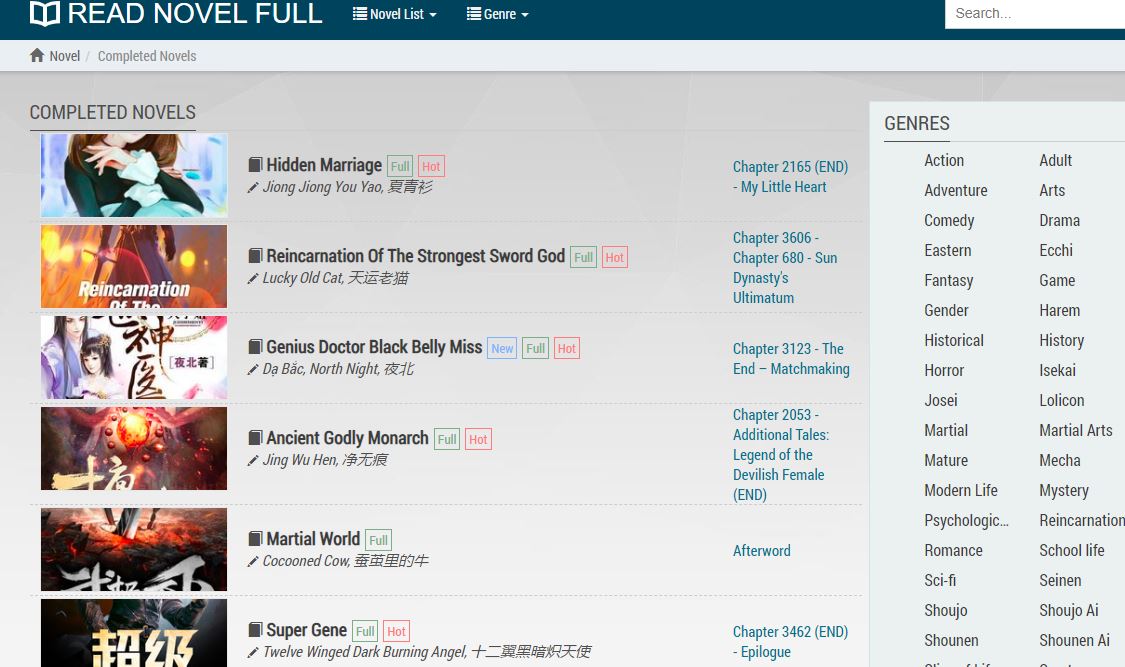 ReadNovelFull is an online leading website to read complete novels and light novels for free by searching through different devices, including smartphones, windows, Android, and OS. This platform provides popular categories of web novels, including Huo Shao, Hidden Marriage, Ancient Godly Monarch, and various genres ranging from horror to adventure, fantasy to fiction, romance to comedy, and much more. ReadNovelFull provides daily and latest updates on releasing upcoming content that engages more people to keep in touch. Additionally, it offers…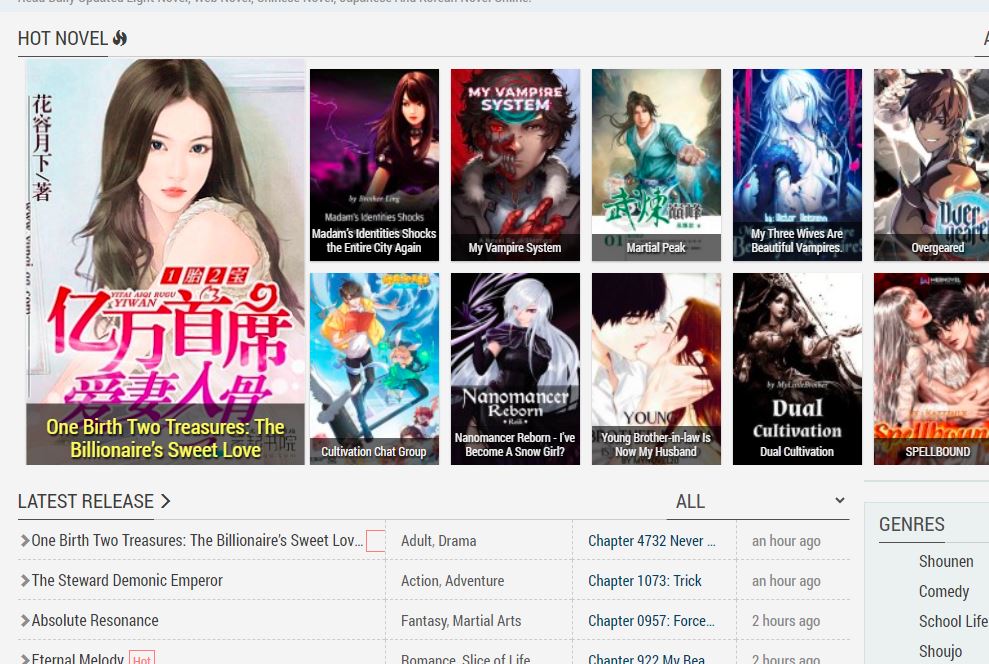 Novelfull is a leading English translator website for translating high-quality web novels and light novels. This platform allows users to search for free according to choice and need and provides various genres, including fantasy adventures, action, drama, funny, horror, romance, and much more. Novellfull offers a seamless translating experience and a friendly interface that lets users quickly access multiple devices from anywhere and anytime. In addition, it has a collection of favorite Japanese, Korean, and Chinese content in every language…
Content Continues After Ad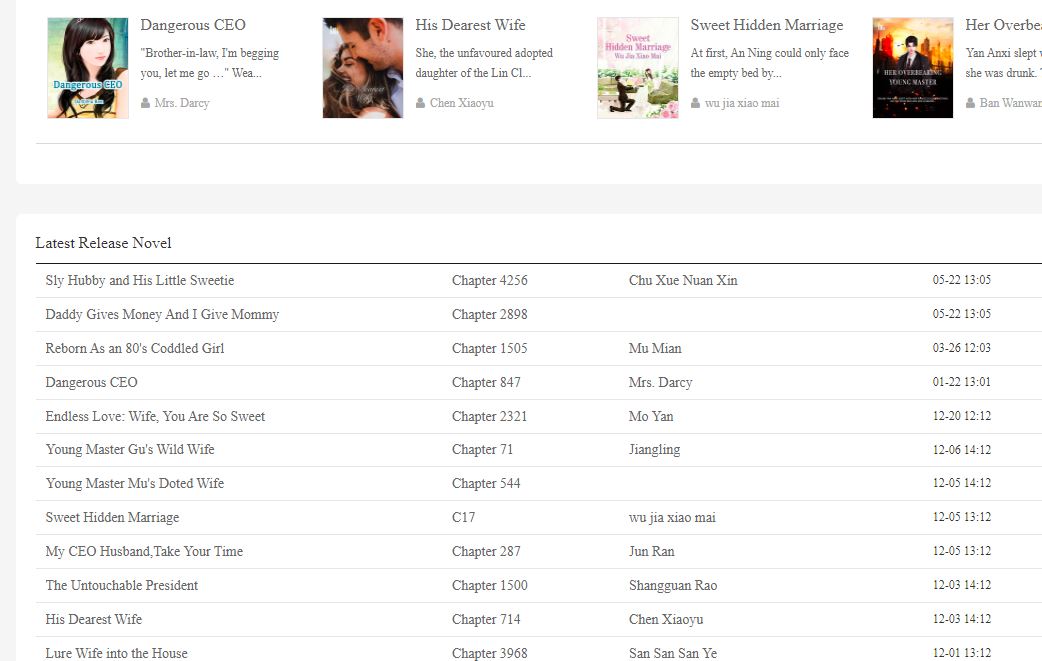 Content Continues After Ad
Novelhall is an online platform of Chinese romance, Korean, Japanese, and light and modern novels for users to quickly and freely access and allows them to read according to their choice and requirements. This platform provides a seamless experience and has a friendly interface to access and navigate to read using multiple devices, including mobiles, iOS, windows, and Android. Novelhall has a collection of novels, including Son-in-law, dangerous SEO, Endless Love, Hidden Marriage, and more; it also has various genres…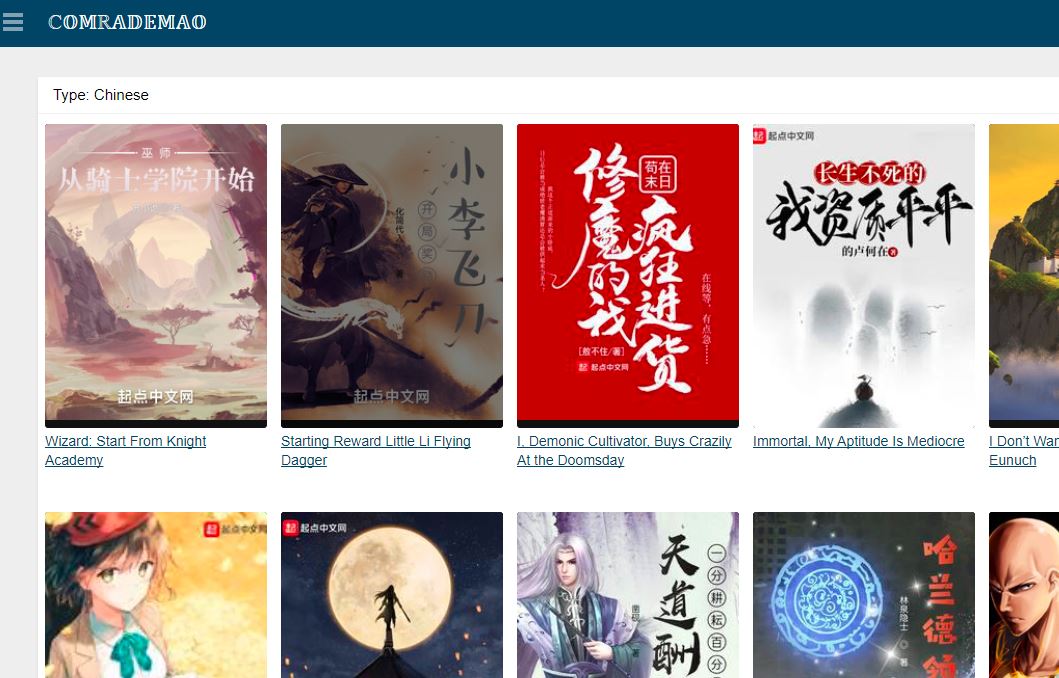 Comrade Mao is an online website for Chinese and Japanese novels to access freely by searching different contents according to users' needs and requirements. This platform has an intuitive interface to access users easily using multiple devices. Comrade Mao provides web series and novel collections, including Martial Art Longevity, Immortal No Pain, Reward Little, flying Gagger, and more, with various genres ranging from horror to comedy, romance to fantasy, and much more. It's a popular site as it allows users…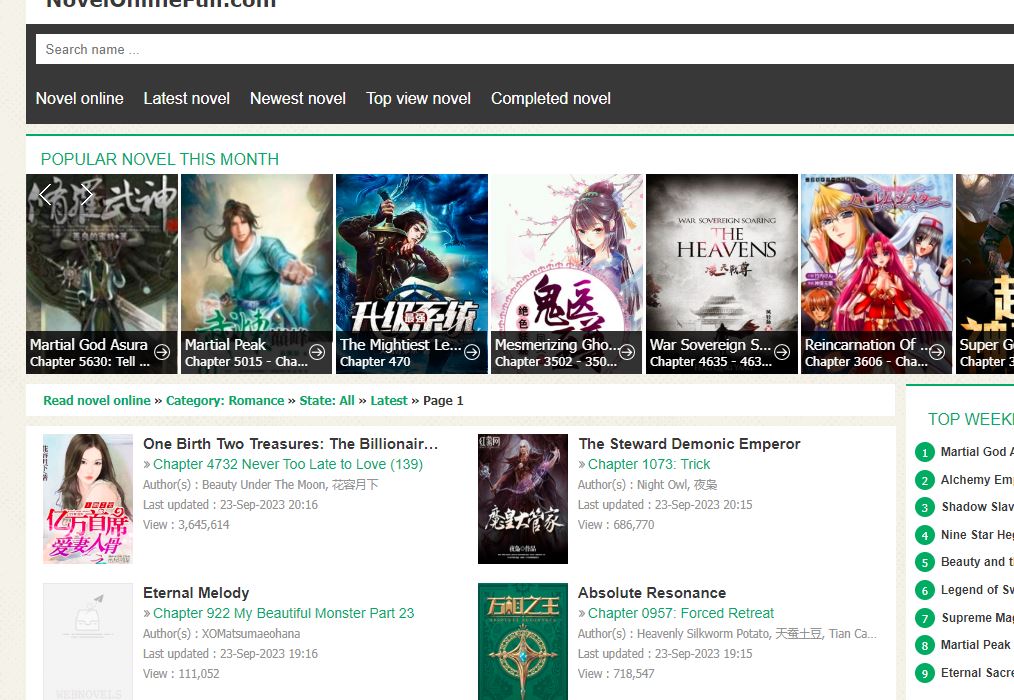 Novelonlinefull is an online website for Chinese, Japanese, and Korean light and web novels to access freely by searching different contents according to users' needs and requirements. It's a popular site as it allows users to access and understand languages and supports hundreds of translated languages. Novelonlinefull has popular web series and novels, including Absolute Resonance, martial god Asura, god of Fishing, super Gene, legends of Swordsman, and much more. It also gives the latest updates on upcoming projects and…
Royal Road is an online web novel platform providing users easy and free access to read their favorite novels according to their choice and requirements. This platform offers a seamless experience for reading using multiple devices, as it has a friendly interface to access and navigate. Royal Road has a collection of novels and web series, including A Highway in Ancient Persia, dying in the Lion of Duty, return of the Runebound Professor, and more. Also, it gives various genres…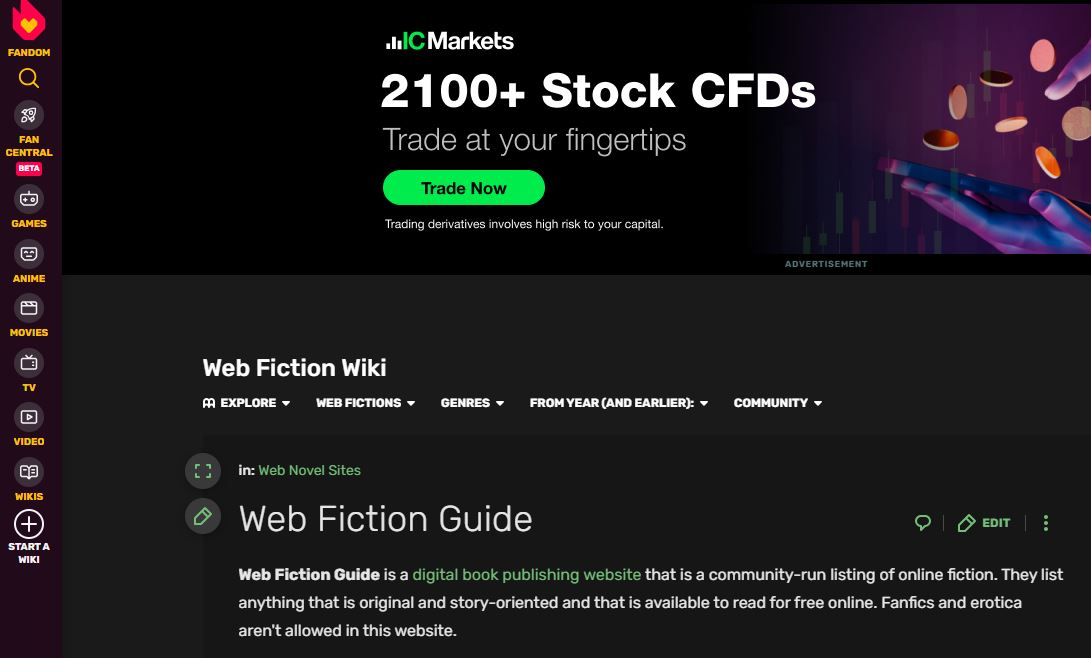 Web Fiction Guide is an online digital book publishing website that provides an easy-to-access option for users to read their favorite content, including web series, novels, comic books, and Japanese stories. This platform has a community-run listing of online fiction and various genres of all ages, including fantasy, horror, romance, and comedy. Web Fiction Guide has an intuitive interface that lets users access using multiple devices anywhere and anytime. Additionally, user can find a collection of series like A Practical…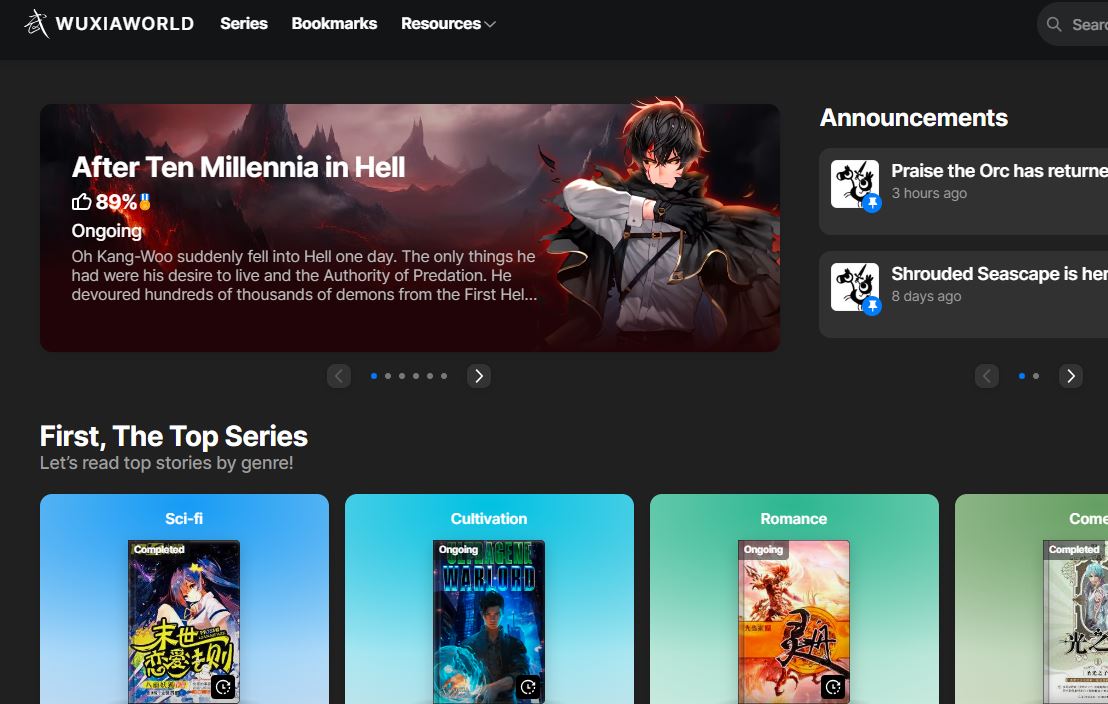 Wuxia World is an online English publisher and reader website that provides Chinese and Korean fantasy web novels and light novels to search according to users' requirements. This platform offers a friendly interface for discovering ad access by users using multiple devices. Wuxia World provides daily updates of users' favorite novels that keep engaging them and give every language access to better understanding. Additionally, this platform has a popular genre collection from fantasy to horror, romance to comedy, to read…
Mtlnation is an online English translator website for translating web novels in the highest quality and free to read according to users' choice and need. This platform provides various types of genres of books, including fantasy, urban, virtual reality, funny, horror, romance, and much more. Mtlnation has a collection of favorite novels like Endless Gods and Heroes, The Strongest Killer of the Zoldyck family, Ninja World, Dragonball Z, and many others in every language translation to understand easily. It offers…
LNMTL is an online website providing users with web novels and light novels according to their needs and requirements. This platform has a collection of Chinese content, including famous maidens' grand summoning, world-destroying demonic emperors, super soldier kings, and much more. It provides all types of genres, including action, comedy, adventure, martial arts, romance, fiction, and others, to read by every person. LNMTL has committed to providing daily updates on the latest released and upcoming projects that engage more people…