Continue After Advertisement
Kumospace is a Virtual Office and Events Software founded by Brett Martin and Yang Mou in 2020 that enables teams to connect remotely and work together in an online environment. Kumospace – Virtual Office Software for Teams & Events offers a common virtual area where several discussions can occur simultaneously without needing separate venues. Furthermore, it allows you to keep documents for convenient access in your online workspace to work together and share in a private window.
The Platform provides an engaging online video conferencing environment where your participants can communicate, network, and exchange reports exactly like they would in place. And you can incorporate your logos, decor, songs, and clips from YouTube. Browse our virtual furniture catalog and template spaces to find inspiration.
Continue After Advertisement
Features
Personalize Conference Hall.
Many Customization Options Available.
Join a Virtual Meeting Remotely.
A Full Suite of Mobile and Desktop Apps.
Multiple Users can Present their Screens.
Pros
Easy to Use
Interactive Interface
Less Scheduling
No Miscommunications
Instant Alignment & Answers
Cons
Site Issues
Bad Experience
Laggy Display
Timezone Problem
Similar to Kumospace
Wisepath is another Virtual Office Platform founded by Paco Chim in 2017 that enables small to large businesses to communicate and meet remotely to discuss all kinds of office work. Using Wisepath, teams can organize their work, combining communications, telephone conversations, assignments, written notes, and file storage. Furthermore, this platform makes it simple for your team to operate remotely or in a hybrid environment. With the help of voice rooms on Wisepath, your team can organize messages, tasks, and files to…
Remotion is a Virtual Collaboration Platform founded by Alexander Embiricos and Charley Ho in 2019 that allows users to work with their team from anywhere. With Remotion multiplayer app sharing, you can unleash your team as though they were on your computer, and you may point, draw, and edit in shared programs. Furthermore, it offers Default settings for shared cursors, sketching, and cursor chat. Remotion – Video calls for doing, not presenting allow participants to connect, network, and exchange reports…
Continue After Advertisement
Continue After Advertisement
Virbela is a Virtual Events and Office Software founded by Alex Howland, Ronald Rembisz, and Ph.D. in 2012, now acquired by eXp World Holdings, that enables users to work, learn, train, and meet in the virtual environment. And it allows you to work in virtual places that make people feel as though they are precisely where they belong, attend meetings, host events, hold seminars, and link your whole remote workforce. Using Virbela, you can create workspaces that support an improved,…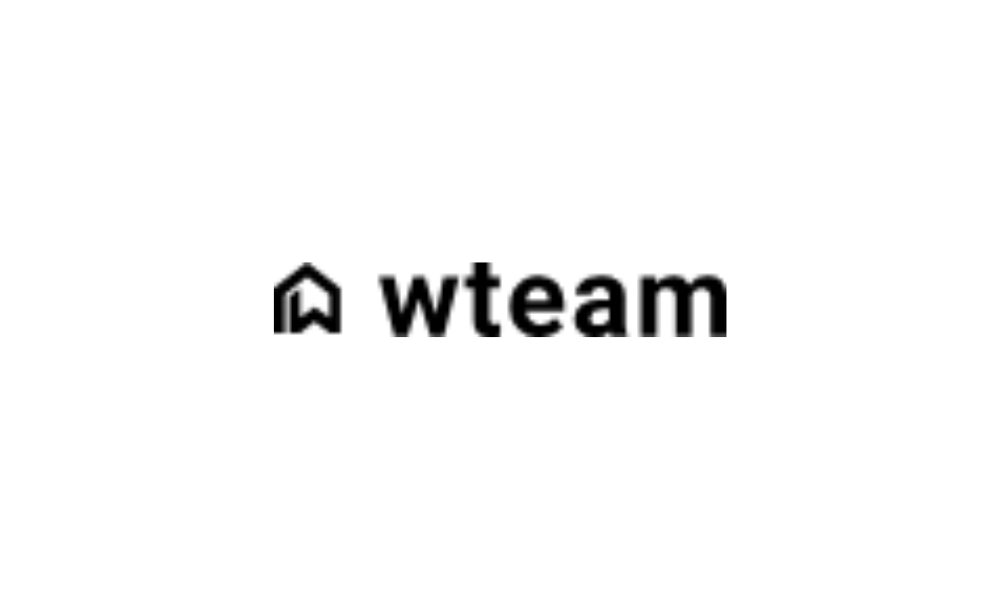 WTEAM, also known as If Zoom & Slack had a baby, is a Virtual Office Platform founded in 2020 by Gulnar Absalamova that offers remote teams a way to interact socially, collaborate, and communicate. It also provides instant video/audio calls, remote control, or screen and cursor sharing. Furthermore, you can join the group meetings or able to view the work software your coworkers are using and the project they are working on right now. With an easy-to-use interface, WTEAM provides…
Like WTEAM, Loop Team is another Virtual Office Tool founded by Raj Singh that enables distributed teams to work in a virtual office to communicate more quickly, record and share in-person conversations, and stay more connected than before. You can create an interactive virtual meeting through voice & video calling, live streaming, whiteboard, signaling, chat, and many more. The plus feature of Loop Team is the ability to instantly connect with peers for spontaneous talks through audio and video, exactly…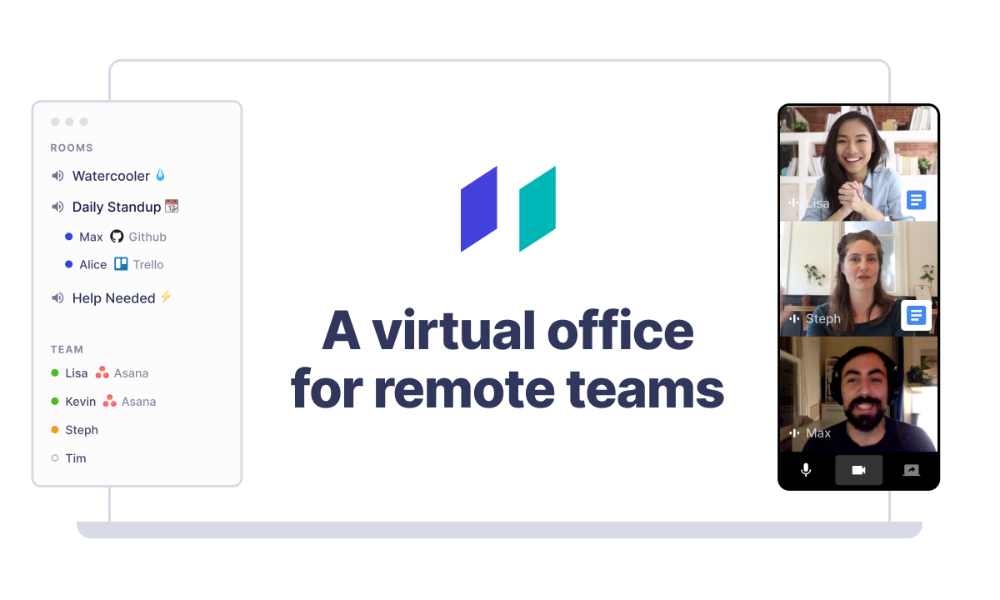 Tandem is a Cross-Platform Virtual Office founded by Bernat Fortet Unanue, Rajiv Ayyangar, and Tim Su in 2019 that enables remote teams to work on shared projects collaboratively. It's an exceptional tool for remote and hybrid teams that allows you to understand what's happening in the office and join while staying away. Furthermore, you can auto-join to ensure that you never miss a meeting, request a chat notification when one of your coworkers is available, and start a chat in…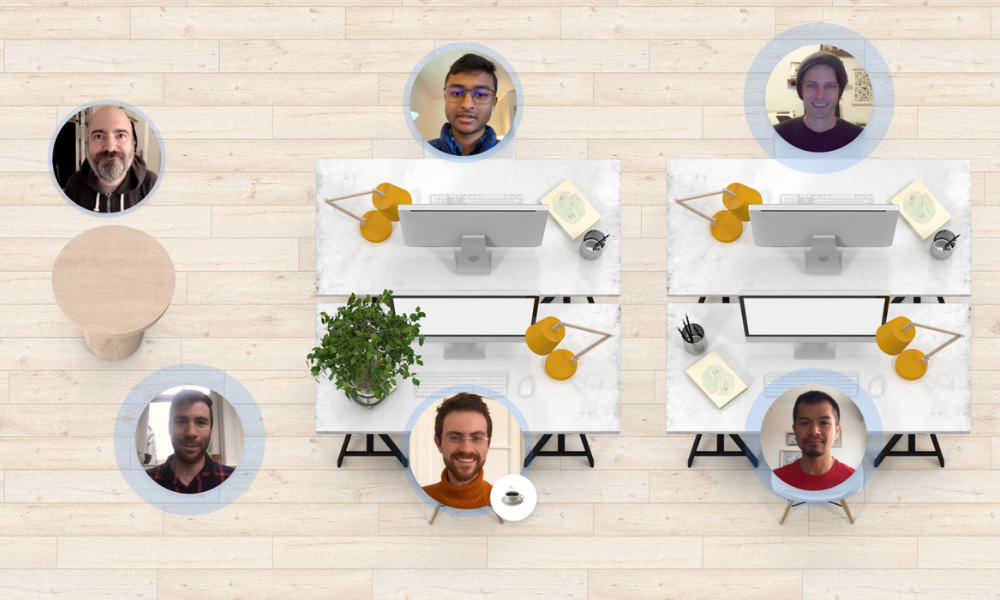 TeamFlow is a Virtual Office Platform founded in 2020 by Florent Crivello that allows users to interact with your team through video calls to meet their goals. You can see other people's conversations, exchange insightful information, and discover what works. Your team can work together to schedule additional demos, just like they would in an actual workplace. TeamFlow enables you to listen to your SDRs when they're on the phone and provide them with comments right away rather than coaching…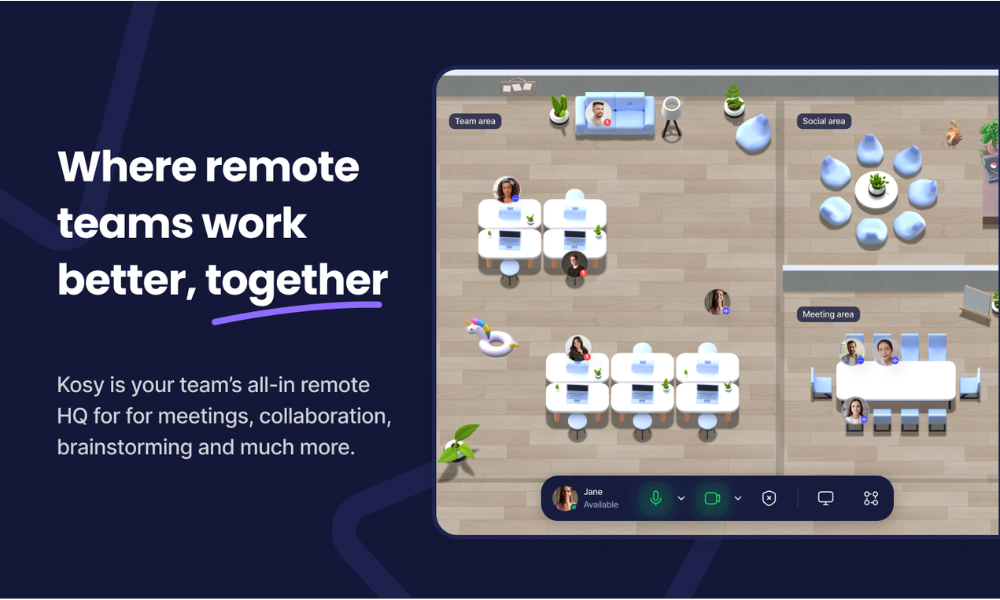 Kosy Office is a Virtual Office and Communication Platform founded in 2021 by Sam Meurs and Yanis Mellata that enables users to connect through voice and video calls. Using it, you are able to view your team members in the surroundings of what they're doing, including the rooms they are in, the people they are working with, and the people who are accessible for a chat. Kosy Office is a virtual workspace that enables remote teams to collaborate more efficiently…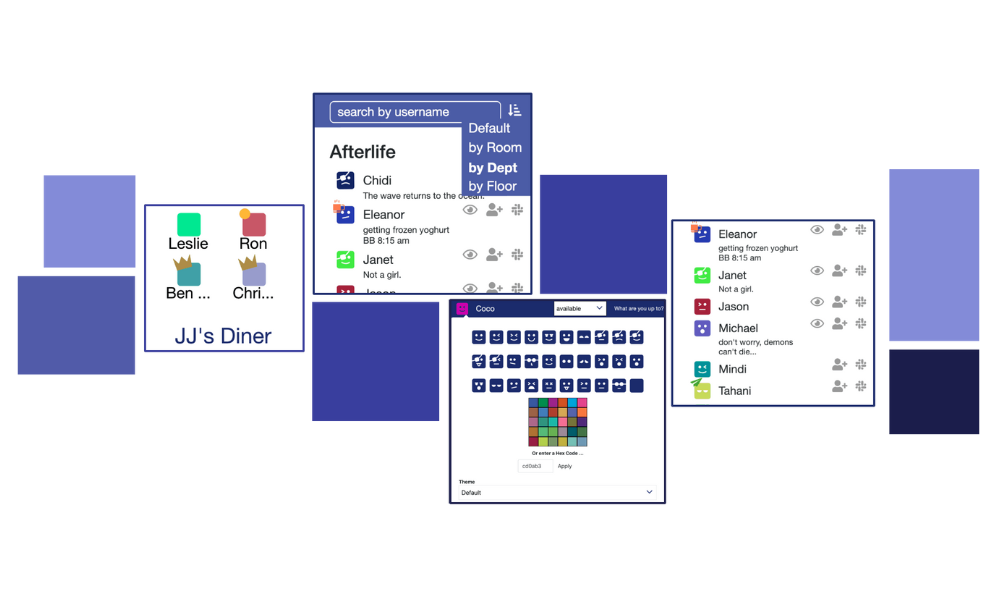 Qube is an Open-Source Virtual Software founded by Nikhila Albert and Birgit Martinelle that allows distributed to work from their home irrespective of where they are. Using Qube, you can track who is conversing with coworkers, leaving the building, or leaving for lunch. Qube enhances virtual office environments by giving remote workers a sense of community and stability. Qube provides an interactive interface to knock on someone's door via double click. When your knock is acknowledged, you can instantly be…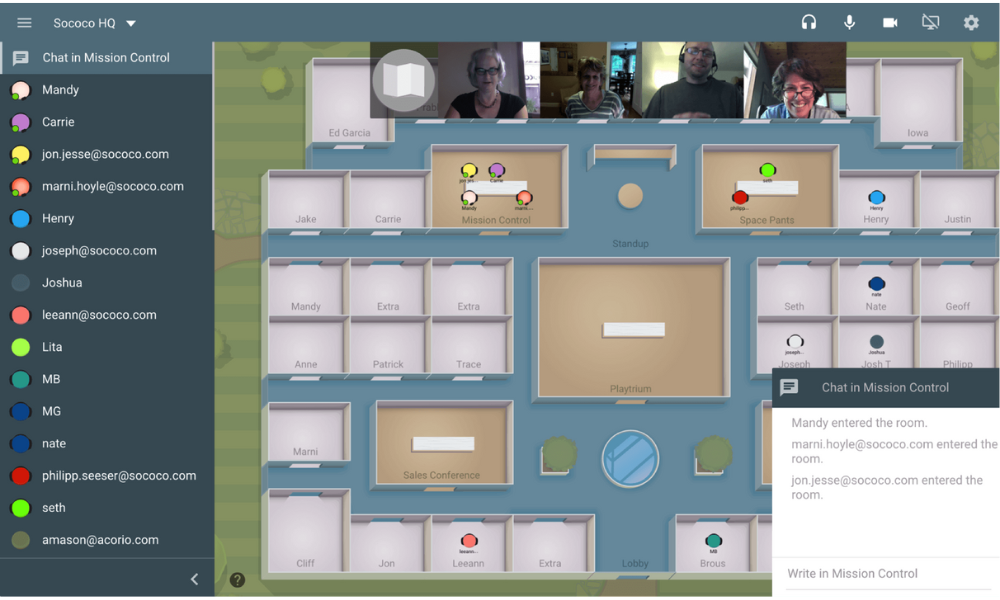 Sococo is an Online Virtual Software developed by David Van Wie and Paul Brody in 2007. It enables distributed teams to collaborate on their daily work regardless of where the team members may be. Using it, Click on Get to ask your coworker to join, ask a short question by knocking on the door, interpret facial expressions, share multiple screens, take action immediately, and finish your assignment quickly. Furthermore, get a room, work with others just like you would in…
Remo.co is a Virtual Events and Office Platform founded by Hoyin Cheung in 2019 that allows remote teams to build corporate culture and promote in-the-moment communication. It's a platform designed for interaction and not simply meetings to create captivating occasions and assist your audience in forming strong connections. Furthermore, you can host events in multiple formats like workshops, fairs & tradeshows, happy hours, hybrid events, conferences, webinars, team building, career fairs, expos, town halls, and more. Remo – Virtual Events…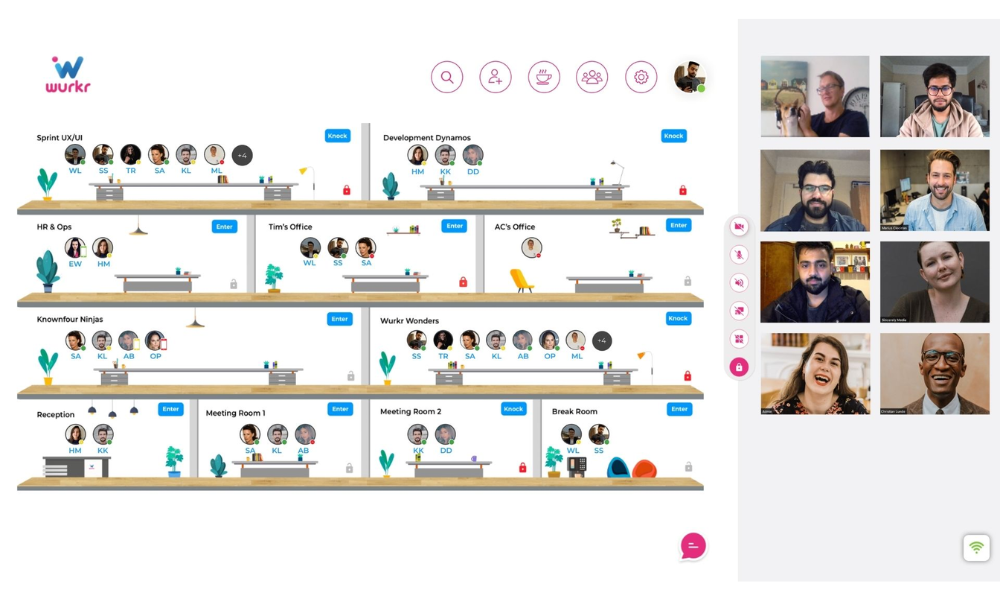 Wurkr is a Virtual Video Platform founded by Annil Chandel and Tim Lloyd in 2018 that allows distant teams to collaborate from anywhere, like an in-person office. It's an excellent solution from the future for hybrid work environments in primarily digital organizations that prioritize improving productivity while supporting workforce well-being. Furthermore, you can connect remotely through virtual rooms, video & audio conferencing, instant chats, virtual hops, and sharing screens. Through Wurkur, you can create a culture of collaboration among your…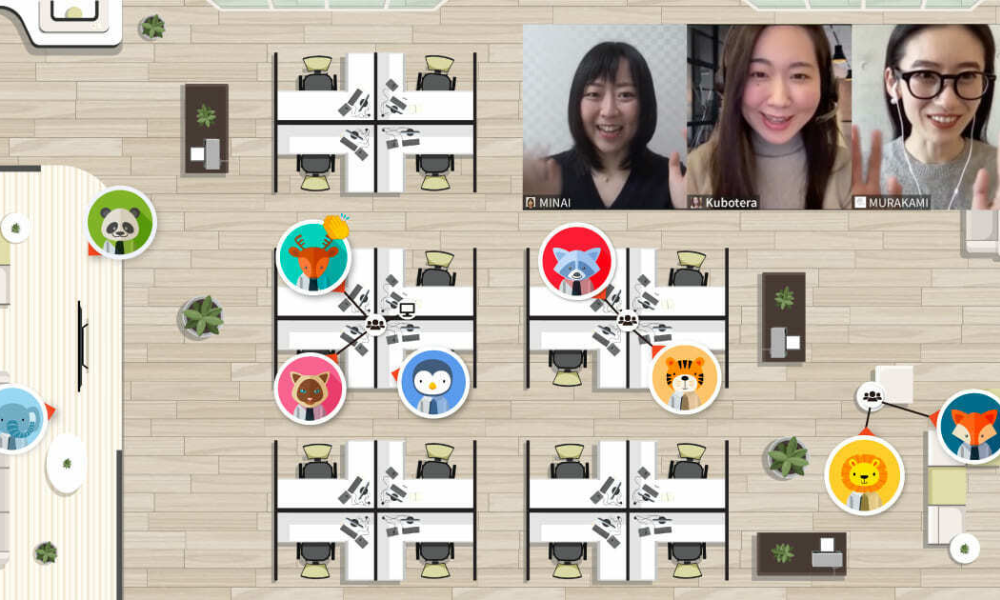 ovice is a Virtual Workspace Platform established by Sae Hyung Jung that enables users to come together, engage, communicate, and work together freely as simulations from distant places. You have more flexibility in where you work with ovice because it lets you add virtual workspace to your work options. And you can access your workplace from anywhere, regardless of where you are, at the office, at home, when traveling, or while on a business trip. With ovice – Experience the Power…
Pragli is a Virtual Office Platform founded by Doug Safreno and Vivek Nair in 2020 that enables users to connect with remote workers using a collaborative interface. Using it, every team member introduces themselves via a movable "Live Avatar." And you can track the status of team members so that you can know who is available through the integration of the calendar. Furthermore, available teammates can start short, synchronous audio conversations or hop into channels like virtual conference rooms. Moreover,…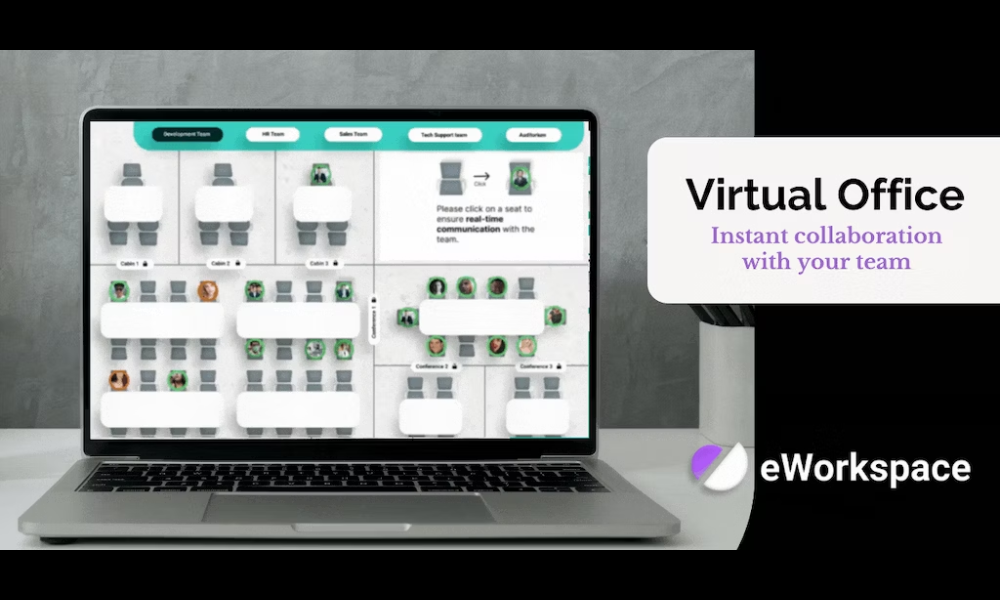 eWorkspace is a Virtual Office Platform founded by Anurag, Divyanshu, Rahul, and Rajeev in 2021 that allows collaborators to communicate and work together from any location in the world. It will enable businesses to receive real-time updates on active hours, task completion status, and more to encourage casual collaboration and creativity. Additionally, it allows businesses to more effectively foster their corporate cultures, fostering productivity and casual teamwork. It gives remote workers the impression that they are in the workplace and…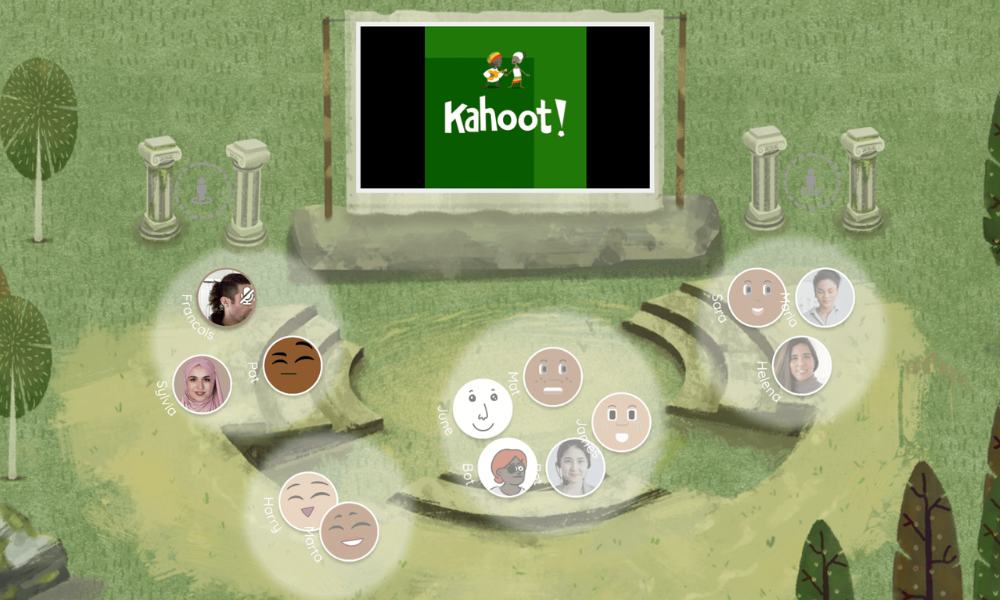 Fres.co is a Virtual Workshop Platform founded in 2018 by Aymeric Gaurat Apelli that enables users to connect through virtual worlds. Fres.co – Turn your courses into interactive experiences, allow participants to switch between conversations as they would in real life, and add games to enjoy in between learning. Furthermore, you can add conference rooms and breakout tables to personalize your environment and encourage your audience to converse and move around in smaller groupings. Features Create Engaging Virtual Workshops. Personalized…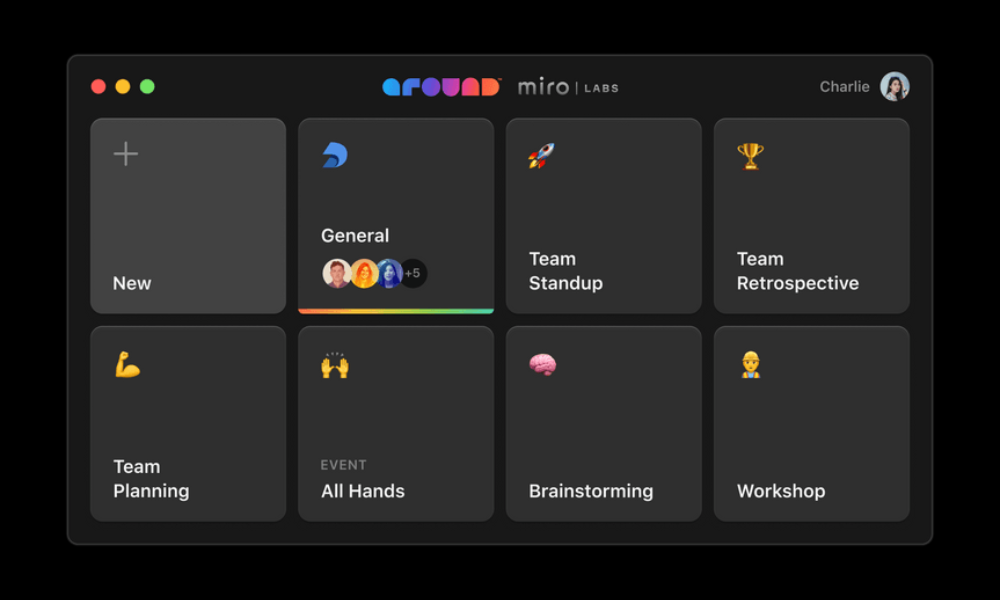 Around.co is a Virtual Office and Video Calls Platform founded in 2018 by Dominik Zane, Matt, and Pavel Serbajlo to support hybrid remote teams to create, collaborate, and celebrate simultaneously. You can host powerful video meetings in dedicated areas and experience a new level of teamwork. Around.co is an AI-powered Video Conferencing Platform that removes clutter and other distractions from the background. Using it, Users can hold less intrusive and cumbersome video meetings and can clearly see their teammates while…
Zipcall is a unique browser-based Video Calling Platform developed by Ianramzy that enables users to connect with their team members from anywhere in the world. Zipcall is a decentralized video chat platform that offers video quality and latency that is incomparable to what is possible with current technology. Furthermore, you can share your screen, start conversations, view live captions, and edit the video call scale. Features Connect with Remote Team via Video Call. Share your Screen and Send Text Messages.…
RemoteHQ is a Virtual Collaboration and Events Platform founded by Louis Sivillo and Waikit Lau in 2016 that enables clients, customers, and team members to connect remotely in the office environment. RemoteHQ is an all-in-one collaborative web browsing platform that allows remote teams to browse collectively who are looking to operate more efficiently. Furthermore, it offers interactive screen-sharing and browsing features to co-browse and co-edit any work with your team. RemoteHQ offers solutions for sales demos, customer support, onboarding and…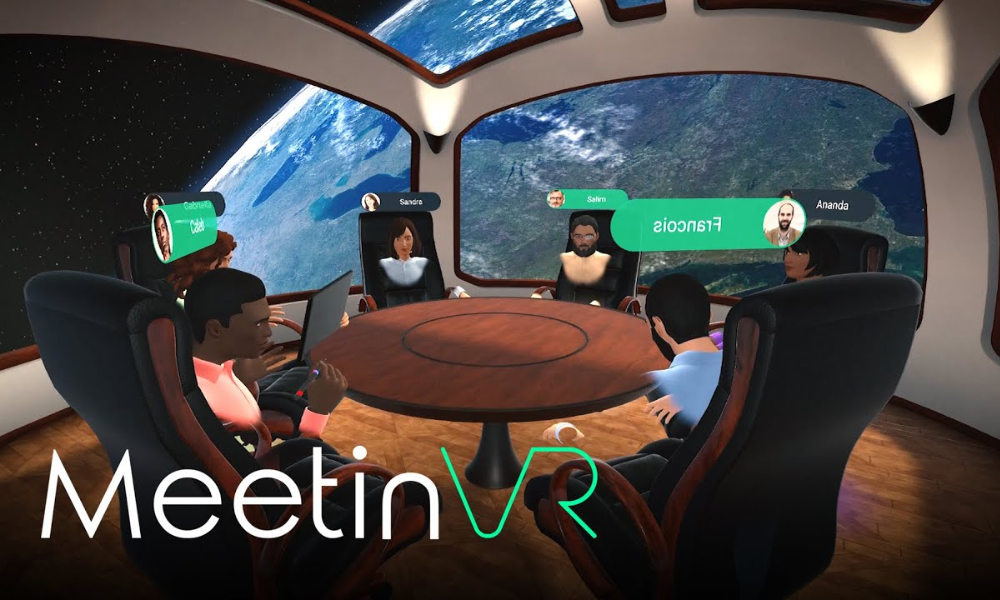 MeetinVR is a VR Collaboration Platform founded by Cristian-Emanuel Anton in 2016 that enables users to use virtual reality to take collaboration to an entirely different level. With the help of the platform, you can hold events, workshops, and training sessions in the metaverse and interact with your team or customers to improve your company's online visibility. MeetinVR – Business Meetings & Collaboration in VR to host meetings in the virtual environment and feel like you're in the same room.…