Content Continues After Ad
Death Race is a racing, shooter, and driving video game created by Gamers Studio 3D. The story of the game is about two car racers who are competing against each other in a race. In this game, the player has to control a vehicle with an acceleration pedal and steering wheel. Throughout the game, the objective of the player is to win the race within the time limit by taking down competitors.
To take down the competitors, you can use weapons or hit them with your vehicles. As the player hits his competitors, they will replace in tombstones. While driving in the race, you have to face various challenging difficulties.
Content Continues After Ad
On defeating other players in early levels, the game proceeds towards difficult levels. The game provides the player with the highest points for winning the race and defeating others.
This game has a wide range of vehicles equipped with weapons for race. Before starting the race, you have to choose your favorite vehicle from all the available ones.
Content Continues After Ad
Content Continues After Ad
Furthermore, the game has various 2D tracks with different obstacles and jumps so you can start the race on the desired track. We have covered some best games like Death Race for those who are interested in such games.
Pros
Simple controls
Excellent pixel art graphics
Pure and simple gameplay
Mind-blowing graphics
Stunningly smooth
Cons
Car upgrades are very expensive
Sometimes game stops
Involves violence
Similar Games To Death Race
Rogue Trip: Vacation 2012 is an action, racing, and combat video game developed by SingleTrac. The game takes place in an apocalyptic fiction world where mercenaries fight against each other. In this game, the mercenaries use multiple weapons and various vehicles to defeat the enemies. Throughout this game, the player has to pick up passengers and bring them on vacation. In addition to picking up passengers, the player has to eliminate all other opponents. This game supports a third-person perspective…
Carmageddon TDR 2000 is an action, combat, and racing video game developed by Torus Games. The story of this game revolves around a person who is imprisoned for life and has a burning passion to escape. In this game, the player has to drive a vehicle to escape from the prison. This game has almost 50 destructible vehicles so the player can choose his favorite vehicle. The game has 9 environments which the player can explore freely while playing. Furthermore,…
Mad Max: Fury Road is an action-adventure and role-playing video game developed by Avalanche Studios. This game is set in a fictional world where the player has to play the role of Max Rockatansky named character. In this game, the objective of the player is to take revenge on Scabrous Scrotus the antagonist's gang. This game has multiple locations like deserts, canyons, and deserts which the player can explore freely. The game has multiple vehicles and all the vehicles have…
Cel Damage is an action and racing video game developed by Pseudo Interactive. The story of this game revolves around the six characters of the famous cartoon named Cel Damage. Throughout the game, the characters have to fight against each other to get fame and glory. The game provides the player with weapons using which you can defeat enemies. All the weapons provided by this game include baseball bats, grenades, boxing gloves, and black holes. Before playing the game, the…
Smash 'n' Survive is an action, strategy, and racing video game developed by Version 2 Games. In this game, the player has to control a vehicle and participate in a race battle. Throughout the race, the player has to destroy opponents' vehicles to win the race. This game has a wide range of missions that the player has to complete with success. On completing these missions with success, the game provides you with points as rewards. Using these rewards, the…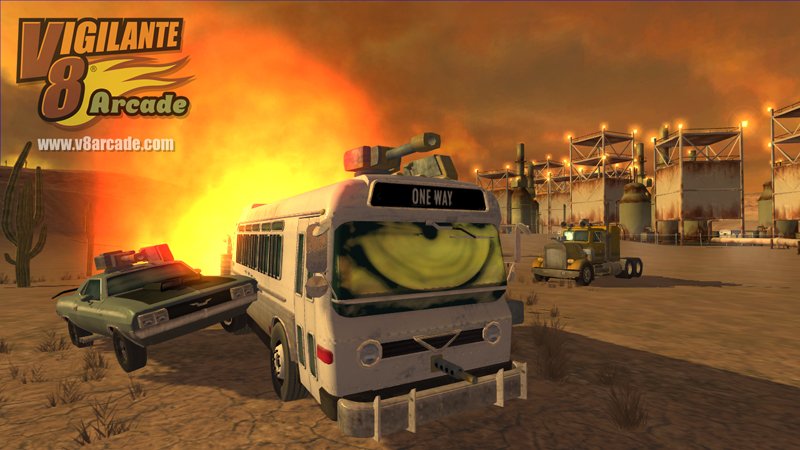 Vigilante 8 Arcade is an action-adventure, racing, and combat video game developed by Isopod Labs. In this game, the player has to control a vehicle and fight against AI character opponents. This game has multiple vehicles and characters so you have to choose vehicles and characters before playing the game. All the vehicles available in this game, have their unique skills and are equipped with weapons. This game has a wide range of levels which the player can complete successfully…
Critical Depth is an action and vehicular combat video game developed by SingleTrac. The story of this game revolves around Douglas McKragen named undersea explorer who has disappeared. Throughout the game, you have to find the reason behind the disappearance of the explorer and discover five mysterious alien objects. This game has almost twelve different factions and all the factions are trying to uncover the mysteries of alien objects. During the gameplay, the player has to engage in fights with…
RoadKill is an action-adventure, shooting, and racing video game developed by Terminal Reality. This game is set in the post-apocalyptic world which further consists of caves and city-towns. In this game, the player has to play the role of a vehicle. Throughout the game, the player has to perform various actions like attacking enemy gangs and destroying vehicles. In addition to performing multiple actions and destroying other vehicles, the player can also participate in street gang races. The game comes…
Twisted Metal: Black ONLINE is an arcade and action-adventure video game owned by Sony Computer Entertainment. This game is set in a dark environment that is filled with various dangerous things. In this game, the player has to control a vehicle and the objective is to destroy and eliminate the vehicles of opponents. This game has multiple characters so you can choose your favorite character for playing. In addition to providing multiple characters, the game also provides the player with…
Twisted Metal 4 is an action-adventure, racing, and driving video game developed by Sony Computer Entertainment. This game is set in a fictional world that is full of danger in which the player has to play the role of a Sweet Tooth-named character. During the gameplay, the player has to partake in a driving battle against the competitor drivers. In this game, the objective of the player is to defeat and eliminate the competitor drivers. This game has multiple vehicles,…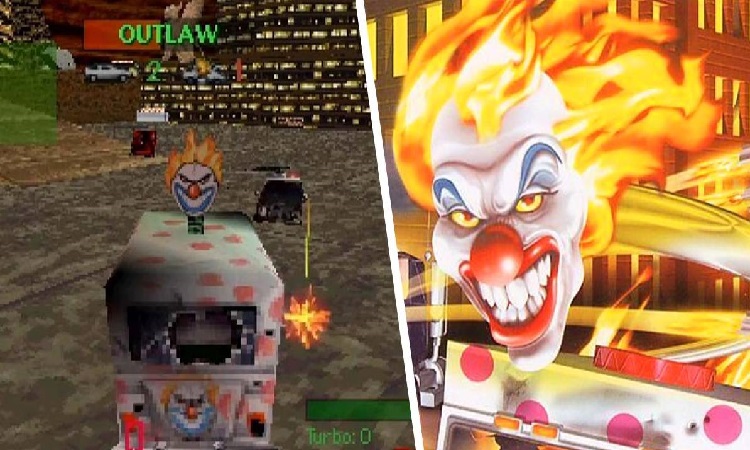 Twisted Metal is an action, shooting, combat, and racing video game developed by Sony Interactive Studio America.  This game is set in the fictional land of Los Angeles where the player has to control a vehicle. Throughout the game, the player has to participate in a race and compete against other trained drivers. This game has multiple vehicles with unique attributes and skills so the player can choose his favorite vehicle. Before playing the game, you have to equip your…
Monster 4x4: World Circuit is a racing and adventure video game developed by Ubisoft Barcelona. In this game, the player has to control trucks and participate in a truck racing competition. The player can play this game in multiple locations like snowy mountains in Russia, trees in California, and the desert of Egypt. This game provides the player with cash as a prize for winning the race. Using this cash, you can customize the appearance of your trucks and enhance…
The Vigilante 8 series is a collection of video games about fighting with cars. Luxoflux developed these games, and Activision published them. The series is about fun gameplay where players control different vehicles with weapons. This lets them have exciting fights with their enemies. The video games are set in different historical times and usually have a fun and funny take on battles. The Vigilante 8 video game series is an exciting adventure that lets players explore different periods and…