Continue After Advertisement
Vistaprint is an online service provider which provides checks of different kinds on their website. Users can buy any check from their website in any number of amounts. It allows users to create customized checks for their business, company, or personal use. It makes a wide range of checks like wallet checks, wallet trial checks, laser checks, and 3-per-page checks and also contains multiple accessories like covers, check registers, laser envelopes, and blinders.
Vistaprint provides the safest platform for users to browse multiple checks of different categories on the website. It makes business finance easier than before and allows the business to create its logo printed on the check.
Continue After Advertisement
Features
Accounting pads help to stay organized.
Easy to use blinders.
Multiple customization options.
Secure website.
Pros
Order tracking details.
Secure Socket Layer (SSL).
A reliable option for payments and expenses.
Cons
Limited customization options.
Designs got stuck sometimes.
Limited region coverage.
Vistaprint Online Check Ordering Alternatives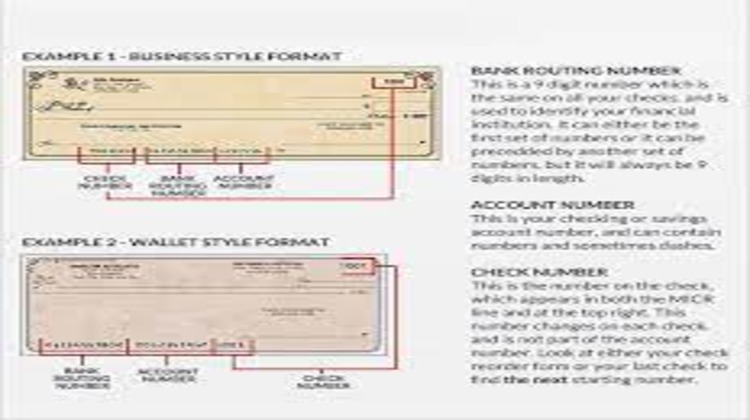 Sam's Club Checks is a secure website for buying high quality printed checks for business and personal use. Sam's Checks offers affordable prices for printing a maximum of five lines with a maximum of 35 characters per line. Sam's Checks fits the user's needs for multiple kinds of checks. It customizes checks according to business color, theme, or type, and users do not have to pay any designer to design checks. Users can design their checks with the suitable theme…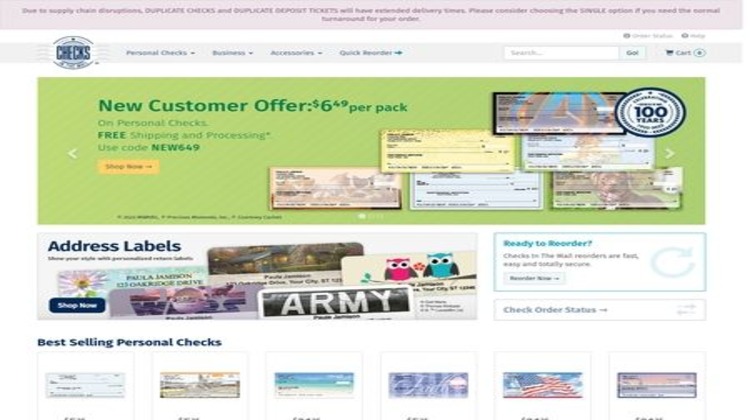 Checks In The Mail is a website that provides users with the best check supply service. Users can easily find the best checks for their businesses. They have had the best experience in the check industry since 1993, and Checks In The Mail provides high quality services to users. It provides the easiest and most secure way to order checks. Some websites remove the previous order information but Checks In The Mail save users' recent order details so users can…
Continue After Advertisement
Continue After Advertisement
Deluxe is one of the leading brands in providing the best quality checks to users online with its multiple services and products. It gives guaranteed details about its products and assures its customers the best security. Users can convert their money-based transactions into checks with Deluxe's best services by trying Deluxe. Deluxe contains a wide range of designed checks, and users can select any of them according to their preferences. Deluxe provides affordable deals and prices of checks, which anyone…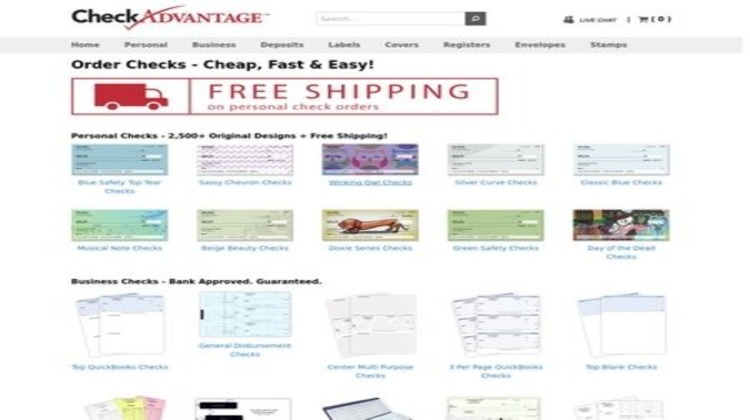 CheckAdvantage is a website that provides checks of various categories and a wide range of options. Some businesses still use their old-fashioned checks for their payment circle, so CheckAdvantage provides them with various new designer checks for their businesses. CheckAdvantage is one of the trusted websites for printing checks online, with all the security measures essential for any check. CheckAdvantage provides free shipping on all personal checks and also on checkbook covers and address labels. Users can customize their checks…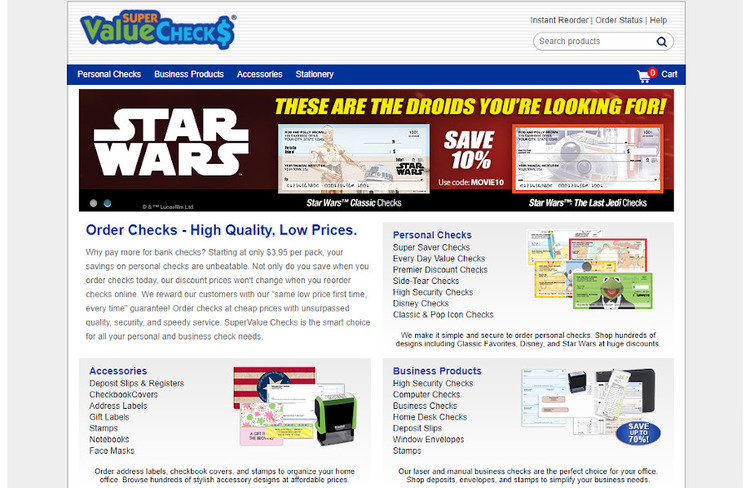 Super Value Checks is an online brand of various personal checks at affordable prices. It was founded in 1995 and has been providing quality services till now. Users can quickly and securely get their checks for their various transactions. It provides high-quality checks and assures maximum security to users. Super Value Checks offers a wide range of checks on its website, and users can make changes according to their needs. It contains more than a hundred designs displayed on the…
Costco Check is an online service provided by Costco Wholesale. It allows users to express themselves with the checks Costco Checks have provided on their website. Users can design checks according to their needs, if it is for personal or business use. If users want to add something personal about business or anything to their checks, Costco Checks helps them to customize the checks according to their needs. Users can add multiple scenes, images, business logos, colors, etc. Costco Checks…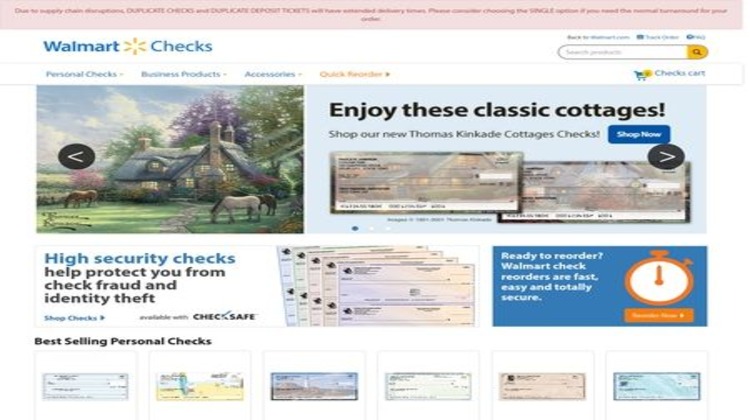 Walmart Checks is a service from the popular online store Walmart which provides checks for multiple purposes like business checks, designer checks, personal checks, etc. Walmart Checks allow users to browse various checks designs like contemporary designs, inspirational designs, classic designs, floral designs, scenic designs, Disney, Star Wars, and many others. Walmart Checks have made it very convenient for users to order online checks and have thousands of design options with various categories. Walmart Checks provides computer and manual checks…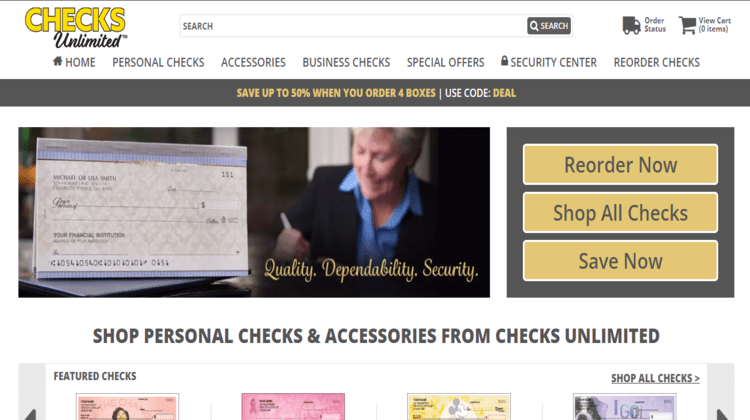 Checks Unlimited is a website that sells various Checks with various designs and features. Checks Unlimited contains categories such as classic, special edition, inspirational, religion, animal, floral, collegiate, cartoon, side tear, scenic, charitable, Disney, desk set, Warner Bros, cute, and photo checks. Checks Unlimited contains multiple accessories related to Checks, like address labels, Checks register, checkbook covers, photo products, debit organizers, address stampers, and deposit slips. Checks Unlimited provides affordable Checks to users with the best quality and designs. Checks…
Checks.com is an online service that offers users various customized bank checks. Users can use these checks to send money to their loved ones. Users can create any kind of check, like professional, personal, and secure checks. It allows users to create fully customizable checks in the name of their favorite bank or credit union. Checks.com allows users to customize every part of the check and create the check design however they want. Checks.com provides various attractive checks with multiple…
Bradford Exchange Checks is an online platform offering its users a wide variety of personal checks and accessories that reflect customers' tastes, with savings of up to 70 percent off bank check prices. It provides its clients with an expansive selection of design themes, from professional to colorful, and even offers checkbook covers and address labels to match. Their checks meet the American National Standards Institute (ANSI) requirements and are entirely accepted at financial institutions. In addition, Bradford Exchange Checks…