No-Doubt, Procreate is a Simple, Comprehensive, and Award-Winning illustration application to create professional sketches, inspiration painting, and any illustrations by using a range of simple tools. It claims to be the best mobile application that offers all premium tools to create your creativity where you are. The app is available to use iPad, Windows, and Mac devices.  Procreate is the best graphic design software for beginners and advanced users that provides a smooth drawing experience and rich functionality.
The application features hundreds of brushes, an advanced layer system, and the breathtaking speed of Silica M that make it a one-stop solution. Procreate offers quite easy to understand interface and editor where you can quickly sketch your creativity, customize, and even use its templates to save time. All its templates are created by a professional team of artists that are daily updates to deliver your latest trend. As compared to other similar apps, Procreate is expensive but offers all the premium functions and tools. Today we will help you to find the best Procreate alternatives that are quite similar and also available to use on Windows, Mac, and Android devices.  
Krita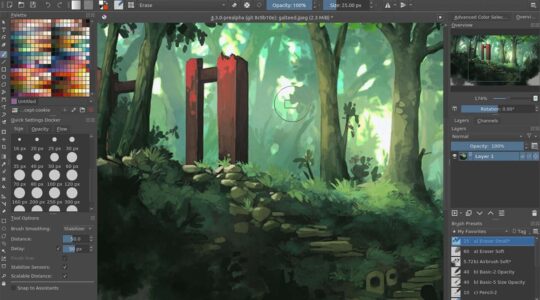 Krita is the best option if you are looking for a free and open-source raster graphics application like Procreate. The application helps you to easily and quickly create a digital painting and 2D animation by using some premium tools without cost. It is a cross-platform solution, and you can access its service anywhere around the world.
The application comes with features like OpenGL-accelerated canvas, advanced color management, a modern brush engine, and much more that make it the only solution for professionals. It has an intuitive user interface that says out of your way and also offers customization with unlimited options.
Autodesk SketchBook
SketchBook is one of the most popular and feature-rich software applications of an artist who wants to draw raster graphics. This cross-platform app allows you to create any sketch, drawing, and even illustration without any limit. It has a pie-menu user interface and all-in-one painting tools like brushes, pencils, and shapes, etc.
The most helpful fact about these apps is that it introduces a screenshot tool for annotations that helps you show content during meetings, add reviews and notes, etc. With this, you can also create animations, and it also supports layers with the ability to import from and export to Adobe Photoshop.  
ibis Paint X
ibis Paint X is a free drawing application that comes with all the leading tools and features. The app offers more than 800 fonts, 400 brushes, 66 modern filters, 46 screen tones, and dozens of blending modes, etc. that make it one of the best drawing applications on Android and iOS devices.
The app comes as an alternative to Procreate but introduces many new features and a user-friendly interface that make it the best. Mostly it is used by professionals, and you can access its service anywhere around the world. Like other similar apps, it also offers several templates that you can freely choose and customize.
Infinite Painter
Similar Apps to Procreate created by Infinite Studio for Android and iOS devices. It is known as the most advanced painting or drawing engine with some premium tools like brushes, layers, blends modes, etc.
The interface of this raster graphic is simple and easy to understand. Everything in its place and you can also be able to customize its setting without any limit. Infinite Painter introduces a pattern tool that helps you quickly create seamless patterns. It supports almost all image formats, and with this, you can also convert images into different formats.
Artrage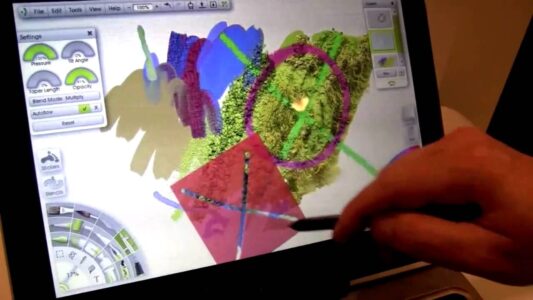 Artrage is a realistic drawing and painting application with a toolkit filled with all the leading tools. It is one of the best apps like Procreate, and you can access its service on all your devices, including Android and iOS. Each tool includes settings that mirror real-world properties such as pencil softness, paint thinners, and other things.
The app also offers a range of default presets for every tool, and you can quickly create your custom presets without any limit. Along with a full range of leading tools, Artrage also offers digital features to add reference and tracing images whole you paint.