Continue After Advertisement
Scrt.link is a platform that provides advanced tools that allow users to securely share their secrets or private messages with innovative features. It allows users to send their personal credentials, which include credit card information, passwords, login details, or any secret message. Scrt.link creates the user's link into three parts: domain, personal ID, and encryption key.
It is essential for the user to keep the link safe if a password does not protect it. Scrt.link also contains an application for generating encryption links. The slash command generates a one-time secret quickly and efficiently. Users can also set the timer for every message, which will burn after one time open.
Continue After Advertisement
Features
Disposable messages.
Desktop application.
Users can store outside Slack.
Users can create accounts.
Pros
Offers free trial.
Easy to encrypt.
Make secret sharing easy.
Cons
Need to purchase a Premium subscription.
Lack of functionality in the free account.
Totally work with the internet.
Similar to Scrt.link
Yopass is an online message encryption tool that allows users to encrypt their secret texts. Sometimes organizations, companies, or people want to send any secret or personal message to anyone, so Yopass enable them to encrypt their text and send links to someone with the encrypted message. It provides multiple features to make the user's message stay secret. Yopass automatically deletes secret messages with time selected by users. It makes it easy to share a secret with security, and the…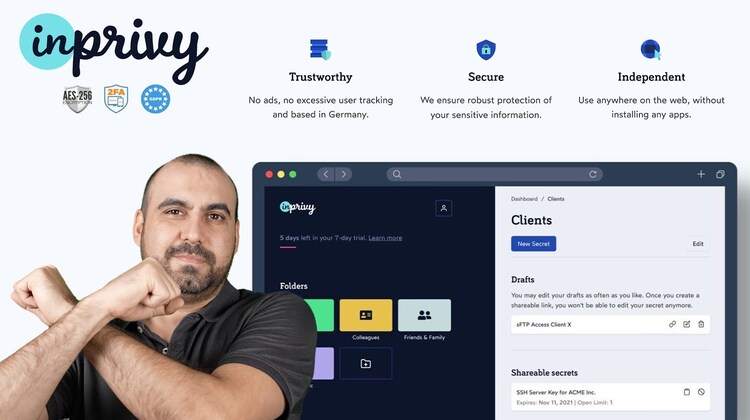 InPrivy is a website tool that allows users to share and receive sensitive information with each other. It enables users to protect their confidential data effectively. Users can share passwords, notes, emails, activation keys, API keys, credit card details, and other personal information with the best and most advanced privacy. InPrivy is developed in Germany, and the platform is trustworthy without any kind of risk. InPrivy tools use the strong AES-256 encryption, which makes the unbreakable encryption. The encryption created…
Continue After Advertisement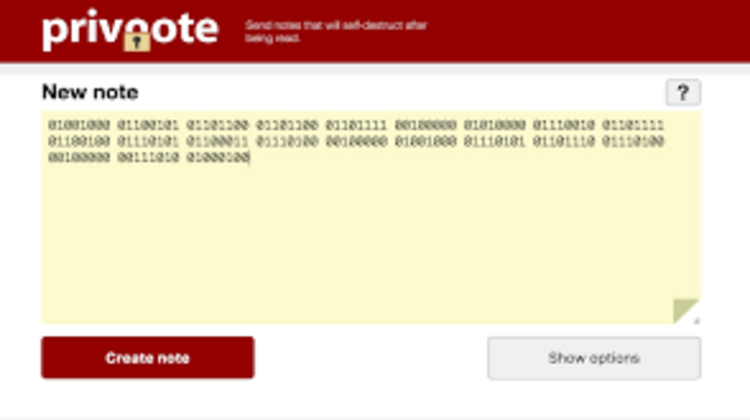 Continue After Advertisement
Privnote is an online website tool that allows users to send private notes to each other. Privnote contains multiple features that make messages personal. The identical part of Privnote is self-destruction notes, which enable users to see notes only once. The letters become self-destructive after reading. It allows users to send notes with or without a password. Sometimes, the user has to send personal or risky messages to anyone. Still, the users don't feel secure on any platform, so Privnote…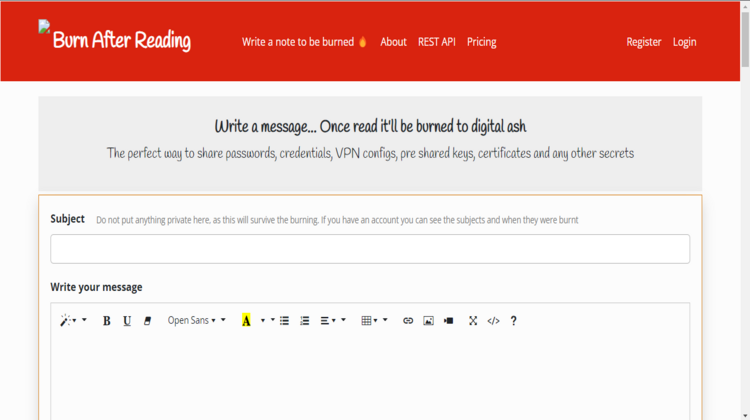 Burn After Reading is an online tool for generating encrypted links to a user's secret text or message. Burn After Reading allows users to create a customized password for their data. It provides an option for auto burning, which automatically burns the text into digital ashes when the reader one-time reads it. It enables users with multiple customization features through which they can personalize their texts. It also allows users to paste any link to their social media profile or…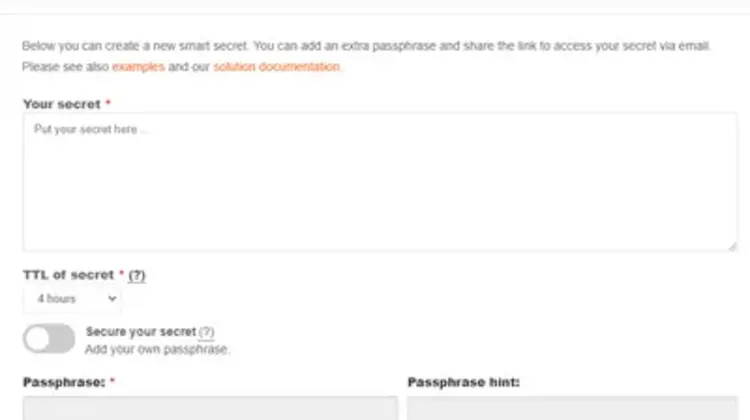 Smart-Secret is a website tool that allows people to encrypt their sensitive and secret data. Sometimes, users want to share their confidential data but do not trust any social media platform for sharing their secret data. Sometimes, users want to send passwords and credit card information to their accounts. Smart-Secret helps users to send all these in a proper, secure manner. Sending data securely is very straightforward through Smart-Secret; first, write or paste all the data on the text box,…
SNote is a tool that provides end-to-end encryption of user's private data. It allows users to securely share their data, including bank account information, credit card numbers, passwords & keys, secure file storage, family documents, digital wallet details, confidential information, and team project details. SNote doesn't compromise privacy. It gives all the users with the best privacy experience. It allows users to share their data without any insecurity or risk of leakage. SNote provides the best encryption that no one…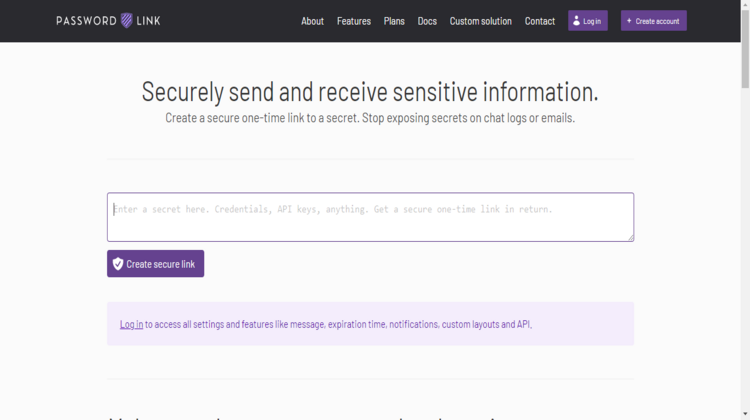 Password.link is a website-providing tool that helps users securely exchange information, passwords, credentials, API keys, and many more. It allows users to create a time-open link, which increases the security to another level. Password.link deletes the encrypted data from their website to ensure the user's privacy. It is even impossible for the website to read the user's secret encrypted data, and no one can read it without the original link. Password.link also provides multiple settings to increase security, like customizable…
Password Pusher is a website for sharing passwords and other secret text and files with people with security. Password Pusher allows users to create a onetime URL for their private message and password. Users can customize the expiry time of their secret link and the number of times a reader can access the message. It provides a facility for organizations and individuals to share their secret credentials with their partners, clients, or anyone without any risk of leakage. It allows…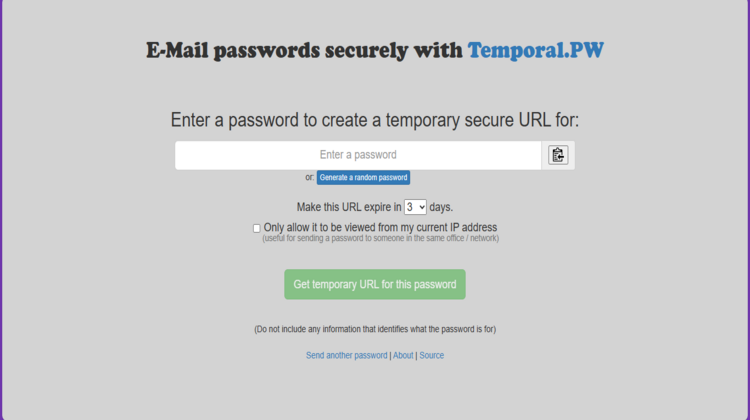 Temporal.PW is a website-based tool that secures users' passwords for secure sharing. It allows users to send and receive essential passwords with the best privacy. Users can create their encrypted passwords anytime, anywhere, without any difficulty. Temporal.PW can be easily accessible by any browser or device, and anyone can use Temporal to encrypt their passwords. It allows random passwords to be generated, which takes security to another level. Users can fix the date of expiry of every encrypted password. Users…
Password Angel is a web-based tool allowing users to send and receive their personal account or anything's passwords and software activation keys in the best and most secure manner. It provides advanced end-to-end encryption, allowing users to quickly encrypt their text. Password Angel encrypts passwords in a way that the website itself cannot decrypt them to read. The single-use link increases the user's trust in Password Angel, allowing the reader to view password time. Once it is opened, the link…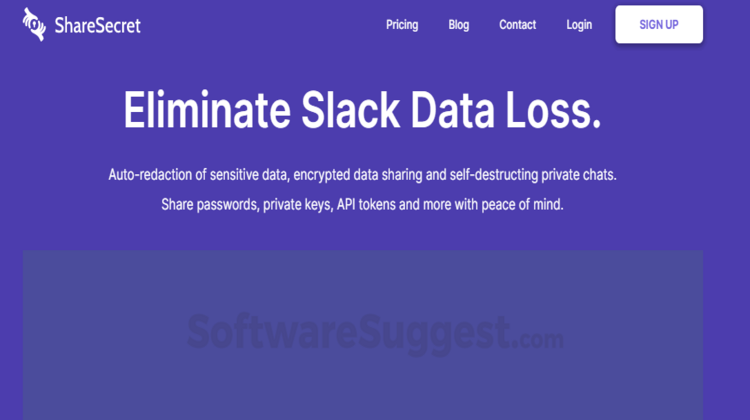 Sharesecret is an online tool that auto-redacts sensitive data and encrypts user's private data properly. It allows users to share unlimited passwords, API keys, API tokens, private keys, etc., with anyone anywhere and anytime. Sharesecret uses AES-256 encryption, which is a very strong encryption. It contains an automatic expiration process, which automatically burns the data into digital ashes after 24 hours to 7 days. Sharesecret website ensures that they do not save any key and don't know the data written…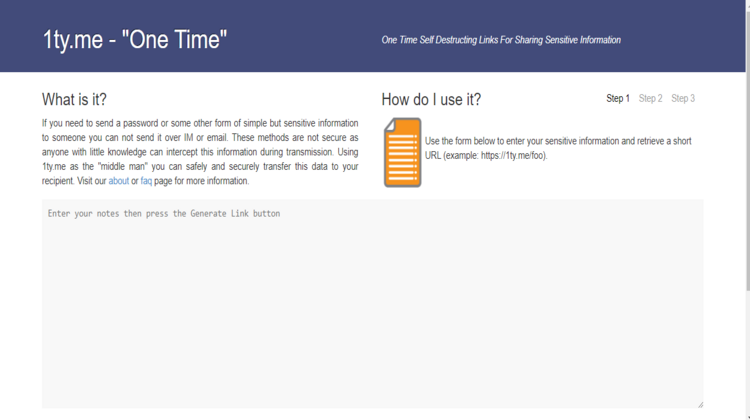 1ty.me is a website that allows users to generate a link to their notes and passwords. It makes users' notes secure in the way that no one can read the notes without the original link. It helps users to send and receive personal information without any insecurity of getting leaked. Sometimes, organizations have to send confidential information to some specific employees or anyone outside the organization, and sending that type of information via emails or other social media apps is…
Noteshred is a website that provides users with the easiest way to send private information without insecurity. Some people send private or confidential information through emails or other social media apps, which is unsafe. Sending information like that is still unsafe or risks getting leaked. So Noteshred provides a way to send confidential information with strong encryption, which removes all the risks and makes private information exchange easier for everyone. The best feature of Noteshred is that it allows users…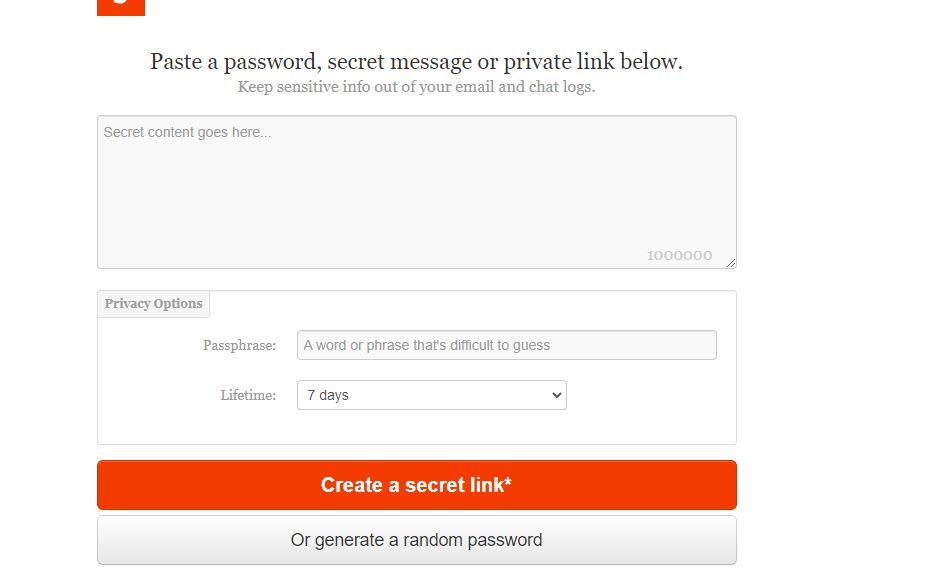 Onetimesecret is an online platform to create links to share sensitive personal information with other people safely. This platform lets users host or create simple to share files with their friends and family as it provides a user-friendly interface to access it easily. Onetimesecret has gained popularity worldwide, among bloggers, content creators, members, and others, due to its flexibility and ability to maintain high-quality sharing privately in no time. It seamlessly integrates with social media platforms and other devices, including…