Are you looking for the best Screen Recorder either to record video games or your presentation? If so, then RecordCast is a lightweight and fabulous tool that helps you capture anything worth sharing on your screen using an online screen recorder and video editor. Nowadays, we live in the era of YouTube, where millions of people record their videos to publish on their channels.
Currently, recording videos isn't a headache as many online tools are available online to help you complete your job, but compromising quality may not help you grow faster. Similarly, professional YouTubers prefer to adapt premium tools with premium features that I found in RecordCast.
Why RecordCast?
Users of all over the world warmly welcome everything that comes with a user-friendly interface. Lots of tools require you to download and install Software; meanwhile, requiring a plugin to start recording the screen. So, I didn't find anything like that for RecordCast, as everything was completed within a few fingertips.
You don't need to download any tool and Software to bring RecordCast to life. By simply signing in, you can start recording the screen with a few options you need to adjust the screen size and more.
Built-in Video Editor
Now, trimming your recording and adding text isn't a big deal. RecordCast was released with a built-in video editor that allows users to trim their recorders and add text effects to make them extraordinary. In addition to effects, you can utilize dynamic elements and add music to adjust background colors once and for all.
Private and Secure
I found many screen recorders upload the video files to their web servers and then start editing. But this isn't a problem anymore with RecordCast as it gives you an option of editing your video files locally. Nothing will be uploaded to the webserver or disclosed to third-party tools. Furthermore, you can use Record Video Tutorials to see how to use RecordCast for better editing.
Record Your Meetings
It doesn't matter whether you are looking for recording software to record online meetings, gameplay highlights, or presentations. Everything about recording your screen is possible at your fingertips, thanks to PearlMountain's product RecordCast.
Three Recording Modes
Unlike many other screen Recording Software, I found three excellent modes: Record Screen + Webcam, Screen Only, and Webcam Only options. Choose your mode and start recording your screen along with mic audio.
How to get started?
Seriously, it's easier than having a cup of tea, as you have to choose a few options, along with mode, and you are done. Here's a brief guide to help you get started:
Select Your Video and Audio Recording Mode
Using the cursor, select the screen area you are willing to record
Once downloaded, edit your recordings to make some tweaks and add a few effects to make it fabulous.
Your video is ready to download and share.
Pricing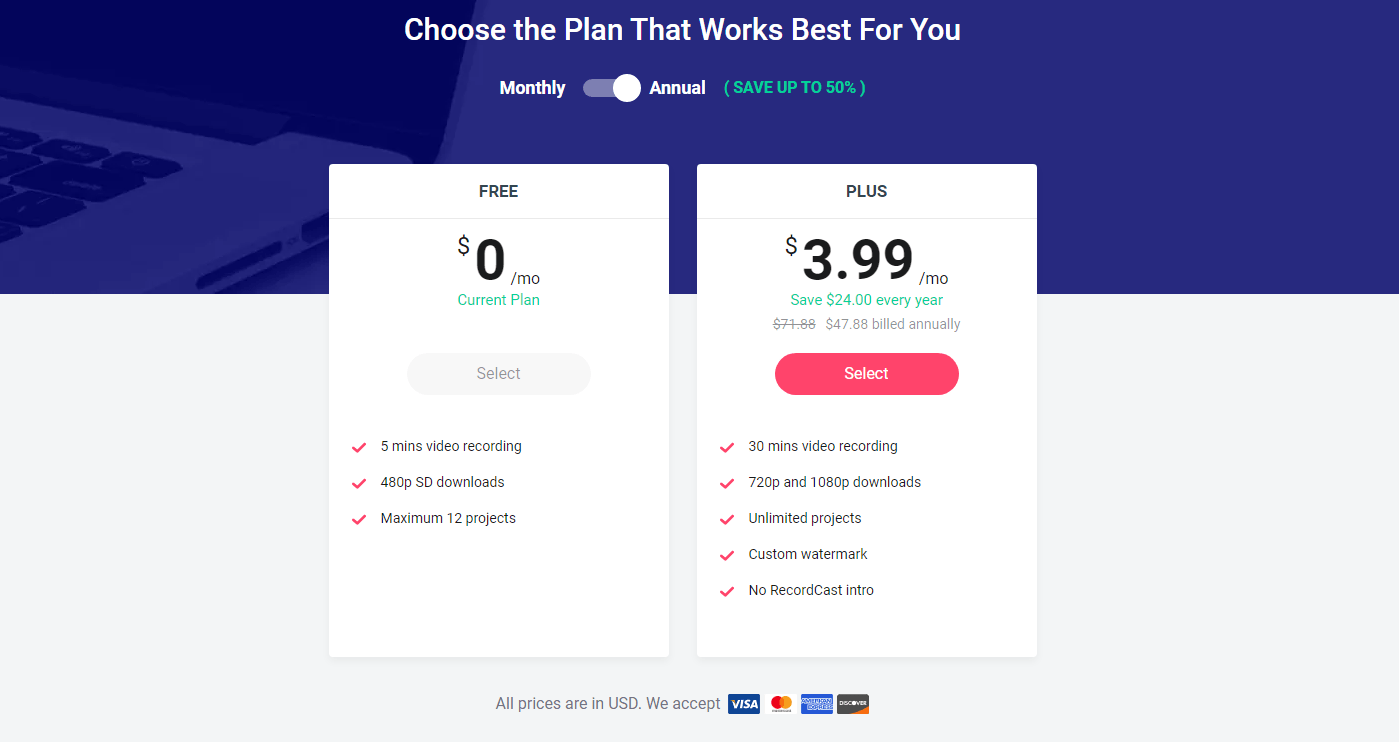 Conclusion
I found RecordCast the best Software for recording presentations and gaming videos. Furthermore, the built-in video recorder helps you take your creation to the next level. You have both options, such as using it for free to make 480p videos of 5-minutes and buying plus plans for 1080p videos of 30 minutes with a custom water option. Justalternativeto.com would love to rate it 9 out of 10.