Continue After Advertisement
GG.deals is a website that helps the Gamer community by providing information about the best deals and digital content. It allows users to discover unlimited discounts and track the prices of numerous games. GG.deals helps users in making purchase decisions about different games. GG.deals contains details about game points, gift cards, subscription cards, pre-orders, etc. GG.deals also provides news about multiple games and their new updates in version or prices.
Users can browse the most popular games on GG.deals. GG.deals tracks the prices of fun and keeps users up-to-date about every little change. It covers multiple platforms games, such as Epic Games, Steam, GOG, Humble Bundle, and many more.
Continue After Advertisement
Features
Price tracking.
Information about deals and discounts.
Users can add games to their Wishlist.
Show new releases.
Pros
Updates accurately.
Free to use.
Give multiple vouchers.
Cons
Covers a limited region.
Gives details about little games.
No mobile application.
GG.deals Alternatives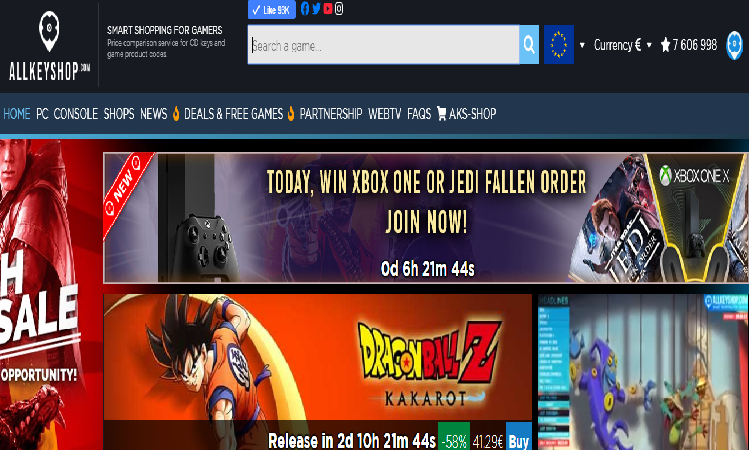 Allkeyshop is a free shopping website and online marketplace using which gamers can buy their favorite games. This digital marketplace has a wide range of digital products, including software, video games key, and game cards. To buy anything from it, you have to sign up with your name and other details on this platform. It provides users with a search box using which they can search their favorite things by entering the title. This platform has a vast daily deal…
CDKeys is a free shopping app and online marketplace developed by CDKeys. This app provides various cheapest games for multiple setups, including PSN, PC, and XBOX. It provides users with multiple gifts, coupons, and remarkable discounts on games. It gives you a cart option due to which you can add your favorite games to the cart and download them later. Furthermore, this platform offers the accurate price of the product without adding any additional fees or hidden charges. It enables…
Continue After Advertisement
Continue After Advertisement
Eneba is a free shopping and digital game store which contains the best gaming deals. This website contains a team of like-minded professionals who share the same gaming passion. With this platform, gaming communities can easily access their favorite games and tools for playing games. To shop any game from this app, you need to sign up in the app. Its interface contains a search bar for searching the favorite and desired products. On this platform, you can buy and…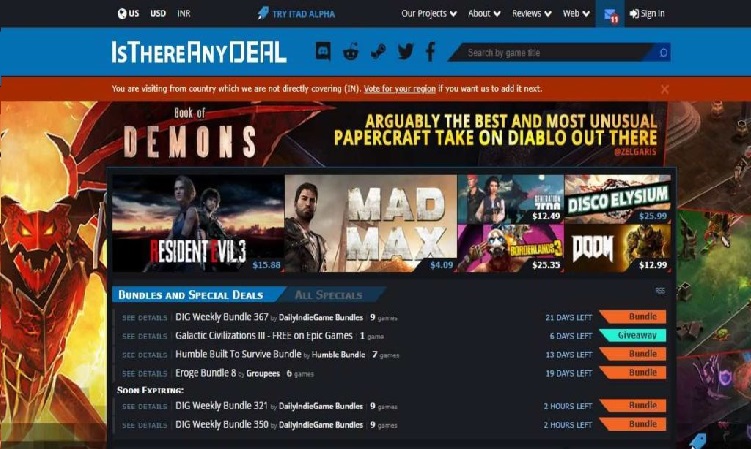 Isthereanydeal.com is a free shopping and versatile gaming platform using which people can buy games and gift cards. Its interface contains a search bar for searching the favorite and desired products. On this platform, you can buy and play games by searching them with genres such as adventure, action, and fighting. To shop any game from this app, you need to sign up in the app. This platform comes in various languages like Chinese and English so the people of…
Kinguin is a paid shopping website and an online marketplace that provides people with a variety of video games. The video games provide by this platform are of various categories, including racing, anime, shooting, puzzles, and survival. With this platform, you can get games for multiple setups, including Android, PC, XBOX, PlayStation, and iOS. This platform has a vast daily deal selection feature due to which you can get exciting deals on your favorite games. Furthermore, it supports multiple languages…
Indiegala is a free digital storefront and online marketplace developed by Riccardo Rosapepe. This website provides various cheapest games for multiple setups, including PSN, PC, and XBOX. The video games provided by this platform are of various categories, including racing, anime, shooting, puzzles, and survival. This website provides users with a search box using which they can search their favorite games by entering the title. It provides users with multiple gifts, coupons, and remarkable discounts on games. This app supports…
Dlgamer is a paid shopping website and an online marketplace that provides people with a variety of video games. The video games provided by this platform are of various categories, including racing, anime, shooting, puzzles, and survival. To shop any game from this app, you need to sign up in the app. This website provides various cheapest games for multiple setups, including PSN, PC, and XBOX. Furthermore, it supports multiple languages so users can search games according to their native…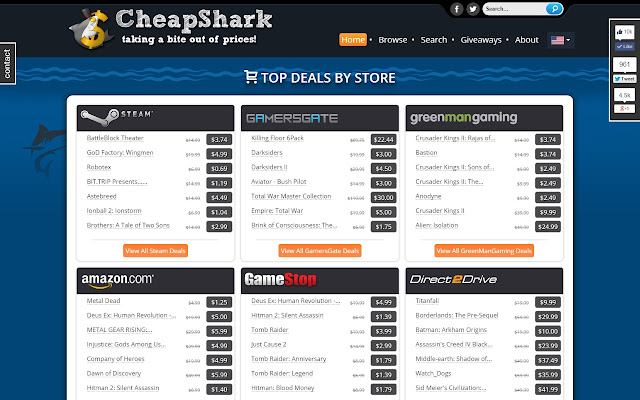 Cheapshark is a free shopping and deals discovering website using which you can discover deals on various games. It precisely keeps an eye on millions of games on multiple stores, including GreenManGaming, GOG, and Stream. For getting games from this website, people have to sign up with their email address and other required details. This platform enables users to search games by setting a target price and entering it in the search box. Furthermore, it has a tracking section that…
G2A is a free shopping and fastest-growing digital gaming platform developed by G2A.COM. Using this app, you can buy your favorite games and get gift cards. To shop any game from this app, you need to sign up in the app. The interface of this app has a cart option that shows the user's shopping, a button to access profile, and a wish list option. This app provides its users with notifications about epic sales, exclusive offers, weekly sales, and…
Wingamestore is a free shopping website and distributor of digital games for Linux and Windows. This website is very useful for those players who want to buy new games and apps. For getting games from this website, people have to sign up with their email address and other required details. It precisely keeps an eye on millions of games on multiple stores, including GreenManGaming, GOG, and Stream. Furthermore, it provides great packages and helpful information which makes purchasing digital products…
Instant Gaming is a free shopping and versatile gaming platform developed by Instant-Gaming.com. With this app, you can get the best Mac and PC games with up to 70% off. On this platform, you can buy and play games by searching them with genres such as adventure, action, and fighting. This platform comes in various languages like Chinese and English so the people of every language can use it. It supports various payments methods so you can pay for your…