Promote Youtube Channel For Free – With the lockdown and COVID-19, YouTube channels have become mainstream. Many people have started making channels to reach out to more people while staying at home. However, people anticipate a lot about the YouTube channels and their subscribers. But the reality is that it is not the case, one has to earn subscribers for their channels. They can either do it by creating amazing content or by doing marketing for their channel.
This idea of marketing might sound expensive but it is more about the effort that you will have to put in to promote your YouTube channel. In this article, I will be listing all those ways which will help you to promote your channels which will not cost you a penny.
Millions and billions of users every single day stream YouTube or make their channels and without success, they end it. Due to a lack of proper strategies, they fail to materialize their YouTube channels and without getting much traffic on them, they quit it. This is the reason why some of the YouTube channels kick off well and while some lack traffic and ends up in a failure. But you do not have to worry, I am going to give you all the possible and workable solutions.
How to Promote YouTube Channel for Free Online
YouTube is just like any other social media platform with different kinds of settings and attractions. YouTube provides you a list of videos on different topics, ideas, and many other such things. Moreover, it has many channels that are being made by people or organizations through which they convey information to people.
YouTube is itself a great source of marketing technology where people can make their ads and upload them separately or directly into some other video. The recent years have seen an increasing and amazing change in YouTube as most businesses, brands, and marketers have started using it for their purpose. The people who use those brands, products or follow those influencers on other social platforms have also started following them here to stay aware of new happenings. That is how YouTube is creating an influence in the general public all over the world.  
But the point comes, is it possible to promote your YouTube channel without investing any money. Well, you are at the right place today, as I will be helping you to promote your channel, increase traffic to your videos and increase your subscribers' list. This is not an easy task, let me warn you, but with complete dedication and effort, it can be done easily but it will surely take some time.
Read More: Top Sites Like Youtube – Best Alternatives to YouTube
1. Create Content that has some Information/Meaningful
Content is the first thing that makes any YouTube channel worth watching. The reason behind the content is that people like to watch something. If they are getting what they want to watch, there is no chance that your YouTube channel will fail and would not get the required traffic or promotion.
So, if you want to promote your channel, you have to make the videos that everybody wants. Videos like travel vlogs, cooking vlogs, and many other such kinds of videos create an interest in the people. These kinds of videos never take the luster out of your YouTube channel and it is destined to get promoted on its own. Because if your YouTube videos are worth promoting, people will engage on it and they will discuss it with other people, which will bring more subscribers.
The simple process of creating a YouTube video is as follow:
Choose the right type of content for your YouTube channel.
Right, a great script about it with the right kind of words.
Record the video with a good-quality camera.
Edit the video with the right effects.
Upload the video with the right title and thumbnails.
2. Use YouTube SEO
SEO is the easiest way through which one can promote their YouTube channel for free. The kind of SEOs you will use define the kind of promotion that your channel or videos will get. YouTube is one of the largest search engines present in the world of the internet. The right kind of keywords will bring the people to your videos and then to your channel. It is like mankind to explore things, so for this reason you have to make great videos and attach the right SEOs to lead them to your channel.
This will require the right kind of keywords. Those keywords will bring your videos and channel directly in the search options, which will increase the chance of your channel getting access by the people. Moreover, the right kind of keywords can be searched through different websites for the content that you want to upload.
Video Titles
Once the right kind of keywords are chosen for the videos, the next step is to choose the right kind of title. The reason behind this is that titles play an important role because they are the ones that are searched constantly. For example, if your video has the title "how to remove photos in iPhone", then a person searching this will find your video right in the list of searches.
Video Descriptions
Descriptions are really important because they explain everything to the person who wants to read about the video content first. This is the reason why the right kind of description is the demand. You can include as many keywords in the description to make it SEO-worthy so that it could appear in the search options.
Tags
Now comes the tags part, they are equally important because they run with the algorithm of YouTube. The better and more well-searched tags are attached to your videos, the better is the chance they are ranked higher in the searches. This is the reason why you must include only the related tags instead of unrelated tags because it will bounce of the viewers from your videos and this will reduce the popularity of your videos and channel.
Read More: Top Alternative Sites Like SaveFromNet – Best YouTube Downloader Sites So Far
3. Create a Community
A social circle and community are always needed when promoting anything because these people help you. Your YouTube content is what helps in creating a certain kind of community or joining ones. For example, a person with a channel related to technology will not join the community of car racing. Instead, he will go join the community which is also related to technology so that he could promote his products and videos in a better way.
Another great way to get started is by simply engaging with your viewers when they comment on your videos, sharing other interesting information, and always adding value to their lives. You can even set up a community section on the platform:
Collaborating with other Channel Owners
Collaboration is one of the best ways of creating the right kind of attraction. People like groups instead of individuality which means if you are collaborating with another person who is also a YouTube Channel owner, there is a far better chance that you will get more traffic if you upload that video on your channel.
You can make videos with the other collaborators or can add their voice to your videos, and much more. You can start it by finding the right kind of collaborator who has overlapping interests like yours. Then find the content and start working on it.
Arranging a Contest
Everybody loves contests and the more of these you will bring on your channel, the more is the chance you will get followers. Contents are merely for attention and to get the required promotion for your channel. This is the reason why you need to arrange such a contest that will bring people to your channel and this will ultimately increase the subscribers.
Now contest could be anything like guessing something or answering anything right away online at that moment. The winner will get some gifts that should be related to your niche. For example, people who make videos on Apple products tend to give iPhones or Airpods to their winners. So this is the reason why contests are important, as they will bring more people to your channel.
4. Promote YouTube Channel on Social Media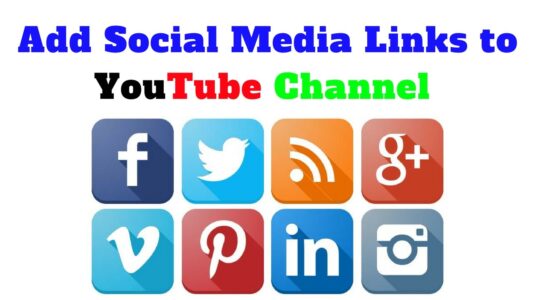 YouTube is not the only place where you can promote your channel. Many other social media platforms require your attention also as there are billions of people on them. That is why instead of only focusing on titles, a contest that is related to your YouTube channel, you should pay some focus on other platforms. Because these social media platforms are the most engaging ones as people can talk directly on them.
Promote Youtube Channel on Facebook
Facebook is one of the most used social media platforms. The reason behind this is that you can post anything here whether it is a photo, video, or just a general verbal post. Moreover, people feel more comfortable engaging with one another here than on other platforms. So, this is where you can play your role and can get the right attention for your YouTube channel.
For this, you have to create a similar page to your YouTube channel and have to add all the video links on that page. This will help the people who are coming to your page to simply click on the link and they will be directed towards that page.
Moreover, you can ask your friends and family members to add your YouTube Channel link to their profile so that more people can access it. This will also help you to take the burden off your shoulder for the marketing and promotion of your channel.
Read More: Top Best Alternatives To Facebook
Promote Youtube Channel on Instagram
Instagram has more than 1 billion monthly active users, with 60% of those users between the ages of 13–34. To promote your YouTube channel on Instagram for free, here's what you'll want to do:
You can create your Business account on which you can your YouTube channel link in the bio and every other video or picture you upload on that page. Moreover, you can add short video clips of your YouTube channel videos just to create suspense in people. This will bring the attention that you need. And it will also give your channel a professional look on other platforms.
Keep an eye on the analytics to see how your content is performing and how you can enhance the performance of the page. Through this, you will be able to understand how the followers are moving on your page.
Promote Youtube Channel on Use Hashtags
Like many other social media platforms, YouTube uses hashtags for category tagging and search. Using hashtags can make it easier for more people to find your videos.
Hashtags will help you in categorizing videos that will need to be added to the playlists. YouTube allows only 15 hashtags which means you have to be careful what you are adding there as they will appear during the search. Many people search the videos with the help of hashtags to be more precise about the result.
But before adding any hashtags, first, you have to see what kind of video is coming up with that particular hashtag. Because low-quality content is attached to that hashtag, you better change it and find a better one. You can also create custom branded hashtags that will direct viewers to more of your content when they follow them.
5. Promote YouTube Channel on Forums
Forums are one of the best places to promote your YouTube channel for free. But many forums have a strict "no promotions" policy. To get around this, make sure that you're adding value to the conversation. Don't just pop in, drop a link to your latest YouTube video and leave. Instead, engage with the people in the forum and share your content only if it will be of benefit to them.
Conclusion
Well, this is what I can say to you for promoting the videos or your YouTube Channel on different platforms with different strategies. But the most important thing is how much effort you can put into it to make things happen.
This will decide everything as the amount of effort you will put, the better the promotion campaign will work and the more followers and views you will get on your videos. Moreover, all of these above ideas can be done without wasting your hard-earned money. So, feel free to work with their techniques to score well in the promotion.
Read More: Best Apps like TikTok – Best Alternatives So Far