With the increasing popularity of online casinos in the UK, a growing concern among players is how to deposit and withdraw money from sites safely and securely. In a world where fraud is rampant, you'll want to protect yourself and your money.
In the best circumstances, you can fully trust casino websites regardless of your chosen payment method. However, the world isn't perfect, and wanting some control over security is understandable.
E-wallets are an easy way to deposit and withdraw funds from online casinos. They're also one of the safest options for online banking since you don't have to share any personal information with your casino. Here is a look at the top e-wallets in the UK market and their pros and cons.
Popular e-wallets
In the UK, casinos must have proper licensing to prove they are legitimate and safe establishments. Licensing these websites also includes proper SSL encryption protocols to protect your information and money.
Despite all these assurances, most UK online gambling sites accept and use the most popular e-wallets to ensure your money's safety. Your bank account information is only stored once with the e-wallet entity of your choice. This means you can use multiple casino websites if you wish and won't have your bank account details shared all over the internet. Websites with excellent security can be compromised, and e-wallets can provide considerable peace of mind.
The most popular e-wallets at casinos include PayPal, NeTeller, and Skrill. These online payment methods are accepted by most online casinos and have been around for a long time. They're not just for gambling; you can use them for shopping, too. What makes or breaks an e-wallet is usually the fees. Although they're often low, the amounts can add up over time.
Top 3 UK e-wallets at online casinos
Here is a look at the top 3 e-wallets at UK casinos.
1. PayPal
Starting in 1998 as Confinity, PayPal eventually merged with an Elon Musk-owned company called X.com and was then acquired by the online auction house eBay. eBay brought PayPal to the forefront by making it the most-used payment method on their site.
PayPal is the most popular e-wallet in the UK and is used by millions of people and businesses around the world. It is accepted at a wide range of online casinos, making it easy to deposit funds into your account to play games such as roulette or blackjack.
Read More: Best PayPal Alternatives
While it may be the most popular e-wallet in the UK, it doesn't take the crown in online casinos. Not all UK casinos accept PayPal, but the main ones do. PayPal is also one of the safest payment methods available today because it encrypts all financial information before sending it over the internet, which means no one else can see or access it during transit. Registering for an account is quick; most money transfers are completed within 24 hours.
Although PayPal offers a debit card for instant access to your funds, it is currently only available to their US customers, which is one of the main reasons it's not the most popular e-wallet among UK casino users.
2. Neteller
Neteller is a global e-wallet provider that has been around since 1999. It's regulated by the Isle of Man Financial Services Authority and owned by Optimum Payments Group, listed on the London Stock Exchange. Neteller boasts more than 15 million customers worldwide, with offices in Europe, Asia, and North America.
Read More: 7 Games that Resemble Real-Life Casino Experiences
Regarding security, Neteller is one of the most trusted companies and uses advanced security and technology. They offer a high-level service alongside the global standing and security that comes with companies like PayPal. With Neteller, any transaction delays can be attributed to your bank or the betting company, as they process transactions instantly.
The bonus for many patrons of online casinos is that Neteller can process payments in Bitcoin. Using cryptocurrency in online gambling is popular because of the anonymity and ease of exchange. Bitcoin transactions are usually completed within four hours, and NeTeller can easily handle them.
3. Skrill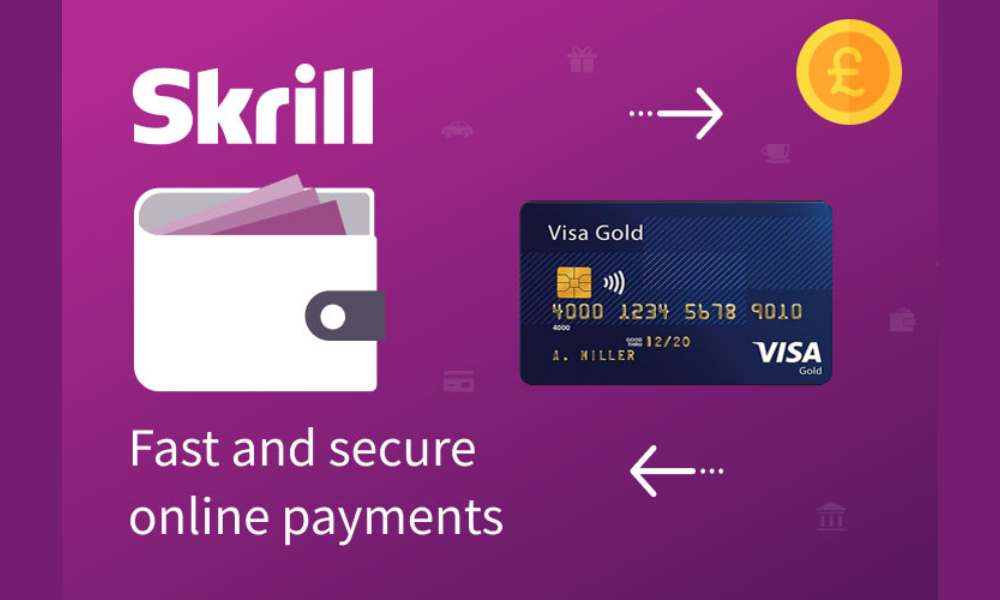 Skrill is the most popular e-wallet in the UK for online casinos, offering fast and secure online payment solutions for individuals and businesses. Formerly known as Moneybookers, Skrill's biggest upside is that it is free to use, so you won't have to worry about paying fees when using Skrill at casinos.
You can use your Skrill account for deposits and withdrawals at many different casinos worldwide. This means you don't need to open up separate accounts with every casino that accepts it; you'll need one account for all of them. Payments are fast and can be completed with a single tap.
Read More: Best Skrill Alternatives
The good news doesn't stop there: Skrill also supports multiple currencies, including USD, EUR, and GBP, which makes it easy for players from countries all over Europe as well as North America who want an easy way to stay in touch with their favorite games while traveling abroad without worrying about exchange rates or having enough cash on hand.
Skrill also offers a debit card for their accounts, including those in the UK. This reduces the time you have to wait for winnings as you don't have to wait for the funds to reach your bank account. In 2015, Skrill was purchased by Optimum Payment Groups, which is also the parent company of Neteller. Both companies are known for their outstanding security.
Conclusion
With the increasing popularity of online gaming, e-wallets are the most popular payment method thanks to their superior security. Skrill is currently the most popular e-wallet for online gambling in the UK. When it comes to the most popular e-wallet in the UK overall, however, PayPal takes the crown thanks to the ability to use it almost anywhere. Skrill caters more to the casino environment than everyday shopping. However, both are excellent choices for online gambling.