Text-to-speech (TTS) technology may hold the key to overcoming pronunciation difficulties, be it in English or another language, or perhaps you are a busy individual with a preference for listening to written content. By instantly converting written text to speech, TTS technology serves as a valuable tool for enhancing language comprehension and enunciation skills.
This article delves into FreeTTS, one of the most sought-after TTS conversion software, and its leading alternatives. Whether you are a blogger seeking to integrate audio versions of your content or an individual looking to refine your linguistic proficiency, we present a comprehensive understanding of TTS technology, its mechanics, and its advantages. So, please sit back, unwind, and let us guide you through the intricate world of text-to-speech conversion.
What is Text to Speech Software?
Software called text-to-voice translates written text—whether from a paper, a webpage, or an email—into audible speech that mimics the intonation, rhythm, and flow of natural speech. This enables people to listen to written content rather than read it, making information more readily available and easy to obtain.
Software for text-to-speech has a wide range of applications. Text-to-voice software can offer a more effective and efficient means of gaining access to written material for those with visual impairments or learning difficulties. It can also aid those who struggle with dyslexia since it enhances understanding and lessens reading fatigue.
FreeTTS Overview
FreeTTS is a web-based AI voice generator that turns written words into spoken words, offering support for over 70 languages and various accents. You can access a range of male and female voices with just one click, including Google's Standard, Neural2, and WaveNet options. Whether you're learning a new language, adding voiceovers to videos, or proofreading, Freetts is a handy tool you can use as much as you like.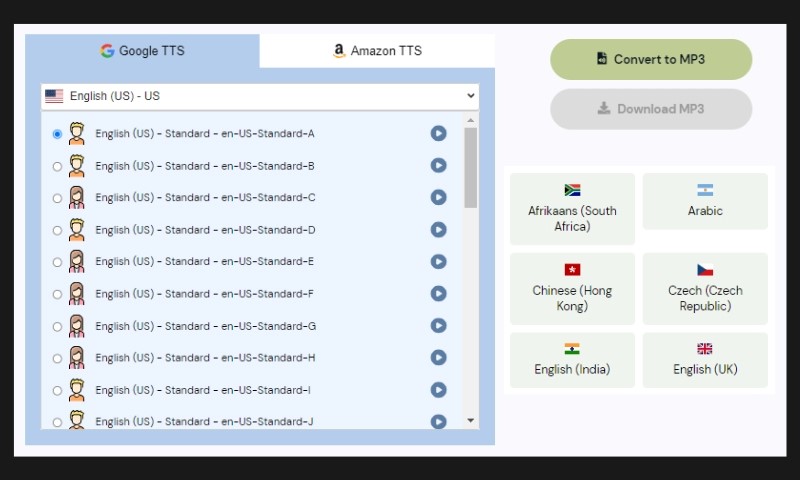 The user interface is uncomplicated and straightforward. The text box is visible. Ensure user privacy. Within 24 hours, all uploaded audio is removed. No registration is required to access the website and utilize it. Quicker and more practical. To meet clients' varying needs, more than 50 languages and dialects are offered. High sound quality, quick processing, and ease of use. It boosts productivity and ensures superior outcomes.
Read More: 10 Best Apps for Editing Reels
How Does FreeTTS Work
The user's text is processed by FreeTTS to provide a linguistic representation of the material. The speech's pitch, duration, and loudness are produced through this linguistics. Finally, digital signal processing (DSP) algorithms turn the data into speech. In other words, the output of the text is speech. Combining TTS, a very effective method from the same genus, with Google machine learning results in FreeTTS producing high-quality audio.
Convert Text to Speech with FreeTTS
Follow the steps below to convert text to speech with FreeTTS. You can convert any text to high-quality speech using FreeTTS seamlessly.
Step 01: Visit Freetts' website (freetts.com).
Step 02: Paste the text you want to convert to audio.
Step 03: Choose the language, accent, and TTS provider (Google or Amazon).
Step 04: Click "Convert to MP3", then play the audio to check the quality.
Step 05: Download the MP3 file if satisfied.
Congratulations! You've now learned to convert text to speech with FreeTTS in just a few simple steps.
Pros and Cons of FreeTTS
Pros:
Simple interface with a text box.
Protects user privacy with automatic deletion of uploaded audio within 24 hours.
No registration is required for fast and convenient access.
Offers over 70 languages and dialects to meet diverse needs.
Easy-to-use, fast processing, and high-quality sound.
Combine both Google and Amazon voice engines to enhance user experience.
Enable to generate male and female voices based on your input.
Cons:
FreeTTS is a web-based converter, not available on mobile devices.
Voice output is often criticized for sounding mechanical.
FreeTTS vs. Its Alternatives
Tool Name
FreeTTS
TTS Reader
iSpeech
Listnr
Speechelo
Wideo
Languages
Over 70 Languages
Up to 10 Languages
Up to 29 Languages
75+ Languages
About 24 Languages
15+ Languages
Standard Voice
10 Standard Voices
60 Standard Voices
Multiple
Multiple
30+ voices
Multiple
Premium Voice
25 Voices
40+ voices
40+ Voices
600+ Voices
170+ Voices
50+ voices
Subscription Plans
There are three pricing plans
Three Plans for Commercial Use
From $50
(Credit system 1 credit = 1 word)
4 Plans: Individual, Solo, Startup, and Agency
Standard and Pro
4 plans offered
Pitch and Tuning Control
Yes
No
Yes
No
Yes
Yes
Background Music
No
No
Yes
No
Yes
Yes
Prices
Free Plan: $0. Monthly Plan: $19, and Yearly Plan: $99.
$0 – $49 (One-time payment for organizations)

$10 – $19 per YouTube video.

From 50$
Individual: $19/m, Solo: $39/m, Startup: $59/m, and agency: $199/m
Standard: One Time Payment – $327, and Pro: $47/Quarterly or $127/lifetime
Free Plan: $0, Basic: $59, Pro: $99, and Pro +: $199
Playback Speed
Yes
No
3 Reading speeds
Yes
Yes
Yes
Audio Download Format
Mp3
Mp3
wav, mp3, ogg, wma, aiff, alaw, ulaw, vox, mp4
MP3 or WAV
MP3
Mp3
Deeper Comparison
1: TTS Reader
TTS Reader is an online platform that can generate speech based on the text entered, making it accessible for visually impaired users and auditory learners. The effortless drag-and-drop functionality facilitates the movement of text files with ease. This tool demands no guidance to operate, regardless of your familiarity with text-to-speech software. Furthermore, this application mandates no user accounts, rendering it a practical and lightweight option for anyone seeking an online text-to-speech service.
Key Features:
Allow users to upload text files via webpage url and other links.
Facilitate high-quality natural-sounding voices from different sources.
Offers some customizable features, such as playback speed adjustment.
Users can change the reading speed and voice options.
It is free to use and does not require an account.
Available Platforms: It is available on popular web browsers such as Chrome and Safari and has a free extension available for Chrome. TTS Reader is also an Android app on the Google Play Store.
Best for: It is also helpful for anyone who wants to extract text from PDF files and read it out loud or save it as an MP3 or WAV file.
Read More: 12 Best Apps for Digital Art
2: Wideo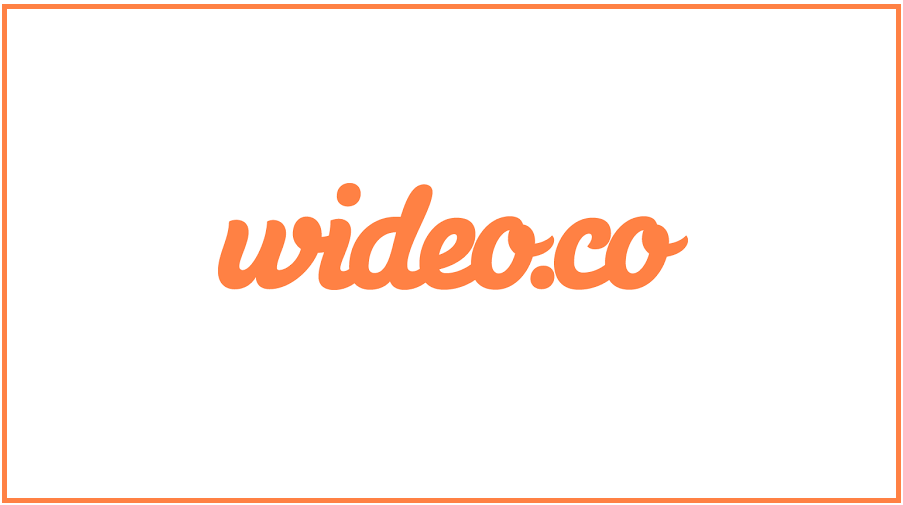 Overview: Wideo is an online platform that offers an array of video creation tools, inclusive of text-to-speech functionality. With Wideo's TTS, users can convert written text into speech and integrate it into video projects. Through Wideo's text-to-speech tool, users can effortlessly copy and paste their video script into the tool, preview it, and adjust the voice's speed and language to fit their particular requirements. Furthermore, Wideo provides professional video templates to help users kickstart their video creation process.
Wideo is available for Chromebook.
Supports multiple languages.
Permits users to modify the speed, pitch, and volume of the output file.
Presents a wide range of background music that you can add to the speech output to amplify the video's impact.
Available Platforms: Wideo is a web-based application accessible via any device with an internet connection.
Best for:  Wideo is most suitable for businesses and individuals seeking to generate video content expeditiously and efficiently.
3: iSpeech
Overview: iSpeech serves as a platform offering a concise means of converting text to speech. Its services are available in two forms: a free version and a premium upgrade. As for iSpeech.org, it is a pliable software that grants users access to a cost-free online resource for transmuting written text into spoken words. Its interface is designed to be user-friendly, facilitating registration and subsequent receipt of digital audio output.
Key Features: iSpeech boasts of providing voices that mimic natural speech with utmost clarity, allowing customization to cater to individual preferences. Its online text-to-speech tool is designed to support up to 29 languages for personal use. It offers free Text to Speech SDKs for major mobile platforms that developers can use to integrate text-to-speech functionality into their applications.
Key Features:
Provides voices that mimic natural speech with utmost clarity.
Allow customization to cater to individual preferences.
Support up to 29 languages for personal use.
Offers free Text to Speech SDKs for major mobile platforms.
Developers can use these SDKs to integrate text-to-speech functionality into their applications.
Read More: 24 Best Affiliate Marketing Websites
Available Platforms: iSpeech is an online service accessed from any web browser. It also offers free Text to Speech SDKs for major mobile platforms, including iOS, Android, and Windows.
Best for: iSpeech is best for individuals and businesses that need a simple and reliable text-to-speech solution.
4: Listnr
Listnr is comprehensive software designed for businesses and organizations to convert written content into spoken audio. It utilizes some of the world's finest speech synthesis engines, offering over 600 distinct AI voices in over 75 languages and dialects. The TTS editor empowers users to fine-tune the message's speed to perfection, enabling personalized and natural-sounding voiceovers.
Key Features: The technology is exceptionally advantageous for TTS, podcasts, and voiceover. It is remarkably user-friendly, and the editor
<li">Use AI to convert text to realistic speech that matches your brand.
Supports multiple languages, including English, French, and Spanish.
Offer voices in over 70 languages and dialects to meet your needs.
Facilitates the creation of distinct pauses, dictations, pitch alterations, and additional modifications.
Integrate with popular customer relationship management (CRM) platforms.
Available Platforms: Listnr is available on multiple platforms, including web browsers, mobile devices, and desktop applications, making it conveniently accessible to users from any location and at any given moment.
Best for: It is most suitable for individuals and businesses requiring text-to-speech technology for various applications, such as audiobooks, e-learning, and customer service, and accessibility..
5: Speechelo
Speechelo is a highly versatile cloud-based app for converting text-to-speech, accessible from any device, making it perfect for people on the move. Experience the exceptional versatility of Speechelo's cutting-edge software, as it empowers users to imbue their text with a vibrant spectrum of tonalities – normal, serious, or joyful – and accentuate the authenticity of the voiceover with added breathing sounds and prolonged pauses.
With the standard software version, a prodigious word count of up to 700 words per file is facilitated. Not only that, but Speechelo also offers a staggering 60+ voice variations for each language, providing an extensive array of possibilities for every individual.
Key Features
Offer three ways to read text, including normal tone, joyful tone, and serious tone.
Over 30 human-sounding voices are provided.
Include both female and male voices for your choice.
Support adding music files to voiceovers to enhance its creative potential.
Add natural pauses in the form of breathing noises to make the voice more human-like.
Available Platforms: Any online browser, including Chrome, Safari, and Firefox, can access Speechelo, a web-based program.
Best for: Businesses, marketers, and content providers that want to produce compelling content should use Speechelo.
Read More: 24 Best Video Editing Apps for Android
What are the Benefits of Using a TTS Software?
Language Learning: TTS tools improve language skills by inputting text and audio. It enhances writing, speaking, and reading skills and helps learners progress toward mastery of the language.
Content Creation: TTS significantly increases proofreading efficiency by reading text aloud and identifying grammatical errors. It also inspires and motivates authors to refine and improve their content.
Entertainment: TTS can be used for voicing videos, games, and cartoon characters. It supports multiple languages and accents, leading to diverse and creative outputs.
Conclusion
Many excellent text-to-speech tools cater to a wide range of needs, making it easy for anyone to convert written text into spoken audio. FreeTTS is a text-to-voice converter that proffers top-tier acoustic output, qualifying it as an excellent preference for individuals and companies.
Nevertheless, various alternatives exist in the market, furnishing features and advantages contingent on the user's requisites. Despite the selected tool, text-to-voice technology has initiated a paradigm shift in our learning, communication, and information consumption method. As technology advances, we can anticipate more pioneering applications and usages of text-to-voice converters in several domains, from entertainment to education.