Content Continues After Ad
SpinnerChief 6 is an article generator that can generate hundreds of new articles in minutes and modify them with a single click. It will create easily original text with high readability and distinctiveness for humans because it employs Natural Language Analysis and Artificial Intelligence algorithms to comprehend your content in the same way that Google does.
It tries to cut quantitative substitution innovation technologies to produce human-like quality articles. In addition, it offers both desktop software and a web version of SpinnerChief, which is a collection of web-based applications that may be used online.  This Spinner Chief is more vital because it automatically spins phrases, pages, and hierarchical spinning articles. The article spinner's server searches for the best synonyms and stores them in the cloud, where other users can access them.
Content Continues After Ad
Features
Cloud technology
Article generating Tool
Automatically paragraphs generated
Artificial intelligence techniques
Add more synonyms
SpinnerChief 6 Alternatives
EditPad is a text editor or word processor created to make text editing as easy as possible. You can save a lot of time and effort by using a text file editor. EditPad Pro has countless innovative capabilities, including the ability to identify and configure file formats and various baseline codecs, writing selections, text style, parsing highlighting, and file browsing to match each type of document you write. The user can simultaneously open and edit several text files and merge…
CoderDuck is one of the top SEO tool websites that provides fundamental, professional SEO analysis and vital SEO monitoring for websites. It helps small company owners, web admins, and SEO specialists to improve their online presence by making our solutions intuitive and straightforward to use. It allows you to rewrite an unlimited number of articles or texts by copying, pasting, and replacing sentences with the same meaning. It's a one-click article rewriter that doesn't require you to sign up, log…
Content Continues After Ad
Content Continues After Ad
Paraphrase Online is a tool used as a find synonym generator that produces better content and articles. It allows you to quickly rewrite essays and articles, phrases, sentences, and single words for free. The textual content may be instantly remade for a website, blog, business document, or whatever you need. Your rephrasing could be interpreted as plagiarism without proper citations. This software is created for teachers, students, writers, bloggers, SEO workers, and anyone else who needs a new text editor to…
GoParapharser is to rewrite or rephrase a sentence without changing its meaning. To produce a slightly different variety, substitute any number of alternate versions for individual words, phrases, sentences, or even entire paragraphs. You don't need a credit card or to join up to use the software; go to the website, type in your text, then hit the paraphrase button to have the Tool rewrite it for you. Moreover, It also comes with a built-in word simplifier that you can use…
Resoomer is a paraphrasing and summarising tool that works with various languages, including English, French, German, Italian, and Spanish. This web tool might be considered one of the best text summarizers because it allows for various unique options. This tool is easy to use; copy and paste the text you want to summarise into the window. With a single click, the result is shown practically instantaneously. The user can read a passage carefully and identify the key and supporting ideas. Then,…
My Assignment Help is a global writing service that gives homework help, Research report help, MBA support, Coding help, Thesis assistance, Essay guidance, and Training & development help. You will be able to obtain an all-inclusive answer. My assignment assistance experts begin working on the jobs as soon as the payment is received. You will be able to receive your assignment before the timeframe you choose. This tool examines the challenges students that they face in their academic work and…
SEO WAGON is a collection of the top free SEO tools available, including article rewriter, reverse image search, plagiarism detector, and backlink checker. It helps SEO professionals, content providers, and bloggers looking for original artwork for their services, goods, and other web assets. The Tool creates unique and high-quality material from your original content, which you can share on social media or post on other websites. The article rewriter or spinner searches a database of over 500,000 synonyms for the best…

Rewriter tool is a free text editing service that can help you advertise your website to popular search engines. It increases the profitability of your web business with little effort on your side and saves time. This tool ensures rich keyword research for your website by providing high-quality content. It encourages businesses to provide high-quality keywords, leading search engines to discover your website or blog in google search. Many capabilities of the Rewriter Tool could be helpful in a variety of…
The paraphrasing tool is software that effectively rewrites or paraphrases your content. This tool is designed to assess several features before deciding on the best method for rewriting your work. The user can manage the meaning of each word and phrase while creating the sentence structure with the help of this application. The paraphrased material will be well-written, new text, with the added satisfaction of having saved time and work. This free tool can help you increase your blog's or…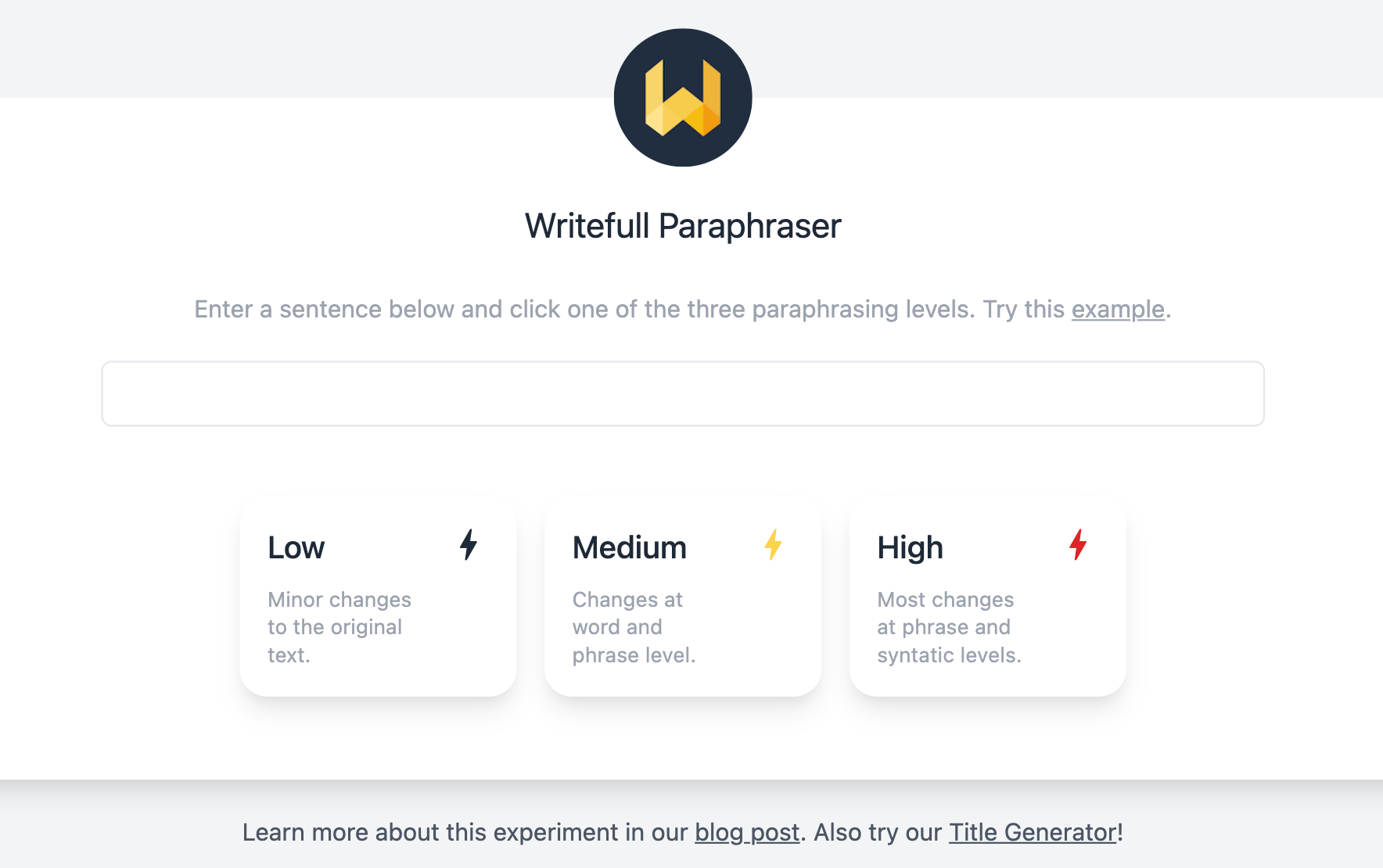 Paraphraser is a tool that is used in the process of rewriting a sentence in a human-readable language. After rewriting sentences, the content will be clear, appropriate, intelligible, and plagiarism-free. It is built on the most artificially Intelligent rewriter based on natural language processing (NLP). Unlike other paraphrasers, this one retains the original meaning while changing the sentence structure and uses a complex algorithm to paraphrase data. The primary functions are to remove unnecessary content, modify phrases, and make articles more…