Sniper Elite 4 is a Single-player, Multiplayer, and Tactical shooter stealth video game developed by Rebellion Developments. Play on different platforms like Microsoft Windows, PlayStation 4, Nintendo Switch, Xbox One, and Stadia. Kill your target with different destructive weapons from a long range.
It takes players across the coastal towns of the Mediterranean to ancient forests, magnificent Nazi mega-structure, and mountain valleys. Experience hours of gameplay with hundreds of enemies, different vehicles, and high-level Nazi officers on the large levels of the campaign to hunt.
You can use different magnificent weapons such as Sub-machine guns, World War 2 sniper rifles, Grenades, Nets, Pistols, Heavy weapons, and many other explosives. Upgrade your skills and change key weapons like weapon's speed, scope magnification, and muzzle stability. Play with friends and other players across the world to win awards.
Features
Single-player and Multiplayer
Tactical shooter video game
Amazing graphics and great gameplay
Multiple Methods and Modes
Real sniping world
Different vehicles
Different magnificent weapons
Upgrade and change key weapons
Play with friends and other players
Similar to Sniper Elite 4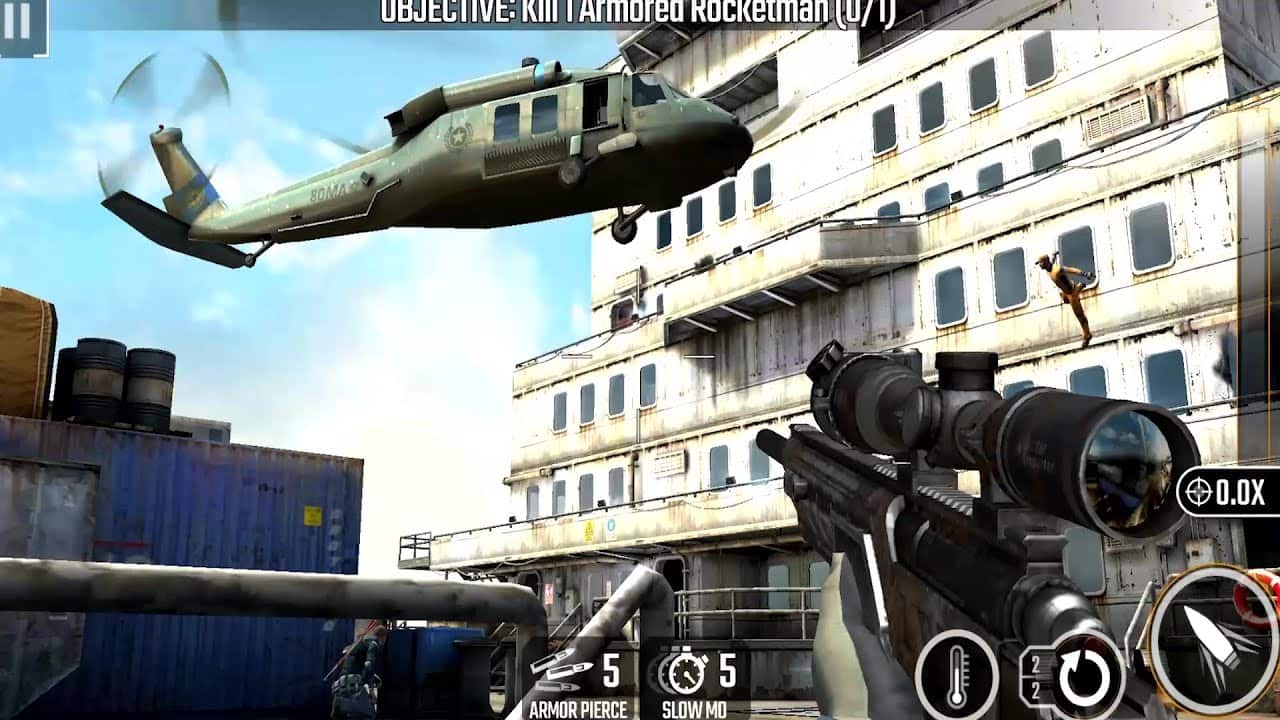 Sniper Strike – FPS 3D Shooting Game is a free Online Action and Shooting game developed by Mobile Gaming Studios Ltd. Act as a sniper to stop, eliminate, and remove the terrifying criminals in the gaming world. Experience three different gameplay modes and multiple missions. Use different immersive weapons by observing their abilities. Play in an immersive environment, high-speed firefighting, and create an ultimate soldier team. Join friends in an online battle and shoot at the top of the leaderboard.…
Sniper Shooting Battle Games is a free First-Person Action and Shooting game for Android developed by GAMEXIS. Enjoy the Realistic, Action-Packed, and 3D Offline FPS Sniper Killing game. Behave as a Sniper, follow the interesting story in-game, and defeat your worst enemies through many different weapons. Experience many unique fun Modes and Multiple Sniper missions. Unlock different explosive weapons according to their features like Range, Stability, Maximum Zoom, Timing of Reloading, and more. Moreover, in Sniper Shooting Battle Games, you…
Sniper Of Kill: Gun shooting is a free Shooting and Action game for Android developed by YUNCHENWANGLUO. Just concentrate on your target to eliminate the enemy and then shoot to become a real Sniper. Experience the 3D amazing Graphics, a subtle Atmosphere in every scene, great Weather, and Slow-Motion sniper at the moment the bullet is fired. There're over 72 weapons like Shotgun, Submachine guns, Pistols, Rifles, RPGs, and many others. Moreover, earn more coins in the game to Upgrade…
Sniper Fury: Shooting Game is a free 3D Online, Action, and Shooting game developed by Gameloft SE. You have the opportunity to become a great sniper and clean the city of criminals. Participating in this military gun game will require you to kill targets and deliver justice with a rifle barrel. Thousands of missions and hundreds of events are waiting for you. Equip yourself with different destructive Weapons to eliminate the worst enemies. Moreover, you can enjoy Story Mode, play…
Sniper Ghost Warrior Contracts is an Online, Single-player, Multiplayer, and Tactical shooter stealth video game developed by Cl Games. Play and enjoy the game in Microsoft Windows, PlayStation 4, and Xbox One. In this highly realistic warfare sniping game, you can become the ultimate killer or sniper. The game is based on amazing and realistic gameplay with many real characters. Compete against your rivals in 5 different and large maps with an open-ended contract. Moreover, you can play over 25…
Sniper 3D: Gun Shooting Games is a Multiple Action and Shooting game on Android developed by Fun Games For Free. Play both Online and Offline modes, so the fun will never stop. Ready for a 3D fun and Action-packed FPS game to become the best Sniper killer around the world. Explore more than 21 cities and eliminate your targets at long ranges with many realistic weapons to complete missions. To increase your abilities and power, you can use weekly events…
Modern Sniper is a First-Person Shooter and Action game for free developed by Candy Mobile. Enjoy and play Realistic gameplay and a tour of the criminal's underworld. Ready to play against dangerous enemies in many killing missions. On-street level, you will eliminate crowds of enemies with different modern and advanced weapons. It is a good opportunity to become a modern Sniper with access to the inventory of Sniper Rifles, free to eliminate your Rivals, show off your Sniper skills, and…
Sniper Special Forces 3D is a free Action and Shooting game for Android developed by Sniper Games. As a sniper, you are free to shoot your target at long ranges by using different equipment like Rifles with telescopic sights. Enjoy a real-time amazing sniper shooting experience. Play in multiple Modes such as Sniper Contracts, Free Mode, Survival Mode, and many others. You can select your killer equipment by observing its characteristics like Range, Stability, Damage, Reload timing, and maximum Zoom.…
Sniper Ghost Warrior 3 is a Single-player, Multiplayer, and First-Person Tactical Shooter game developed by CI Games. You just focus on your target, execution, and survival in this gaming real-world. To complete missions and defeat the rivals, you can use a variety of methods and modes. Use different types of real-world weapons to destroy your enemies and use a drone to scan, distract, and detect the enemies. Discover large open-world maps, accessories, customized equipment, and different vehicles. It has a…
Pure Sniper: City Gun Shooting is a free Multiplayer, Action, and Shooting game for Android developed by Miniclip.com. Experience offline and online realistic and exciting gameplay with multiple real-time P vs P Comat modes. Equip yourself with various Machine Guns, Pistols, Sniper Rifles, and Shot Guns to eliminate your enemies in many different cities around the world. Take the challenge of the Gun Range competition if you have the skills to kill your target at any range. You will be…