Continue After Advertisement
PlateUp is a management, building, action, and strategy video game developed by It's Happening. In this game, the player has to build, run, and manage the restaurant. In addition to building and managing the restaurant, the player can expand his restaurant and design it beautifully. During the gameplay, the player has to cook a variety of dishes and serve them to customers.
Moreover, you have to add additional content and buy new kitchen appliances. To run the restaurant and make customers happy, you have to serve the right food at the right time. The player has to make way for the robo-kitchen of the future and install turbo-ovens. This game has a customization feature so the player can customize his character.
Continue After Advertisement
Features
Build, run, and manage the restaurant
Expand restaurant
Design the restaurant
Add additional content
Buy new kitchen appliances
Make way for the robot-kitchen of the future
Install turbo-ovens
Customization feature
Pros
Endless possibilities
Fun multiplayer mode
Distinct character customization feature
Simple controls
Supports co-op mode
Graphics are fairly cartoony
Cons
A few bugs
Occasional frame drops
Paid to play
Similar Games To PlateUp
Idle Restaurant Tycoon: Empire is a simulation and management video game developed by Kolibri Games. Throughout the game, the player has to make a plan to become rich and build a restaurant. In the restaurant, the player has to be a manager. While playing the game, the player has to manage the restaurant and hire a chef. In addition to hiring a chef, the player has to hire a staff to serve customers. Furthermore, the player has to manage the…
My Hotpot Story is a simulation, restaurant, cooking, and management video game. In this game, the player has to play the role of a hot pot restaurant owner. Throughout the game, the player has to prepare multiple different hotpot dishes. After preparing multiple hotpot dishes, the player has to serve his prepared dishes to the customers. While playing the game, the player has to train chefs and waiters. In addition to training the chefs and waiters, the player has to…
Continue After Advertisement
Continue After Advertisement
Hungry Hearts Diner Neo is a management, restaurant, and simulation video game developed by GAGEX CO., Ltd. This game is set in a small eatery in Tokyo in the 1970s. In this game, the player has to play the role of the boss of the eatery. The game's story is that the player has to sit in an old Japanese diner. Throughout the game, the player has to manage the restaurant with success. While managing the game, the player has…
Rent Please!-Landlord Sim is a management and simulation video game developed by ShimmerGames.  Throughout this game, the player has to play the role of a wealthy landlord. In this game, the player has to create a community and choose tenants. While playing the game, the player has to become the friend of his tenants and communicate with them. This game has multiple rooms and apartments like couple apartments, single apartments, and sea houses. Furthermore, the game enables the player to…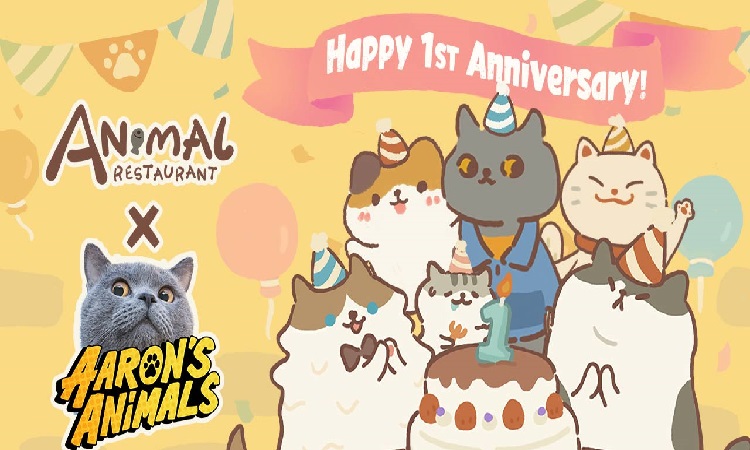 Animal Restaurant is a management, simulation, and stylized video game developed by DH-Publisher. In this game, the player has to serve as the owner of the animal restaurant owner. Throughout the game, the player has to hire cute staff, including an orange cat, a ragdoll cat, and a tabby cat. In addition to hiring the staff, the player has to decorate the restaurant with various furniture styles. Moreover, while playing the game, the player has to learn all the recipes…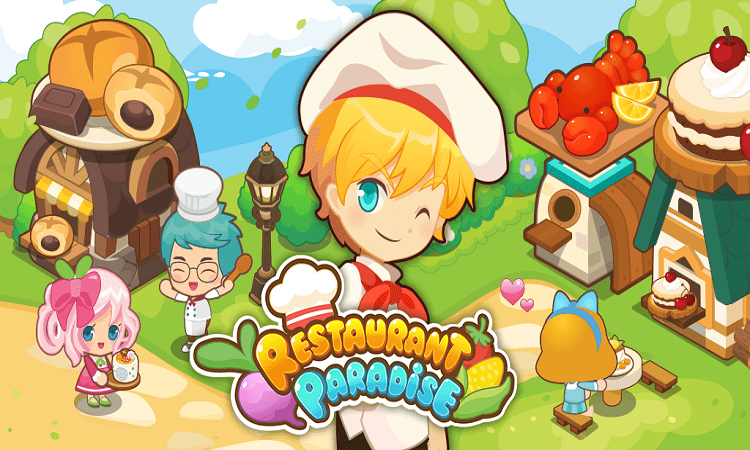 Restaurant Paradise: Sim Build is a management and simulation video game developed by Happy Labs. Throughout the game, the player must create and manage the restaurant island. In this game, the player has to decorate the restaurant with decos and dining tables. In addition to creating, managing, and decorating the restaurant, the player must also manage the shops. Moreover, while playing the game, the player must change the shop's looks to level up. On completing all these tasks, the game…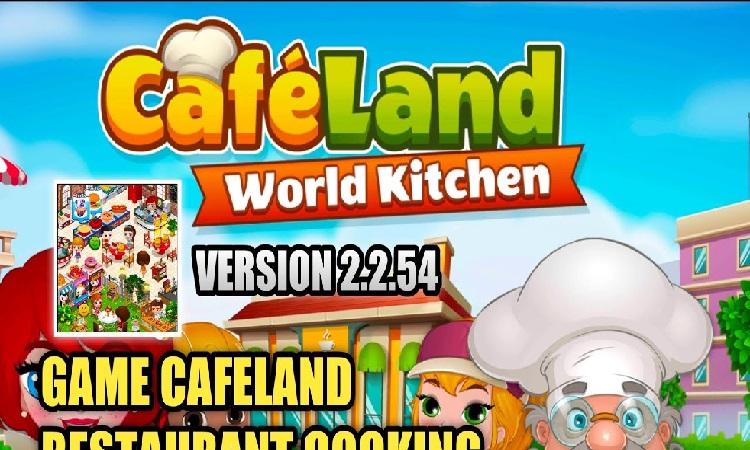 Cafeland: Restaurant Cooking is a simulation and management video game developed by GAMEGOS. In this game, the player has to write his restaurant story and design the café. In addition to designing the café, the player must decorate it. Throughout the game, the player's mission is to manage the café. While playing the game, the player has to cook food and coffee for the customers. After cooking, the player has to serve them to the customers and make them happy.…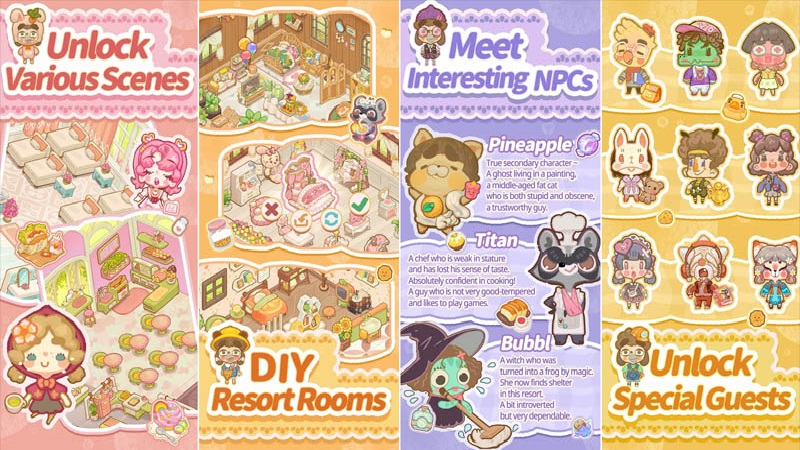 Resortopia is a management and simulation video game developed by DH-Publisher. In this game, the player has to play the role of a resort manager. Throughout the game, the player has to help Udon to run the resort. While playing the game, the player has to renovate the resort and decorate all the rooms with furniture. Moreover, the player has to create European-style baroque room in the game. Throughout the game, the player has to deal with different guest personalities.…
Dream Restaurant: Idle Tycoon is a stylized, management, and simulation video game developed by ABI Global ltd. In this game, the player has to become an effective manager of the world's biggest restaurant. Throughout this game, the player has to open the restaurant and manage it. While playing the game, the player has to hire a team of master chefs and lead them. Moreover, you have to cook food and serve it to the customers while playing. The game provides…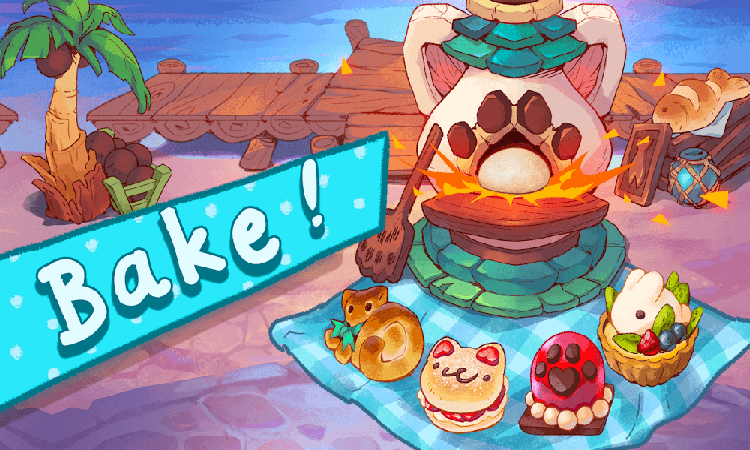 Campfire Cat Cafe and Snack Bar is a stylized, management, and simulation video game developed by HyperBeard. The player has to build a 3-star café in the forest throughout this game. After building a café, the player has to decorate it with furniture sets. In addition to building and decorating the café, the player has to hire cute kitties as staff. The staff includes a ragdoll serving as a waiter, a Persian cat as a cook, and a Bengal kitten…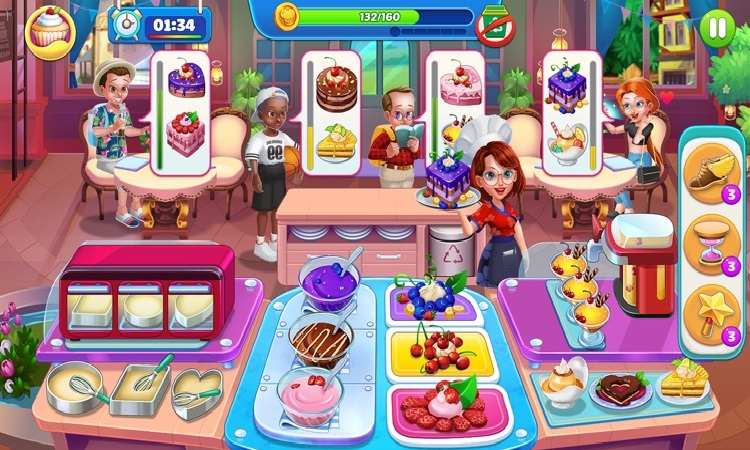 Cooking Journey: Cooking Games is a time management and simulation video game developed by Cooking Games Studio. In this game, the player has to play the role of a master chef. Throughout the game, the player has to cook various dishes like sushi, hamburgers, seafood, pizza, and ice cream. After cooking the meal, the player has to serve it to the customers and earn a bonus. Using the bonus points, the player can unlock kitchen appliances and ingredients. In addition…