Continue After Advertisement
FHA Mortgage Calculator helps users to calculate their payments with all the principles, interest, and terms. It allows users to paste their down payment percentage or amount and quickly calculates any significant amount. It calculates the amount, including all the loan costs, such as PMI, HOA, taxes, and insurance.
It provides users with fixed and adjustable rate mortgages (ARM), allowing them to make five changes in interest rate according to their requirements. It allows users to customize their plan during any payment plan if they want to pay more to get low installments in the future. Users can also know how much money they can save on the loan.
Continue After Advertisement
Features
Supports Canadian mortgage.
UK annual rest mortgage.
Multiple rounding options.
Supports display of various currencies.
Pros
Easy to operate.
Fast-working calculator.
Provide mobile applications.
Cons
Sometimes it glitches.
Messy interface.
Limited customization options.
Similar to FHA Mortgage Calculator
Ramsey mortgage calculator helps users quickly calculate their monthly payments, focusing on adjusting interest rates, down payment, home price, and many more. Ramsey mortgage calculator provides complete details about mortgage information and allows users to add their interest rate and type of mortgage (tenure). Also, it enables them to edit insurance and taxes for advanced calculations. It shows the complete calculation result through a graph and a table with the total monthly payment. It also provides users with the amortization…
The Veterans United Mortgage is a VA loan-providing company providing users with a mortgage calculator to calculate their loans and payments with any customized plan. It offers facilities to veterans and military families to become homeowners. Veterans united home loans company has given almost 500,000 plus VA loans and is ranked #1 in the nation. It allows users to calculate their VA loan payments, enabling them to create a plan according to their loan amount and loan term for 30…
Continue After Advertisement
Continue After Advertisement
Zillow is a website that provides users with various calculators, including a home mortgage calculator. Home mortgage calculator helps users to calculate their mortgage payments, including all the principal and interest. It allows users to fill up all the details about everything, including the price of the home, the down payment, and anything related to it. Zillow provides many mortgage calculators like affordability, refinance, debt-to-income, and VA mortgage calculator. Users can easily customize their mortgage details for better calculations. Zillow…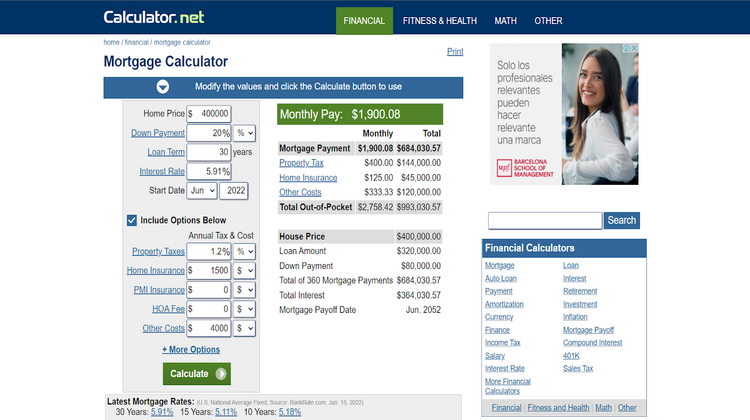 Calculator.net is a website that provides multiple calculators for different purposes, and one of them is Mortgage Calculator, which enables users to calculate their mortgage payments. It provides users with an amortization schedule with all the details, including year, date, interest, principal, and ending balance. It also shows the graph of the amortization schedule, which helps in understanding the plan quickly. It sets up users' plans according to their monthly pay, making it easier to pay installments every month without…
Mortgage Pal is a loan calculator that helps users make intelligent mortgage decisions, and it is an all-in-one tool for calculating loan payments. It provides users with three tools; mortgage payment, mortgage affordability calculators, and current mortgage rates & trends viewer. It allows users to plan their mortgage payments effectively with straightforward manner. It is so straightforward in work that users have to enter their down payment, the total amount of the loan, and all the related information. Users can…
Bankrate is a website that provides multiple services to users, and one of them is a mortgage calculator for payment plan calculations. Sometimes it takes work to calculate the mortgage payments manually with all the installments, and also very complicated to figure out fees, including property taxes and other costs etc. So Bankrate mortgage calculator helps users to calculate their mortgage payments easily by providing customized down payments, home prices, and many more. It allows users to select any loan…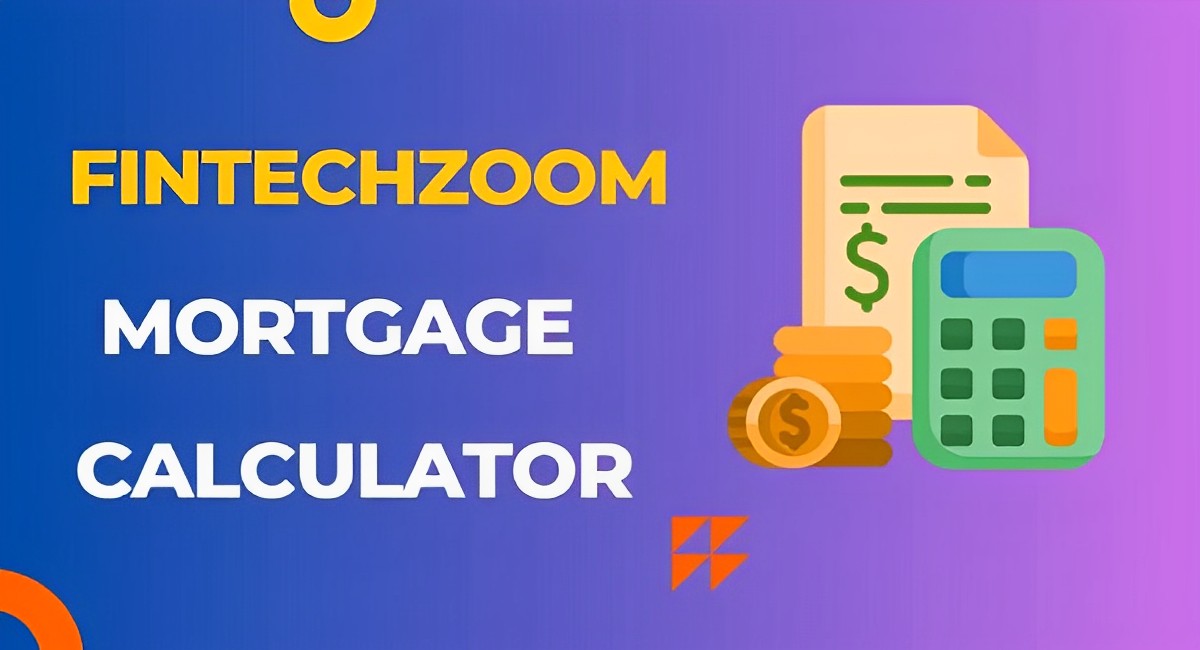 FintechZoom Mortgage Calculator deals with a robust online tool that facilitates prospective homeowners in comprehending and strategizing their mortgage payments. It allows users to input vital data such as home price, down payment, length of the mortgage term, and interest rate, subsequently computing their prospective monthly payments and the total repayment amount throughout the mortgage period. In addition, this tool lets potential homeowners visualize the long-term financial implications of buying a home. FintechZoom Mortgage Calculator also comes with a comprehensive…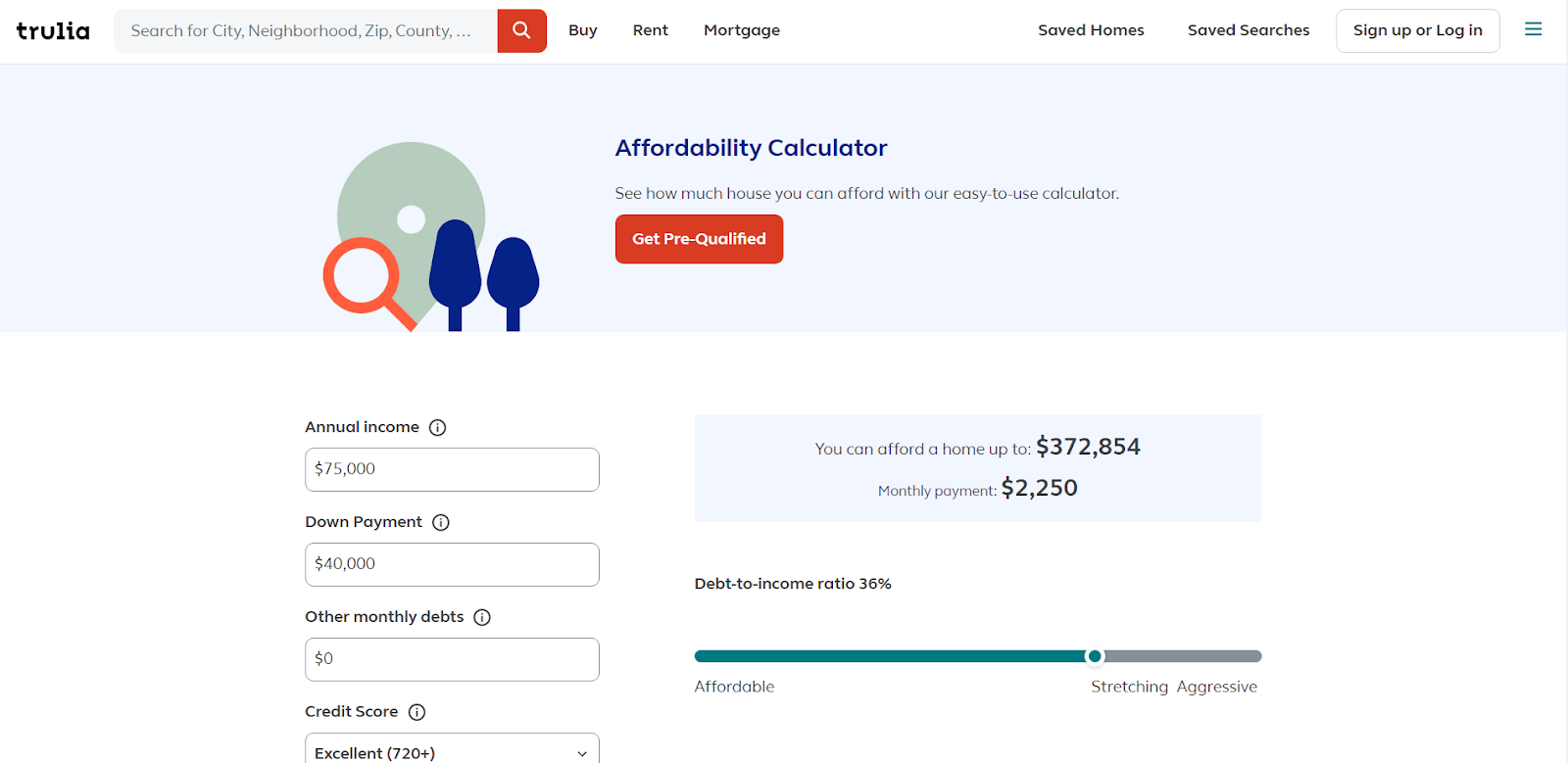 Truila Mortgage Calculator is a website-based calculator that helps users get an accurate estimate of their loan payments. Trulia allows users to get customized calculations about their payment plans. It calculates monthly mortgage payments, including loan type, property tax, home insurance, interest rate, down payment, home price, monthly HOA due, etc. It enables users to add their options to the calculation. It gives users the opinion of which kind of mortgage is right for them. It provides multiple plan options…
U.S. Mortgage Home Loan Calculator is an advanced calculator for calculating various aspects of installments along with numerous adjustments. It allows users to paste all their related adjustments into calculators. It also gives an option to advance the calculation process with the "add extra payments" button, allowing users to get more customization options to calculate loan payments. It gives a graphical representation with two kinds of charts; a pie chart shows the total of all the payments along with the…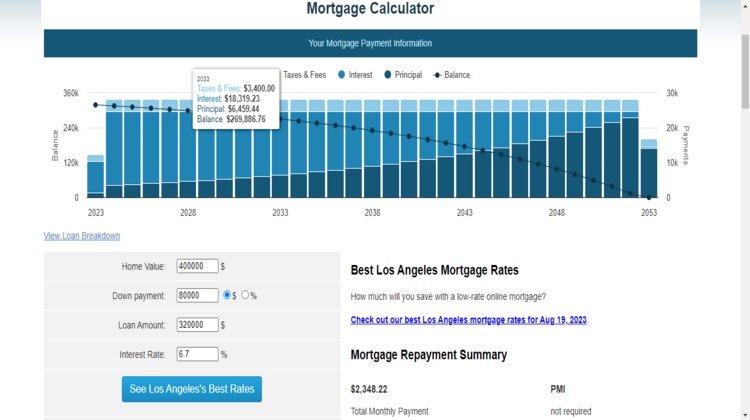 Mortgage-Calculator is a tool for estimating a user's monthly mortgage payments and all the essential things in mortgage payments, including taxes, insurance, PMI, HOA fees, and many more. Mortgage-Calculator allows users to paste all their related data into the calculator. It also gives an advance calculation option, enabling users to calculate their mortgage payments with customized interest rates, taxes, etc. Mortgage-Calculator provides users with the amortization tables, which allow them to see monthly & annual amortization tables, draw charts, and…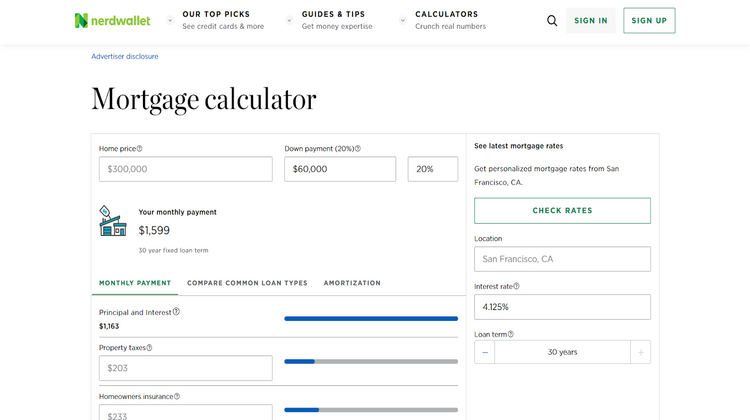 NerdWallet is a library of multiple financial handling tools that helps users solve their economic issues in various aspects of their lives. One of them is a mortgage calculator that allows them to manage their mortgage payments efficiently. NerdWallet mortgage calculator enables users to get their lender match by using their zip code, and it finds lenders quickly. NerdWallet is one website that provides mortgage calculators by state, such as Hawaii, Florida, and Arizona mortgage calculator, etc. NerdWallet allows users…
SmartAsset is a website providing multiple services so people can make intelligent decisions in their financial matters. One of the best services of SmartAsset is a mortgage calculator, which allows users to calculate their payment plan with taxes, fees, and insurance. SmartAsset mortgage calculator provides scrolling left & right button to adjust payment in every option to make it easy for the user to select payment, and it allows users to use loan type of whatever they want. SmartAsset allows…
MoneyHelper is a website that helps users make decisions about their money and pension choices, and it also offers a mortgage calculator with various functionalities. It is complicated to keep records of mortgage payments and calculate different aspects of mortgage payments like taxes, property costs, interest rates, other allowances, etc. It allows users to know about their affordability and makes installments according to their monthly salary or income. MoneyHelper mortgage calculator works according to the data user puts in it,…
CalculateStuff is a library of numerous calculators for financial, business, health, math, conversions, misc., etc. CalculateStuff provides mortgage calculators in financial calculators, enabling users to efficiently make decisions about multiple aspects of finance. One of the identical features of CalculateStuff is it gives a link for the user's calculation so the user can share it with anyone. The link redirects to the website with the saved calculations when the user opens the link. CalculateStuff works accurately and provides the whole…
Forbes Advisor is a website containing multiple services, and one of them is a mortgage calculator. People face difficulties in calculating their loan installments, and it is very complicated for them to calculate every aspect of the mortgage payment, including all taxes, costs, other charges, etc., so it gets messy when people try to calculate mortgage payments. Forbes Advisor's mortgage calculator solves all people's issues, and it helps them calculate their mortgage payments without any irritation and confusion by only…
FHA Mortgage Calculator helps users to calculate their payments with all the principles, interest, and terms. It allows users to paste their down payment percentage or amount and quickly calculates any significant amount. It calculates the amount, including all the loan costs, such as PMI, HOA, taxes, and insurance. It provides users with fixed and adjustable rate mortgages (ARM), allowing them to make five changes in interest rate according to their requirements. It allows users to customize their plan during…