Content Continues After Ad
Five Dates is an adventure and simulation video game developed by Wales Interactive, Good Gate Media. The story of this game revolves around a Vinny character who is a millennial and belongs to London. According to the story of the game, during the coronavirus pandemic, Vinny joins a dating app for the first time.
In this game, the player has to control the Vinny-named character and help him to find his perfect match. During the gameplay, you have to choose Vinny's interactions with each date. While playing the game, the choices and decisions of the player weaken or strengthen the relationship of the character with the partner.
Content Continues After Ad
Moreover, while playing the player has to face unexpected truths, deep-dive questions, and awkward scenarios. The game has a real-time relationship status-tracking feature that tracks and influences the story as you proceed in the game. It has a multi-optional storytelling feature which provides almost 10 different outcomes of the story. This game has multiple endings and the ending of the game depends on the decision of the player. It supports single-player mode so you cannot play this game with your friends and other players. In this post, we have covered some best games like Five Dates for the convenience of our readers.
Pros
Pretty well-written game
Great theme
Skip previous scene scenes
Depends on player's choice
Story rich game
Cons
Repetitive game
Dates are too short
Some parts are boring
Similar Games To Five Dates
Ten Dates is an indie, adventure, and simulation video game developed by Wales Interactive, Good Gate Media. The game's story revolves around two best friends, Ryan and Misha, who are on a quest to find true love. In this game, the players have to ask questions, talk on topics, and get informed of unexpected truths and awkward scenarios with their dating partners. Throughout the game, some other characters are Bash, Alpha, Jake, Azalea, Lucas, Toni, and Hazel. This game has…
Content Continues After Ad
Content Continues After Ad
Chapters: Interactive Stories is a free adventure, romance, simulation, and single-player video game developed by Crazy Maple Studio Dev. In this game, players can play the role of the main character of the story. This game offers multiple stories of various genres like comedy, romance, horror, and drama. It enables the players to select whether they want to fall in love, unearth dark stories, and discover horror mysteries. Players have to select playable characters and use different dialogues for interacting…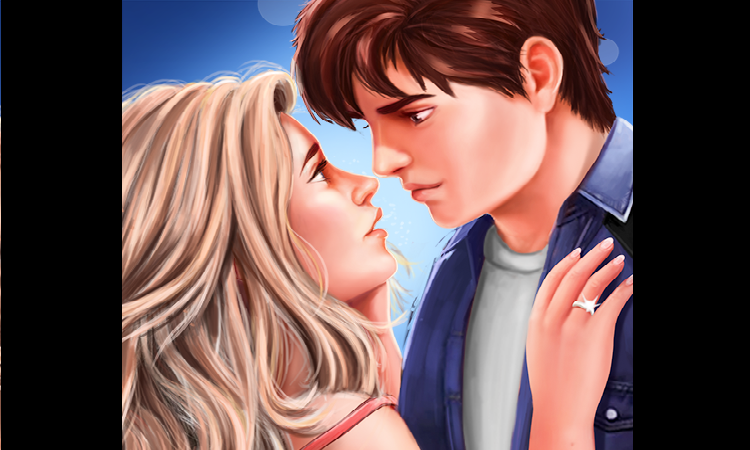 LUV: interactive game is a free simulation video game for teenagers developed by Afivad Limited. It is a fun game that provides you with a lot of daily challenges. You can play this game with your friends and strangers and chat with them during playing. It enables players to compete with their friends and provides them with rewards for winning. Furthermore, in this game, you can join voice chat rooms with friends and chat with them privately. This game provides…
Heartbeat: My Choices, My Episode is a free simulation video game for teenagers developed by Love Game. In this game, players can create their love stories and choose someone for falling in love with. In addition to creating stories, players can also find romantic novels, teenage dramas, and love stories for reading. The player is the heroine of every love story and controls how the love life goes. It enables players to create characters and change the look of the…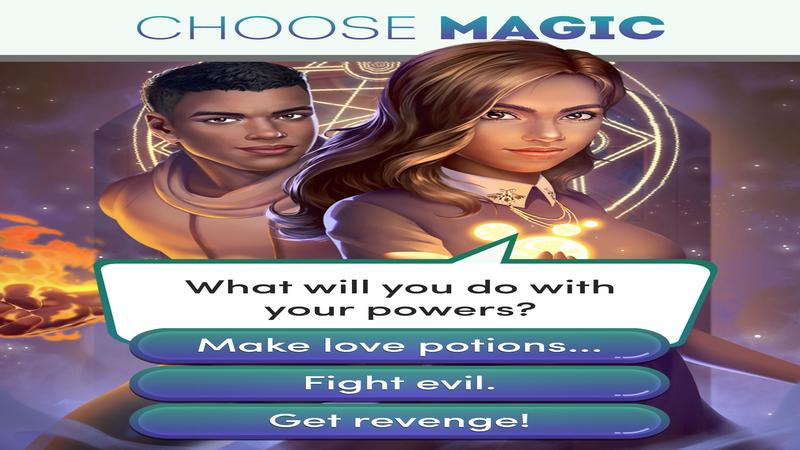 Choices: Stories You Play is a free simulation, visual-novel, and single-player video game developed by Pixelberry. There are multiple playable stories in this game and the player can choose one of those stories. In this game, the player can solve a series of crime-based puzzles, embark on epic fantasy adventures, or fall in love. The player can select and customize their characters for interacting with other players. Furthermore, it enables the player to make new friends and play with their…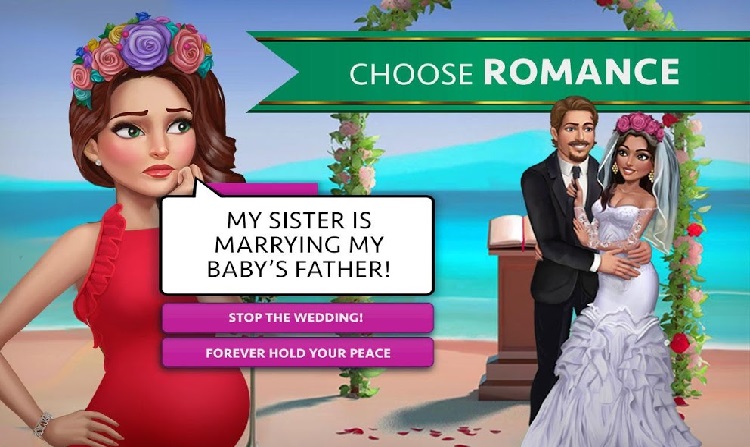 Memories: My Story, My Choice is a free simulation video game for teenagers developed by Agate Games. This game is a massive library of wonderful stories from where you can choose multiple stories of your choice. It has a remarkable collection of otome stories and chats novels of different genres. In addition to reading stories, you can also create other stories on this platform. In this game, players can play the role of otome character in an adventure and engage…
Decisions: Choose Your Stories is a free adventure, role-playing, Single-player video game developed by Games2win.com. Like other similar games, this game also deals with dress-up, romance, suspense, and drama. There are multiple stories of various categories like romance, love stories, and adventure stories. This game gives you the option to live your life according to your choice and make bold decisions in every episode. Before starting the game, the player has to select his desired character. It has a customization…
My Story: Choose Your Own Path is a free simulation, role-playing, and visual novel video game developed by Nanobit.com. The game takes place in a fantasy world in which the player has to play the role of a female character. The goal of the character is to interact with the environment, find love, and go on date. Before starting the game, the player has to select his desired character. It has a customization feature due to which players can change…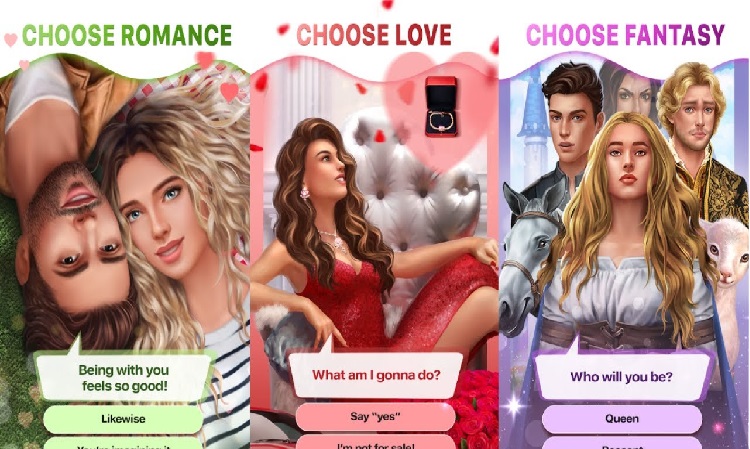 Love Sick: Love Stories Games is a free simulation and role-playing video game developed by SWAG MASHA. This interactive story game deals with drama, romance, suspense, and more. This game has a wide range of interactive novels and a huge collection of love stories. The stories available on this game are of various categories, including suspense, thrill, fantasy, romance. In addition to creating stories, players can also find romantic novels, teenage dramas, and love stories for reading. Before starting the…
Scripts: Romance Chapters is a free simulation and role-playing video game developed by SkyRise Digital Pte. Ltd. This interactive story game contains multiple stories of various categories like romance, adventure, and thrill. In addition to reading multiple stories, players can also write stories in this game. This game enables the players to interact with the environment, find love, and go on a date. In this game, you can choose your love freely in any gender and talk with your friends…
Spotlight: Choose Your Romance is a free role-playing and simulation game developed by Crazy Maple Studio Dev. The story of the game is that character moved back home to Portland and reunite with his childhood BFF. This game offers multiple stories of various categories, including love stories, romance, drama, and thrill. It enables the players to choose their desired characters and customize them with fancy avatars. Furthermore, the game provides its players with multiple in-game rewards on completing levels. This…
Episode: Choose Your Story is a free simulation video game for teenagers developed by Episode Interactive. In this game, you can create your stories with adventure, drama, and love. In addition to creating stories, you can also read other stories available on this platform. This game has a collection of interactive stories so can choose your favorite story. It enables players to design the outfit of their character and customize it. Furthermore, in this game, players can discover their favorite…