Continue After Advertisement
DELETE TWEETS: DLTTR is an application that allows people to delete cringe or unwanted tweets from their Twitter accounts. Sometimes, the user wants to clean their account from cringe tweets they have uploaded, but it is time-wasting to select and delete every single tweet from the account. So, DELETE TWEETS: DLTTR allows users to delete all tweets by pressing just one button.
First, users have to log their account into the application, and then the app authenticates the user's account. The app interface shows a red button with the name "delete tweets." Pressing that button will delete all the tweets from the user's account.
Continue After Advertisement
Features
Allow to delete tweet by time.
Clean account.
Remove cringe content.
Magic big red button.
Pros
Allow users to save time.
Easy UI.
Free application.
Cons
Don't provide automated tasks.
Only Android application.
Privacy risks.
Similar to DELETE TWEETS: DLTTR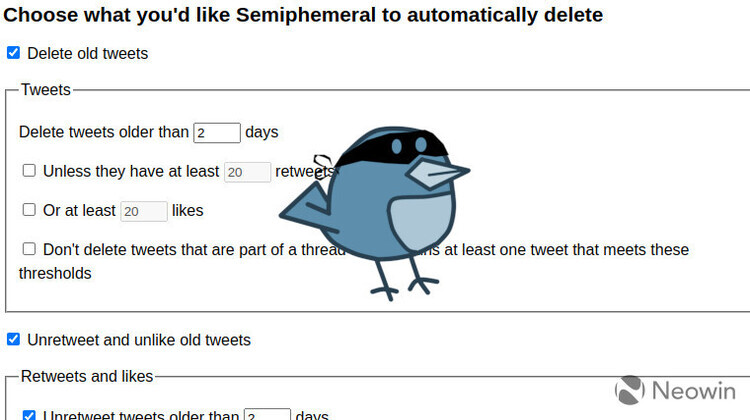 Semiphemeral is a website that allows users to delete unwanted tweets from their profiles more straightforwardly. Semiphemeral protects the user's privacy adequately and makes it easy for the user to automatically or manually delete tweets from the account. Along with tweet deletion, users can delete their Twitter DMs and likes. Users can apply the bulk action to DMs, likes, and posted tweets. Users can delete whatever tweet they want and use automatic deletion. For example, users can delete tweets older…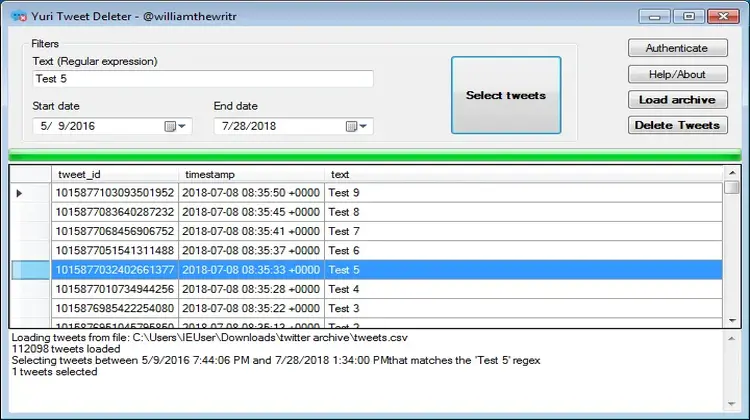 YuriTweetDeleter is an application that allows users to delete their unwanted tweet form their Twitter accounts. It provides users with an interface that shows all the tweets along with their detailed information. It lets users delete tweets manually or automatically by giving a simple deletion sequence. After downloading the application, it first authenticates the user's Twitter account. Then, after the authentication, it merges all the posts in the application and allows users to delete any tweet at any time. Users…
Continue After Advertisement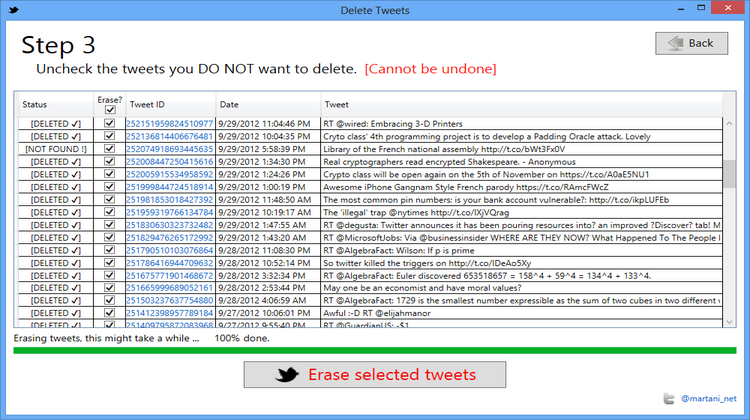 Continue After Advertisement
Twitter Archive Eraser is an application for Windows and Mac PCs and laptops that allows users to delete tweets they don't want on their profiles. Using Twitter Archive Eraser, users can delete multiple tweets at once with a few clicks. Twitter Archive Eraser is the best and fastest tool for the tweet deletion process, and it is beyond the limit of 3200. It contains a fast search feature that enables users to search unwanted tweets quickly. Users can delete tweets…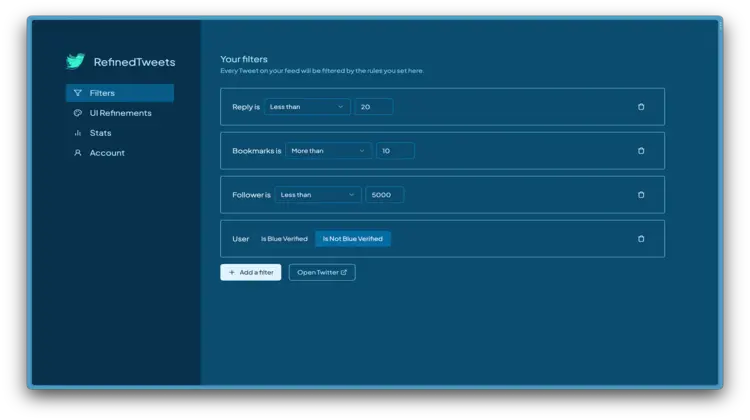 Refined Twitter is a browser tool that allows users to refine their Twitter accounts and make their accounts attractive & less messy. It allows user to control the tweets on their Twitter account. Users can select whatever tweet they want on their profile using the Refined Twitter tool. It contains multiple filter options which allow users to find the tweets they want to delete. Refined Twitter provides users with a tutorial on their website, which helps users use the tool.…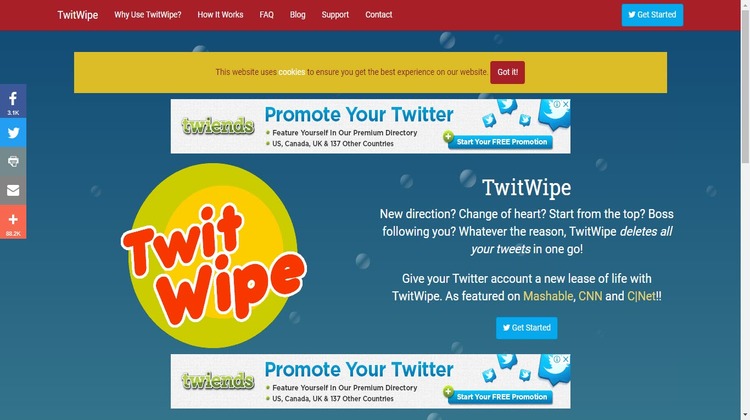 TwitWipe is a website that enables users to delete all their tweets in one go. TwitWipe wipes all the tweets easily with some straightforward steps. It allows users to sign in to their account on the website and securely keep their account. TwitWipe also authenticates user's account correctly to avoid fake account signups. It takes multiple permissions from users to do everything securely. It enables to delete tweets one by one, and it also allows users to write their issues…
Twitlan is an online tool that allows users to clean their Twitter accounts of useless and cringe tweets with few clicks. Twitlan was developed in 2006, and it helps users to keep their accounts clean. Sometimes, users' Twitter accounts get messy with the bulk of cringe tweets, and it isn't straightforward to delete all of them at one time. If the user uses the official Twitter app to delete all the tweets, it will waste their time and become complicated.…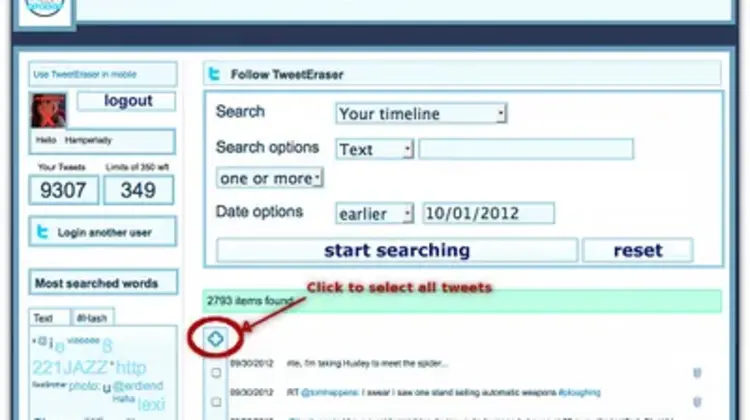 TweetEraser is an online tool allowing users to delete past tweets with just a single click. It enables users to apply the bulk action to delete their tweets simultaneously. The TweetEraser contains fast working tools that clean up the user's profile in a quick manner. TweetEraser offers the best-advanced filtering process through which users can apply filters to find their tweets in seconds. Sometimes, users have so many tweets on their profile that it is very complicated to find tweets…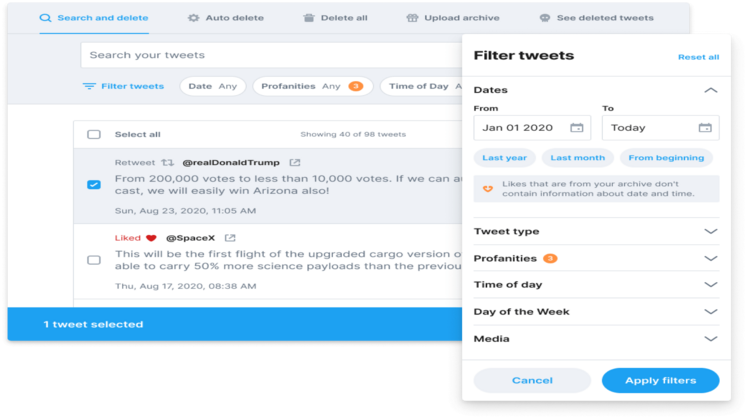 Tweetdelete is an online tool that allows users to delete their tweets in bulk amounts and many more. Sometimes, when the user's Twitter account is too old, the user wants to delete all tweets to have a new start. So Tweetdelete helps them to delete all of them in bulk in some clicks because it is so time-consuming to delete every single tweet on the account. Tweetdelete is also used for other purposes. Users can find any specific tweet with…