BeautyPlus is a widely used camera app all over the world to enhance the effects of an image from normal to professional. It is a bit hard to create cheerful photos and videos with an ordinary camera but somehow, BeautyPlus proves to be fruitful in making a charming photo as well as video. With a radiant complexion and several skin tones, the user can filter his images and edit every part of the face.
Reason Behind the Searching for Similar Photo Editor to BeautyPlus.
Well, the modern world loves the most fascinating and handsome personalities, and in my opinion, celebrities are famous for their pictures. In this era of social media, everyone dreamt of being the most charming personality on every platform.
Here are some best tools like BeautyPlus
Candy Camera
The similarity of the candy camera with BeautyPlus is that both of the apps offer the user to edit the pictures thoroughly. Provision of a variety of filters for selfies like snow, S1, S4, etc. is the most affecting feature of the app.
Moreover, you can use beauty functions to let the old looks young such as whitening, concealer, lipstick, blush, eyeliner, mascara. Hence, for the selfies, no one could be better than Candy Camera.
YouCam Perfect
YouCam Perfect is the best alternative to BeautyPlus as you can edit the images with a variety of tools introduced in the app. Beauty effects, makeup kits, filters, and stickers are all in one here. Selfies are common, and everyone on every event takes selfies and the filters for the front camera are amazing like you have never seen before.
After taking the selfie, the app automatically removes all the blemishes and smooths your skin tone to feel clear of the face. The most significant feature of the YouCam Perfect is that it introduces Object Remover that can help you in removing the lines from any image within no time.
B612
B612, no doubt, works similar to BeautyPlus in editing the pictures and selfies with a lot of filters. With over 1500 stickers, you can find your ideal face effects with only one tap. Either you are in an event or in a party, B612 grants you to take selfies with high-quality filters.
It is not only limited to selfies instead, but you can also edit videos with the favorite tones as well. More than 250 sound effects and music are offered for you to experience different ones. AR stickers help the user in meeting with lovely characters and collages combine the best ever moments in one place.
Snapchat
Obviously, Snapchat is another app like BeautyPlus, created by Evan Spiegei, it has thousands of filters for the pictures and selfies. Some persons may have protected data, and they want to keep it secure therefore, it has an option of "My Eyes Only" which lets the user save the data from another eye. Stories just like Facebook, are offered which lasts for 24 hours and is automatically deleted after a specific time.
Facetune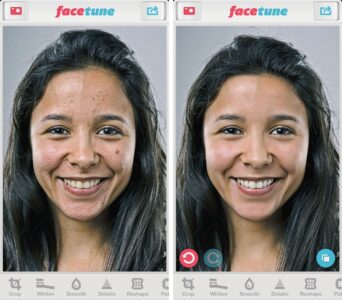 Facetune is the best alternative to BeautyPlus and features the same process of editing selfies or any sort of images. A large number of tools will provide many things to experience, and the same thing this app has provided. It also grants access to you to change the background of the photo with live locations as well.
You can brighten the effects, remove blemishes, face lifting, make-up tools, skin toning, hence everything that you need to magnify your image will be here.